This is the first manipulation that I've done in a long time. I hope to do more, though they are a lot more work than photography. Even though this is fairly simple , I spent most of the day on and off working on it.
I made the background using brushes and pngs I purchased on Renderosity years ago. Here is the link:
www.renderosity.com/mod/bcs/sw…
The model is Melissa Salvatore and here is her link: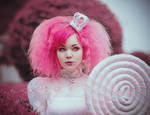 I also used textures and filters from ON1 Photo RAW 2019
While working on this I thought of the 60's song "I Want Candy"
The Strangeloves - I Want Candy - YouTube
Image details
Image size
1280x853px 995.33 KB