Other Social Media Sites
Tumblr:
scorpiodoodles.tumblr.com/
YouTube:
www.youtube.com/user/ScorpioKu…
Facebook:
www.facebook.com/scpokun
dA Family
dA Wife/Girlfriend:

dA Sister/Best friend:

The Crew:





Really Cool People:


ICONS!!!!





Deviants who Inspire Me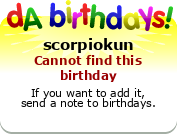 What Higurashi Character Are You?
Hosted By theOtaku.com:
Anime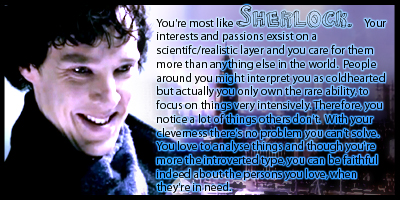 What Sherlock (BBC) Character Are You?
Hosted By theOtaku.com:
Anime
What Anime Hair Color Best Suits Your Personality?
Hosted By theOtaku.com:
Anime
What Type Of Cookie Are You?
Hosted By theOtaku.com:
Anime
What Vocaloid Are You?
Hosted By theOtaku.com:
Anime
<textarea name="code" cols="40" rows="5">
You are a Opportunist Seme

Preying on the clueless is what you're all about. You really don't intend to hurt anyone, but if a bit of harmless manipulation can get you what you want, you're not beyond taking a little advantage of someone, which you figure is an even exchange for your companionship anyway. Not one for lots of drama, you are best paired with the Clueless Uke, who will appreciate your attention and never bat an eye at your slightly sneaky ways.

Most compatible with: Clueless Uke, Innocent Uke

Least compatible with: Badass Uke

What seme or uke are you? Take the experience at SemeUke.com, or get yaoi merchandise..


</a



:thumb269411810: :thumb269411810: :thumb269411810:
Favourite Visual Artist
That's WAY too hard for me to answer!
Favourite Movies
Every Classic Disney Movie, Scary Movies (they usually make me laugh or make me hungry for some reason...), I'm a sucker for Romance Movies as well and Action movies.
Favourite TV Shows
Family Guy, Attack on Titan, Naruto, Bleach, Soul Eater, SAO, Cowboy Bepbop, Samurai Champloo, FLCL (Fooly Cooly), Higurashi no Naku Koro ni, Death Note, Hell Girl, xxxHolic, Free!, Another, Baka & Test, and more that i cannot think of right now XD
Favourite Bands / Musical Artists
Pierce the Veil, Dance Gavin Dance, Chiodo's, JPop, KPop, Almost Every Anime Opening lol, Vocaloid and Techno.
Favourite Books
Too many to list :P
Favourite Writers
Edgar Allen Poe, Heather Brewer, Lynn Ewing, R.L Stine, Stephen King and more i cannot think of right now....
Favourite Games
Arcade Games, Platformers, Adventure style games (Final Fantasy, Kingdom Hearts ect.), Fighting Games (Mortal Kombat ect.), and First person shooters (except Call of Duty...it's too over rated -_-)
Favourite Gaming Platform
Play Station and PC
Tools of the Trade
The trade of tools?
Other Interests
Eating....yeah...eating XD