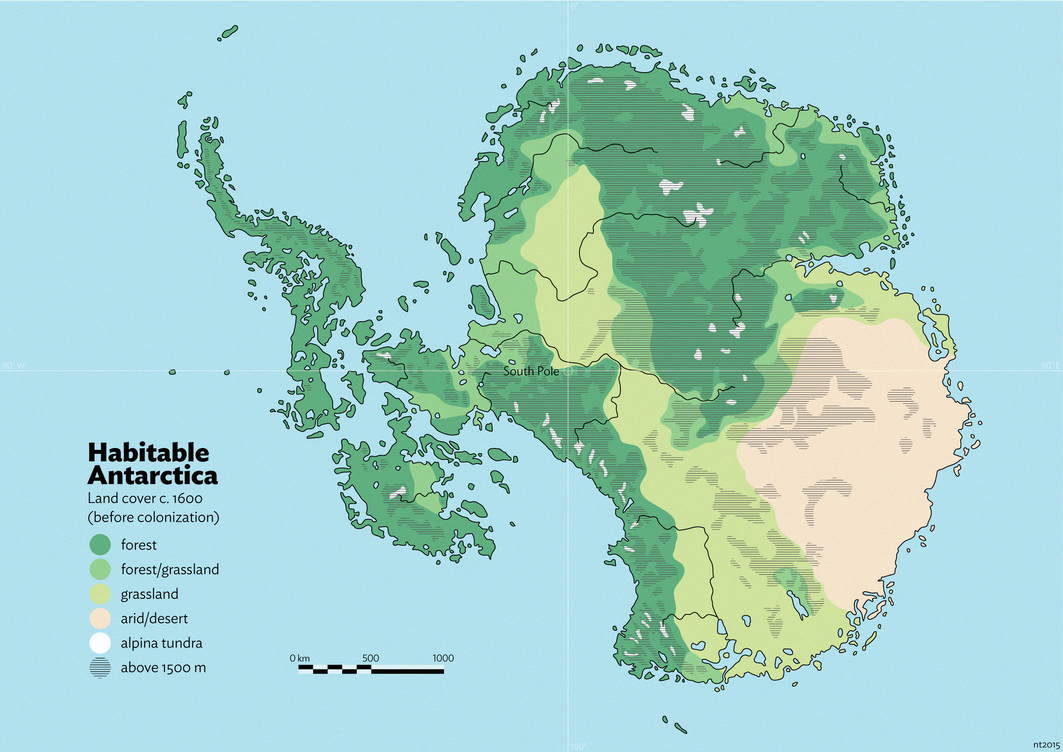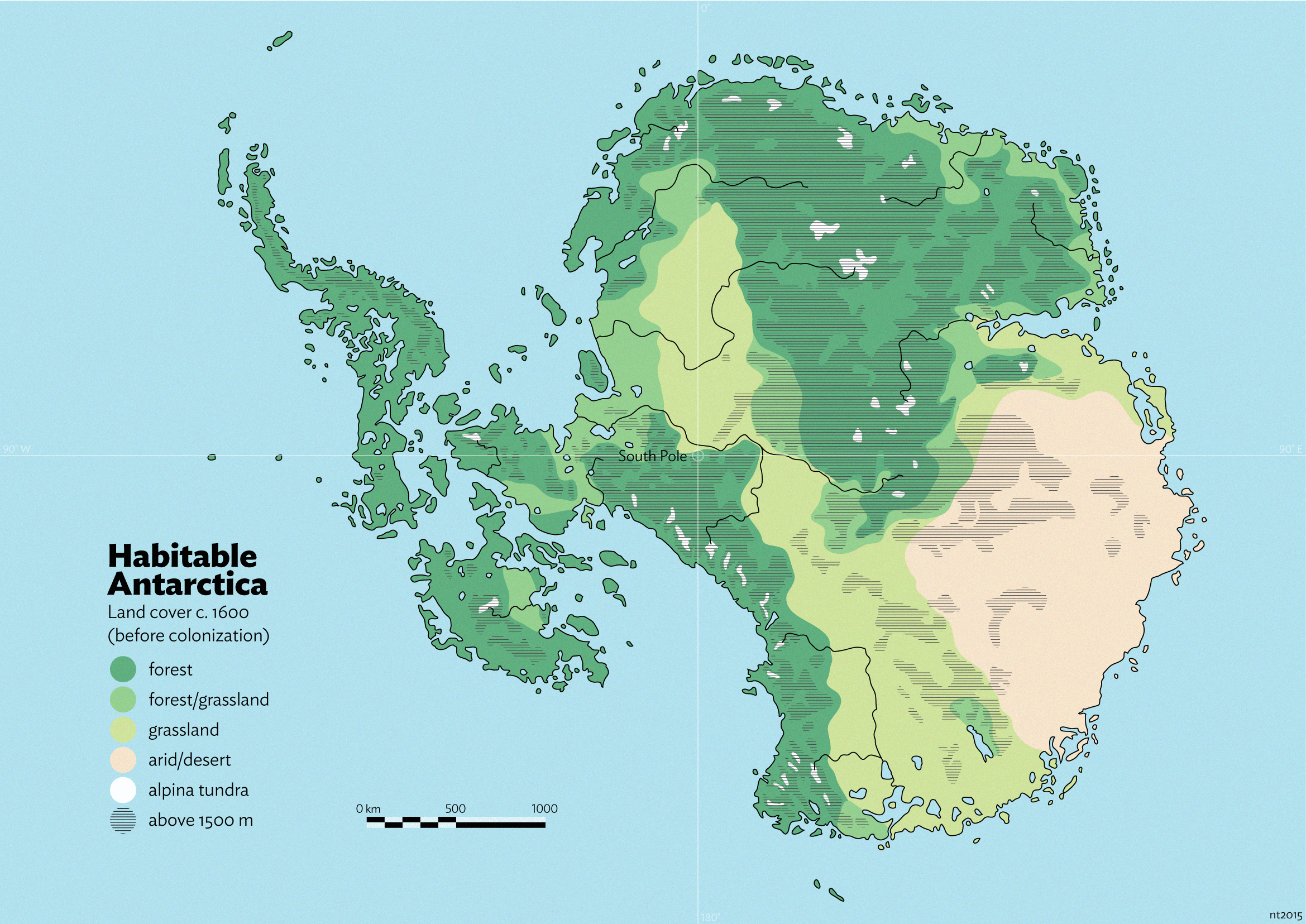 Yep, it's time for another bizarre and unprovable alternate history map series. I'm doing it because it's fun, and it's really quite an interesting continent without the ice. This time, I will be making 3 or more maps of an Antarctica that hasn't had an ice cap since the last ice age. Despite being at the bottom of the world, it's a fairly temperate place.
Rather than colonizing the Americas, whether because it simply doesn't exist or for some other reason, Europeans colonize Antarctica about 100 years after they did their dirty business in our timeline. I'm still not sure if I'm going to have it completely uninhabited, or have Maori settlements... or how, if they did exist, their interactions would be with Europeans. It seems likely that they would have reached a temperate Antarctica.
The idea will continue to evolve as I make more maps for it. Up next, how the continent looks 100 years later after colonies have been founded.
Precipitation and temperature map of Habitable Antarctica:
schreibstang.deviantart.com/ar…
Font used: Ideal Sans

In a few million years, Antarctica will of floated up near the equator, turning Antarctica into this.
Reply

Although, as the ice melts, it will get smaller and smaller as the water levels rise... it will be an archipelago.
Reply

There is something to be said for Isostacy. the weight of an average of 2200 meters of Ice that consists of 60-80% of the world's fresh water pushes down on the antarctic bedrock. this weight actually deform's the Earth. Since you would gain about 58 meters of sea level world wide from the ice melting, this would cut into much of the Antarctic Bedrock which is at or below current sea levels. However, as the landmass rebounds, the deformation would have worldwide consequences and spring the shelf up by anywhere from 50-100 meters. this would more than compensate for the 58 meters rise, and would also (probably) raise sea levels even more as the water from the rebounding would also be displaced.
In theory, you could have a fairly large and continuous landmass with much of it at about the same level as Florida.
Reply

But it will still be at the equator. At least that's what scientific estimates show.
Reply

So all this is because the Americas are not a part of this Earth?
Reply

Reply

I see. So that's because the Atlantic and Pacific are more connected?
So more heat is distributed throughout the ocean, melting the ice at the caps?
Reply

Yeah, pretty much. The average global temperature is also a little higher than it is today. (I guess we might see what their world will be like in 100 years...)
Reply

Ok. Will I'm asking because my world map is like this:
sta.sh/022tea5mma4j
And I would like to know if the planet should not have ice caps?
Reply

It looks like yours has a similar ratio of land to surface water as the earth, so it probably would have.

Antarctica here does have permanent glaciers in the interior of the continent.
Reply

I see. So what do you think the climate of my world should be like?
Reply

It should be varied as earth's. I personally prefer for climates to tend towards the cooler side of things because I hate hot weather but that's my opinion not a scientific and educated suggestion. XP

I know you weren't thinking of making it all one biome but your question made me think of the sci-fi planets where people land on it and it happens to be snowing and therefore the whole planet is always winter from pole to equator. Or where the whole planet is a jungle, etc. XD
Reply
(1 Reply)

Quite cool,but How can we achive it without doing some harm to other continents?
Reply

In our world, I don't think there's a way.

That's why we have our imaginations, and Adobe Illustrator!
Reply

Oh that would be so awesome, I´m looking forward to your colony map!
Which century is it then? Maybe Germany can have Neuschwabenland?

Reply

I'm thinking colonization would be happening in the late 1600s and early 1700s—by 1750 all the good spots would be claimed.

I know Germany established Klein-Venedig early on, but that was purchased land from Spain and part of the search for Eldorado... there wouldn't have been such a drive in this case.

Do you have any thoughts on a circa-1700 German colony?
Reply

Around 1700...hm only Brandenburg had some colonies, except Austria uses german
settlers over the spanish colonies to settle down too.

Brandenburg had one in Africa (Großfriedrichsburg) and Venezuela as you said.
Reply

Probably part of what held them back was the lack of a central government. The colony could have been Austrian, rather than Germany.
Reply

Yes sadly one of our biggest weaknesses...not being united.
Reply

Our map of Africa is here in Europe!

Ok, this quote of Bismarck sounds a bit too sinister for some, but I agree.

While colonies have their own flair, especially the idea of creating extensions of the own culture(new plays, ideas, etc.) uniting the different tribes of the German nation in Europe always held more appeal for me.
Reply

Even tho Britain got a massive advantage with their colonialism. With America they created
a mega ally who always helped them out. And they made their language the world language
with it.
Reply