BEEN AWAY FOR MONTHS BUT WILL BE ON DA WEEKLY FOR THE FORSEEABLE FUTURE. MORE TO COME TOMORROW.

SUBMISSIONS SET TO AUTO APPROVAL AS OF MAY 16,2020 11:15 PM EAST COAST U.S. TIME. I NEED TIME TO DECIDE WHETHER TO KEEP THIS GROUP ACTIVE AFTER THE "NEW" DEVIANTART GOES LIVE AND THE OLD IS RETIRED AS I CAN"T SEE A WAY TO EFFECTIVELY ADMINISTER GROUPS IN THE NEW FORMAT.



















1) EARLIEST POSTED SUBMISSIONS ARE FIRST. PLEASE REMEMBER THAT I DO VIEW EACH PIECE. WILL DO THE REST AS SOON AS POSSIBLE. MARCH AND ANY APRIL SUBMISSIONS THAT EXPIRED DUE TO MY ABSENCE WILL BE REQUESTED (approx. 30).

2) IF A SUBMISSION OR MEMBERSHIP REQUEST AFTER 3/31/20 AND PRIOR TO TODAY 5/05/20 HAS NOT BEEN ADJUDICATED PLEASE BE PATIENT I WILL GET TO IT. SUBMISSIONS ONLY EXPIRE AFTER 30 DAYS IN QUEUE.

3) ANY PIECE SUBMITTED DURING ANY AUTO APPROVAL PERIOD THAT DOESN'T MEET GUIDELINES WILL BE SUMMARILY REMOVED.

THANKS AND SORRY FOR ANY INCONVENIENCE.









WE ARE NOT AN "ACCEPT EVERYTHING" GROUP. Please read the following submission rules before submitting as no one likes to decline submissions.

Welcome to the the fan club for all things female in "uniform" related (schoolgirls,...). From Fan Art of popular anime and comic characters, to "uniformed" oc's (see submission rules), photos and cosplayers everywhere; this fan group is dedicated to those lovely "uniformed" females that fill fantasies and have stolen many a heart.

TO ALL ARTISTS FROM FOUNDER - If any of your work was requested for this group feel free to ask for membership as it will be approved. I very rarely send out invites as I have found folks are often too busy creating art.

Membership requests are not auto approved to prevent trolls from joining and harassing members. Since the group contains some "mature" material any verifiable underage membership request will be rejected. Underage for the purposes of this group is defined as under 16 which is the most common worldwide age of consent. There continue to be no prerequisites for membership as regards material. I would like to also welcome all new/returning members. Hope you have fun.


IMPORTANT POINTS TO REMEMBER

If a member is discovered to be reporting another member's work to DA they will immediately be "banished".

Copyrights will be respected. Don't submit work you don't own the rights to as if accepted initially it will ultimately be removed.

If a piece is declined without an explanation it is most likely due to -
1) the piece did not meet the "females in uniform" criteria. See submission rules below.
2) the piece was submitted to an incorrect folder.
3) the piece was judged by admins to be of insufficient quality.

Advertising material not submitted to Promotional Material Only folder will be rejected out of hand or moved to said folder at the discretion of admins.

Regular Members are limited to 2 submissions/day/folder.

Please submit/post only high quality art, preferably of a Sexy and Erotic nature, to the correct folder as outlined below. The viewer experience is of paramount importance.

All media forms are accepted (Illustrations, 3D renders, Photos, Photo Manips, Written Word...).


Please read the following submission rules before submitting as no one likes to decline submissions or remove them.

SUBMISSION RULES

#Post within the rules of Deviant Art.
#Post Quality finished works.
#Nudity of all types is encouraged but not necessary.
#Subjects must be human females in the classical sense. NO wip transgenders, drag queens, males in female garb, futanari, mlp humanizations etc. please. Submissions depicting gender bending of male anime characters and "furries" will be accepted on a case by case basis.
#Subjects ideally should be wearing some form of "uniform" (school girl, cheerleader, nurse, stewardess, maid, soldier, nun, librarian, secretary, teacher, known anime/manga/comic/movie/cartoon character outfit, ...). If subject is nude then a "uniform" easily associated with the subject must be in the image. Additionally, if attire in the image is generic as could be the the case with librarian, secretary, teacher for instance, then there must be some concrete info in the tags or image description to id the character as being group appropriate.
#Sketches & WIPS meeting above criteria and of high quality will be accepted into Misc folder at the discretion of admins.
#Overly exaggerated muscular female depictions will be conditionally accepted at the discretion of admins as long as "females in uniform" requirement is met and quality is excellent. Updated 3/12/19



FOLDER DEFINITIONS

FEMALES IN "UNIFORM" DEFINITION REMINDER - schoolgirls, teachers, maids, nurses, secretaries, heroines, anime/manga/comic characters...)

PHOTOS - Real Life Non Fan Art Photos Only - Females in Uniform (e.g. schoolgirls, teachers, maids, nurses, secretaries,...).



PHOTOS - Fan Art Cosplay - Fan art cosplays only please (heroines, villainesses, anime/manga characters, ...).



DRAWN - Illustrations, paintings etc. - Females in Uniform drawn or painted using traditional or digital mediums.



3D Renders - Females in Uniform created using 3D programs (DS, Poser...).



PHOTO MANIPULATIONS - Mixed Media - Females in Uniform "photo" manips ("Photo" for this folder iincludes images of all kinds that have undergone recognizable/significant editing in software like Photoshop, GIMP,...).



WITH WEAPONS THEME - All Media - Females in Uniform holding or wielding any sort of weapon.



BDSM THEME - All Media - Females in Uniform restrained, spanked or in any other BDSM themed setting.



PERIL AND HORROR THEME - All Media - Females in Uniform in a peril or horror themed image (e.g. tentacle monsters, vampires, ...).



STORIES - Text and Visual - Females in Uniform themed written and visual stories (sequence of images, multi or single page comic style pieces, ...).



ANIMATION AND VIDEO CLIPS - All Media - Females in Uniform (Animated illustrations, 3D renders, rl photo sequences, rl video clips, ...).



SCULPTURE -(Pieces where a "sculpture" is the main focus - includes 3D printed pieces, traditional sculptures, figurines, dolls, ...).



SKETCHES, WIP and MISC Plus Skectches & pieces not readily fitting into any of the above; includes Tutorials, works in progress or if submitter is unsure.



PROMOTIONAL MATERIAL ONLY Exclusively for promotional pieces (products, raffles, active YCH & adopts, etc.) Promos will be declined out of hand if submitted to any other folder. Added 03/08/19



Affiliate Member Submissions Exclusively for non promotional pieces that meet guidelines from members of affiliated groups. Submission acceptance is not guaranteed. Promos will be declined out of hand.

----xxx----

CONTEST 16 - Schoolgirls Taking Selfies

WINNER - wil3d with 7 votes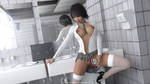 by


Wins 500 points

RUNNER UP - azap with 4 votes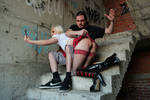 by


Wins 250 + 100 for optional element = 350 points

Congrats to you both. Prizes have been awarded.



NOTE: Members count reflects only currently active DA accounts. No phony member count here.



Thanks to LostBrave for the following. A tip to try and find scumbags that steal your work. I for one didn't know this.
Open Google Images then click and drag your image into the search box. It will locate that image all over the net (at least that part the search engine accesses).