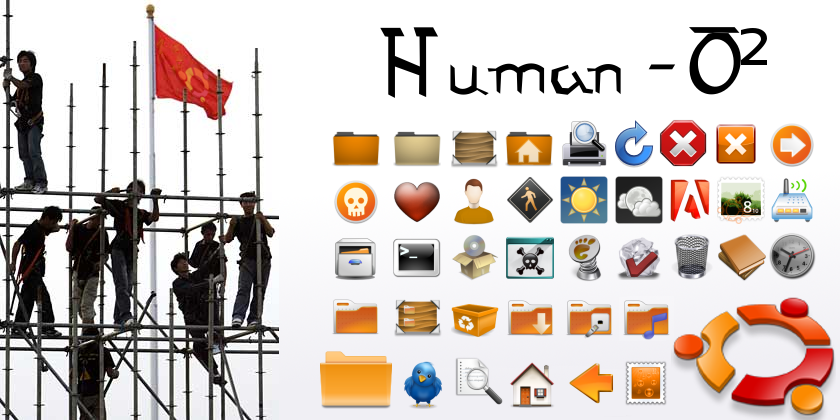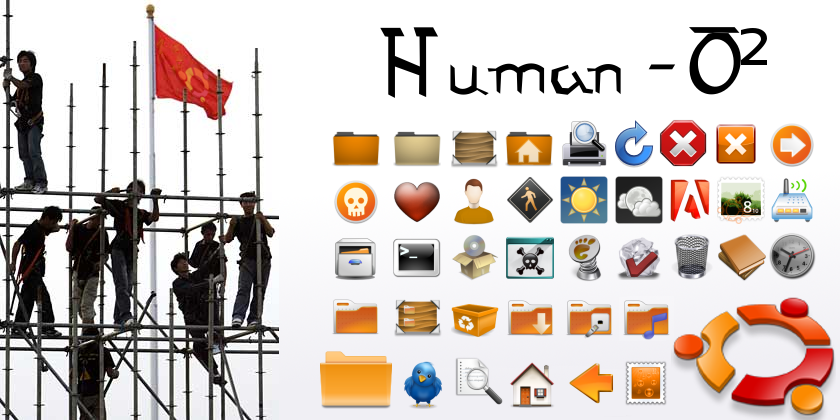 Watch
*** You can try my new IconSet, too. Click here:
[link]
This Icon-Set won't be supported no more. It's a relic of old times ...







Info:
Customize your deb-file with: "sudo human-o2" (Terminal/Konsole)
KDE-USERS and the deb-file:
"gnome-terminal" should be installed FIRST!!! (2-3 MB) for have all futures from the first Human-O2.deb-install

sudo apt-get install gnome-terminal






-----------------------------------------------------------------------------------------
Welcome to Human-O2
Human-O2 is an Icon-Set based on Hydroxygen (Oxygen) -Icon-Set. The idea was born when I used the Hydroxygen-Theme on my Ubuntu-desktop, and I thought it would be really great if the Human-Theme would be so complete and wonderful. So I started to create a fusion between both

To get an almost perfect Human-feeling I had to modify a lot icons. I also included some icons I draw in the last time, and some icons (free - non commercial) I found in the "world wide web".
A lot of icons in small sizes were corrected by myself OR for a closer Human-feeling modificated!
So I am glad to present you my result!
Feel the beauty side of Ubuntu - the Linux-distribution I use and like best ... enjoy

If you like it, don't forget --->








Installation-Instructions:
ALWAYS BEFORE:
PURGE OLD INSTALLED HUMANO2-ICONS (Version 1.09 and lower ...) FROM YOUR PACKAGE-MANAGER IF YOU HAD IT INSTALLED ... THAN "sudo rm -r /usr/share/icons/Human-O2" !!! Thank you

The regular "Human-O2.tar.gz" for all Linux-distributions can be downloaded here on DeviantArt

The packages for your Package-Manger (automatic updates) you will find these here above

The DEB-Version you can download it directly from here:
[link]
(Version 1.1.5.1)
-----------------------------------------------------------------------------------------
Include Human-O2 into your Package-Manager:
(For ALL deb-based-Linux-distributions !!!)

The packages from Ubuntu PPA are here:
[link]

PGP-Key can be downloaded from here:
[link]
[This Public-Key is a authorization-Key for your Package-Manager like Adept or Synaptic]
OR with your Terminal/Konsole:
gpg --keyserver keyserver.ubuntu*com --recv-keys 53878C1F && gpg --export -a 53878C1F | sudo apt-key add -
!!!!!! Important !!!!!! * = . (point)

Finally look for "human-o2-icons" ...

-----------------------------------------------------------------------------------------
What is better with the Deb-Version:
- Icons are, in every moment, easy to change ...
Type "sudo human-o2" in your Terminal and follow the options-menu. Session Log-Out/Log-In or reboot recommended

- Enjoy your Human-O2-Icons as root, too.
- All Users on your PC can select this Set by choosing it in the Theme-Appearance-Manager.
- Automatic updates with the Package-Version



-----------------------------------------------------------------------------------------






Credits to BoddomBeachTerror (Deb-File) and Keba (menu.sh -Script). A special thanks up to them ... they created the installation files and so they helped me my ideas came true

Many thanks to the Human-Team for their great work, too

Thanks to narf41 for his supports ... what? I don't say


Thanks to Ubuntuxer for his supports and the PPA-soulution

The licences of the "Deb-File" and the "menu.sh -Script" are GPL.
The licences of the Icons are GPL, CC sa nc, LGPL and many more (copiable and for non commercial use).
The licence of the "Human-O2 Collectors-Icon-Set" is GNU/ GPL.

? Sorry, but I didn't understand nothing

Please explain me like for a English-beginner what you meant

Reply

sorry for not replying to your question in a while... but wait: are you from Spain? so why do you have german in all of your screenshots?
Reply

I'm German who lives in Spain. But you've already presented it, right?
Nice you don't forgotten me

You like my newest screeny? I never used something so modern before ... ove it

Reply

Aha das erklärt die sache! Hattest du wahrscheinlich eh schon mal irgendwo erwähnt... ich bin aber sehr vergesslich... und zerstreut. Na dann redn wir mal deutsch, ist einfacher für beide, oder?

Ich hab dich nicht vergessen! Und dein letzter screeny ist wirklich toll! Frag mich schon die ganze zeit ob ich nicht mal KDE 4.2 installieren soll. Aber dann...gnome funktioniert, und ich hab eh keine zeit mehr zum basteln.
Ich weiss leider nicht mehr worüber wir da diskutiert haben. Hab aber die aktuelle version von Human o2 mal installiert. Sieht irgendwie anders aus. Hast wohl ziemlich rumgefeilt am ganzen! Sieht gut aus! Und rhythmbox hat auch ein neues icon (oder nicht?). Allgemein steh ich sicht so auf gloss, und manchmal ist da ein bisschen zu viel drin für meinen geschmack, aber ich find das set trotzdem sehr toll! Passt irgendwie zu KDE besser als zu gnome, so vom screeny her beurteilt jedenfalls...
Reply

Hi

Basteln? Hmmm, 'n bisschen vllt. Was länger dauert ist wohl das neu erlernen ...

Ich habe sehr viel herumgefeilt, da ich es perfekt haben wollte.
Rhythmbox hat kein neues Icon. Das Rhythmbox-Tray Icon ist aber ausgebessert worden und die Icons drinnen sind endlich richtig schön

Wenn du im Menu unter Multimedia schaust, dann siehst du, dass es alles stimmig ist ... mir gefällts

Glossy ist eigentlich nicht sooo viel. Die System-Buttons aber sind in der Tat sehr glossy. Habe bei mir aber andere eingebaut. Wenn du das neuste Screeny anschaust, kannst du es vllt. erkennen

Das Set ist sehr flexibel (anpassbar) und passt sowohl zu Gnome, als auch KDE

Es ist auch immer eine Sache des Geschmacks ... andere wollen lieber blau, andere altbacken, andere wieder orange und hyper-modern ...

nette Grüsse
schollidesign
Reply
(1 Reply)

Two thumbs and Two Big Toes up for sure

Reply

Definitely a good idea.

Especially if this icon set is to be used across platforms, the users may like the same flexibility.

Personally, I don't mind having Gnome Foot, but I like Ubuntu Circle better.
Reply

I thing at all

The regular tar.gz-Version have the same future. Only you you unpack it and doubleklick on the menu.sh-Script, then you pack it again and move it into the Theme-Appearance-Manager. OR you moves after installing to the .icons-Folder and start the menu.sh-Script ... it's the same ... session logout/login in the second kind necessary

The install-procedure was/is the first surprise, right?

Reply

Thank you! Great job!

I like the sh installation process where I could choose different icons I want (i.e. the menu icon).

Keep up the great work.
Reply

congrats my friend

keep on rockin´
Reply