For many years I've had a love-hate relationship with art prints, and why I've done so few prints of my paintings. As a traditional artist, I find myself dwelling on the original being the only one, the piece with all the painty texture and spirit. Prints are more easily accessible, usually both in number and in price - but sometimes sacrificing texture, color, depth, and quality. Art being accessible is super important though. That's why we share it here, right?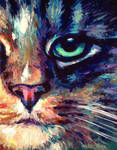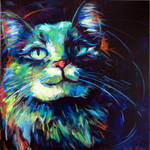 Knowing I should be offering more accessible art than just large original paintings (and needing to satisfy my own personal concerns about prints being boring copies) I decided to go way out and try something completely crazy...
holographic
art prints. I thought, "this is either going to be really hokey and I'll never do this again, or it's going to be really cool". They turned out... beautiful! And the slight shimmery flecks of color actually flow seamlessly with the loose painterly nature of my art.
If you're interested in these fun sparkly cat prints, see the links below:
"Galaxy Cat" Holographic Art Print
"Her Winter Coat" Holographic Art Print
"The Face of Carter" Holographic Art Print
"Shadow Grin" Holographic Art Print