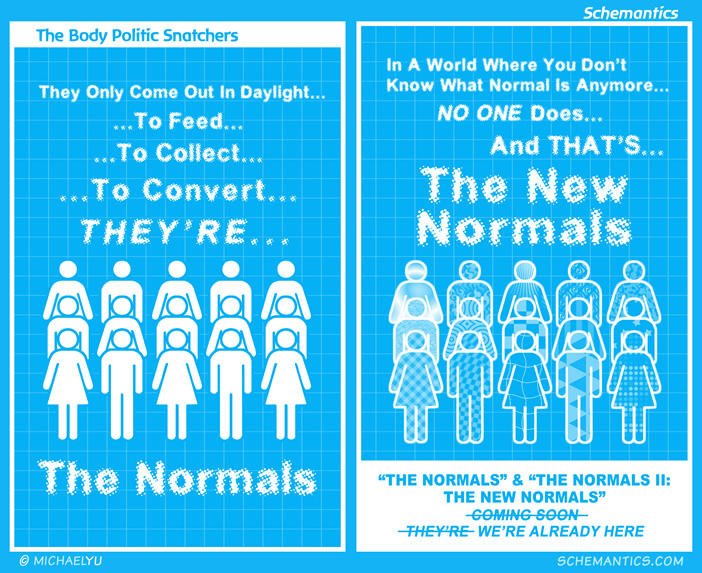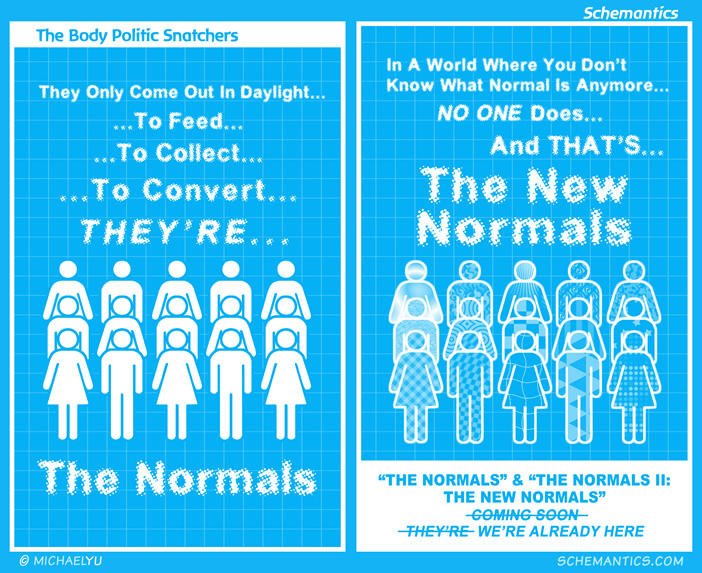 Reply

I'm not normal. Just like everyone else.
Reply

The definition of normal is in an eternal state of revision.
Reply

Well, I'm definitely one of the New Normals. Fear me, hear me, see me, free me...
Reply

I want to join the Radical Normals, but I suspect if I ever did, I'd instantly NOT want to.
Reply

You better not. Whoever joins the radical normals finds out, he doesn't fit in. That's how radical normals function.
Reply

It's like not wanting to belong to any club that would have yourself as a member. It's SO important to have high personal standards.
Reply

Seriously, I think, "being normal" is just an ideology like communism or fundamentalism. You hide everything that your neighbours might not like. Nowadays it has become difficult, because there are so many kinds of neighbours...
Reply

And sometimes neighbors are "weird" in the same way, but both conceal it, thinking the other won't like it. That's REALLY weird.
Reply

If the bible would have been a smart book, they would not have talked about 'original sin', but they would have described what you just described and called it 'original weirdness'.
Reply

Fuuuu the most intelligent thing that I have hearded recently.
Reply

Those patterns on the right a pretty cool.
Reply

Those are the hipsters. They always look so cool trying so hard to not look like they're trying not to look cool.

I just gave myself a headache...
Reply

Oh boy, i dislike people who pretend to be someone else to fit in...
Be yourself???

On other side i love these vector patterns on the right hmm
Reply

I've heard that there's nothing cooler than being you -- but if only I could figure out who that is... X)
Reply

Reply