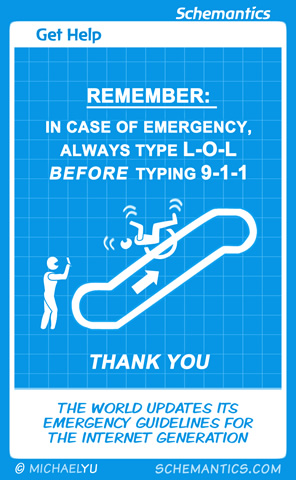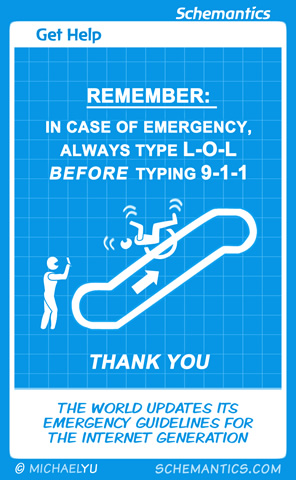 Can't spell slaughter without "laughter".
Reply

Isn't it funny how people just whip out their cellphones when this stuff happens? I can put myself in the category, too. I just saw a video of a person being handcuffed and taken off a plane for disturbing the flight and there were a few other cellphones in the picture too.
Reply

This PSA will cost lives if taken seriously.

Maybe the government is trying to get results similar to "The Purge" in a more subtle fashion......
Reply

The government might hope that violent laughter reduces violence overall. Unleash giggles, not guns.
Reply

Bully and the Cheerleaders have become the Internet's leading role models.
Reply

Making fun of suffering has become fun for the whole family. Though looking back on history, from gladiator games to public lynchings, maybe it's always been.
Reply

I also think, it's an anthropological constant. But it has to be learned. In my youth to be sensitive to the suffering of others was considered unmanly by most of the boys I knew. They forced each other through something, which may quite cynically be called a desensitization therapy. I'ts common worldwide.
Reply

I've heard that in ancient Rome, going to see the atrocities at the Colosseum was considered a civic duty, a way of toughening up one's moral fiber. A hard, conquering people need a hard, conquering sport.

I wonder if they had Free Soda & Blood Spatter nights for the family.
Reply

Dial what now? Ooh, look, he's come away from the chair.
Reply

The escalator is not to blame here. The wheelchair is being misused, it needs help.
The user's head must not be upside down

Reply

The doctor's diagnosis of the victim's skull fracture and broken bones: User Error. X)
Reply

Because life is temporal but internet shame is forever.
Reply

Reply