I wanna see what you can do with my line art! Feel free to experiment and enjoy yourselves, I only have a few simple guidelines:
-No need to ask for permission to color my images, I only
ask that you let me know when you post your finished
product, I wanna see your work! I will be posting some
of these in my journal in a mini features section.
-Please leave my "Lines by: Emerald164" signature
somewhere on the image. Although if you feel the need
to adjust the location and font slightly, I wont
mind. However I will not be pleased if you make it hard
to read by moving it to an area where it cannot be seen,
or adjusting the type font to something that cannot be
read easily.
-In the image description, please include, "Lineart by
Emerald164" as well as my Deviantart icon. If you do not
know how to do this, simply type : iconemerald164 :
(without the spaces)
-I request that you ask me for permission if you wish to
sell prints, the likely hood that I will say "no" is
slim, but I would still enjoy option.
-DO NOT However sell prints somewhere other than
DeviantArt! I would also like to state that my line art
is NOT for Commercial distribution!!!
-If you wish to display your colored version of my line
art somewhere besides deviant art, feel free to do so,
however you are required to have a direct link back to
my DeviantArt main page, along with a description
crediting me for my work on the line art.
Coloring Features!!!
:thumb346815596: :thumb207612621: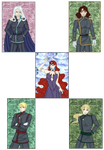 :thumb348263755: :thumb350688749: :thumb350466052: :thumb351965680: :thumb351990806: :thumb352418680: :thumb352419531: :thumb362681741: :thumb362677758: :thumb362678142: :thumb362678712: