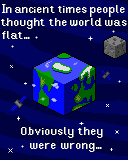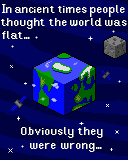 Watch
Another shot at converting Planet Earth into isometric pixel art...
I am still very new at the style, so all comments are most welcome

In particular, i would like to hear what you think of the two different styles of clouds i used, each style is on it's own side...

haha love it!

Reply

Wow I know barely nothing of pixel art but hope you appreciate my ignorant fav

Reply

Heh, thanks, i probably appreciate it more than you'd think.
Thanks a lot for the reply aswell.

Don't be afraid to critize stuff you have little experience with. Sometimes that gives you a clearer vision, letting you spot things the author got used to

- Scarzzurs
Reply

I think the earth would look better without the pale line around the outer edges. Did you try that when you were making it? The moon looks good with just the dark line around it.
Reply

Yeah, i tried it out early in the process since you commented on it in the other version of this piece.
However i think it was too early in the process, since i now think it looks better without it, like you suggested

Thanks for reminding me, i'll update to a new version soon

- Scarzzurs
Reply

You are really good at pixel art.I prefer the bottom clouds since they look a bit more realistic.
Reply

Thanks a lot. I haven't had much experience with this kind of pixelart before, so i'm glad you like it.

Thanks for the comment also.
- Scarzzurs
Reply

I like this a lot! And to answer you question,two different clouds is always better than the same one over and over.
Reply

Thanks for the kind words and for adding it to your favorites

I'm glad your ok with both styles of clouds aswell. I'll try to add some more to it, perhaps some ripples in the water aswell.

- Scarzzurs
Reply