Greetings, and welcome to
Raven Spire Keep
, home of the Scarecrowlover, a strange nocturnal creature that gets their best ideas after midnight... But you can call me Ray.
Over time, I've grown lonely in this keep of mine, so I've decided to share some of this clutter with a few exclusive individuals who are willing to become my
Patreons
, for I ultimately live to serve those who hunger for art and melodramatic writing. Those who donate will receive one or more keys that lead to rooms filled with interesting content. Alas, I am just beginning to dust off these long forgotten rooms, so any help will allow me to offer additional keys as I gain more of a following.
Here are my plans for the future:
With your donations through Patreon, you will gain access to whichever keys you find most tantalizing, and see what the rooms of this humble abode have to offer:
Behind the scenes peeks of my works in progress.
Comenting and Editing privileges on early access drafts.
Access to special Discord Channels
Gritty short stories about young adults in a harsh urban environment.
Fantasy themed portraits. (This will happen once I reach my goal to get a new computer so I can start doing digital art again.)
Romance stories that take place in a magical distant land.
I look forward to meeting you all. This stony tomb gets pretty lonely, and I need more people to visit so I can start using this damn dining hall again. Also I gotta pay rent...
Enjoy your stay,
Ray, the Scarecrowlover
___________________________________
Follow me on Twitter because you know...I'm trying to be all tech savvy.
twitter.com/RayKaiGeorge
I have an ArchiveOfOurOwn account as well, where I may or may not post fanfiction according to the moon cycles.
archiveofourown.org/users/Scar…
Anyway
here are a few stamps that I have collected in an attempt to sum up who I am as an individual. </tt>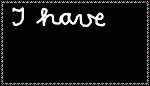 Favourite Visual Artist
Bob Ross
Favourite Movies
The Lord of the Rings, trilogy.
Favourite TV Shows
Critical Role and then I guess I like a ton of other things.
Favourite Bands / Musical Artists
Studio Killers, Bastille, and probably more.
Favourite Games
Skyrim, NWN 1, Diablo II, Heroes of Might and Magic III, Minecraft.
Favourite Gaming Platform
PC
Other Interests
Writing, Fantasy, Kakashi.