The Emerald Party is the campaign central for the Wicked Witch of the West, in her quest for a world where Evil is a great force for order and worldly improvement. If you are tired of other politicans being frustratingly vague and unsubtle about their evil, then
The Emerald Party
will come as a breath of fresh air to a world in desperate need of it.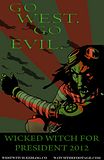 Note: Not my art. Posted with permission
Yes,
that
Wicked Witch of the West. If you were not already paying rapt attention to this page, then we trust you are now. If you are not... begin doing so.
Her plans for the world are simple: an end to the chaos caused by the flawed and unstable democratic process that has plagued America and with it much of the world, for in excess of a hundred years. A return of conformity, and a world where natural elements bend to her command. In short a simpler, productive world, under the rule of a single dictator who will ensure that things actually get done for a change.
Her efforts so far (as well as her general thoughts about the world she now finds herself in) can be found here, at her blog:
westwitch.ezblog.co/
Please head over here for further information on voting:
tvtropes.org/pmwiki/pmwiki.php…
Aaaand for those of you who want to see what this is REALLY about (no I am not making an underhanded joke regarding American Politics and I'm pretty sure she's not a political party) go here: watchthefootage.com/