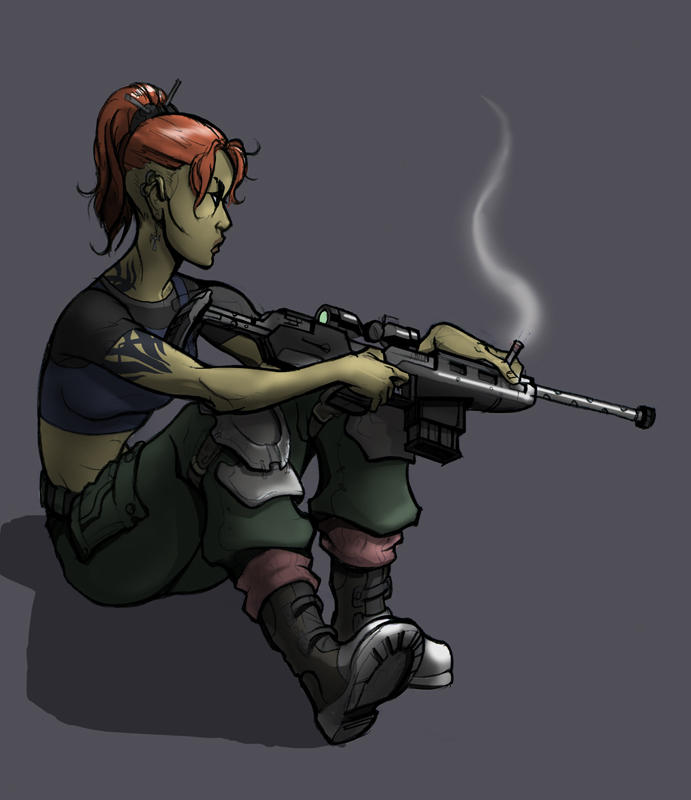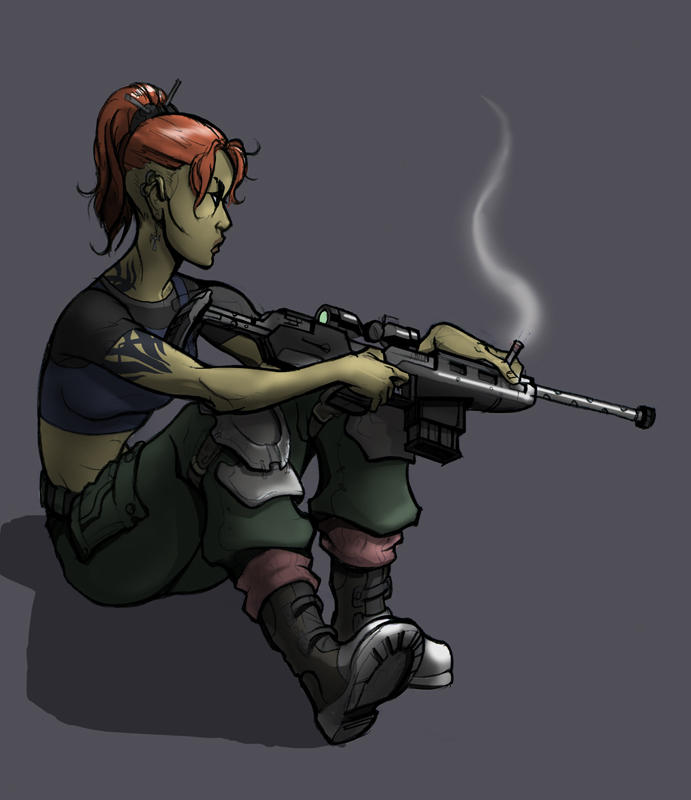 Korean origin. She's Chessmaster first contact withing the resistance movement, wich morphed into a guerilla once all of the special force units followed in. None much to say more since I havent told much about the background.

Feel like doing something quick before heading toward some new freelance work. Ive been killing myself up with storyboards for the past 3 weeks. My next contract should involve good old concept art.

Haha, you've drawn my future gf.

Good job, man.

Reply

no way man! You just draw your own girlfriend. This one is miine!
Reply

Holy shit, bin tout ces contrats là t'améliorent en tabarslack!
Reply

Thanks le gros... Jpensais po qui du monde qui pouvais percevoir une amélioration de ma part. Cé souvent subtile.

Heille..joue tu toujours a BF2. Jme suis acheter un portable vla 3-4 smaine qui le fait runner comme du monde. Jme demandais si tu fesais po parti d'un clan ou queckchose qui sont foutu de jouer en team comme du monde.
Reply

Esti que tu tombe bien, je vien de recommencer a jouer o_o

Chu pu aussi bon que j'était, mais j'ai continué a m'netrainer a flyer. Faque chui décent en hélico et en jet. Tk, Ça reviens vite, c lfun.
C genre, ajoute moi a msn ou kekchose, pcq c effectivement fucking frustrant rentrer dans un serveur 30/30 pis que ya un total de 3 squad, une de 3, deux de 2, pis quand tu regarde le scoreboard 60% des gens ont "sn!per" ou "uberleet sniper" dans leurs noms xD

nemesismess@hotmail.com
Reply

Nice!
Elle a l'air vachment badass!
Est-ce que c'est moi ou t'a un faible pour les fille qui fument la clope?

Reply

po dans vrai vie. Ca sens le criss. Mais les tit dessins y sentent rien!
Reply

Elle est bien chouette!
J'aime ses pieds surtout lui qu'on voit la semelle!
Pis le gun yé vachement hot!
Je trippe moins sur sa face que je trouve encore que t'as fait trop masculine mais bon c ton style au bout du compte...
Pê si elle avait d'aussi grosse poches sous les yeux ça aiderait mais elle est chouette quand même!
Tu sais que je me plains toujours de toutes façons!
Mais c drôle Min c'était le nom de mon amie, ben Minelly, mais on l'appelait Min faque...
Moi je trouve ça bien marrant!
Reply

A peut pas avoir l'air trop sweet. A vit dans un monde vraiment intense. Cé carrément une prison urbaine. Prostitution, black market, violence quotidienne. A vivre la n'importe qui développe dé poches en dessous des yeux!

Min stun nom qui signifie "cleverness"...sti je sé meme pu ce quoi en french. Go loi 101.
Reply

Le gun est fou. On dirait qu'a tient sa cigarette à l'envers!
Reply

non...ques qui te donne cet impression la? Ptete po mis le boutte assé rouge.
Reply

C'est ça, exactement, en fait. J'avais compris que c'était le bout brûlant, mais il a l'air un peu orange, alors ça porte un peu à confusion.

Reply

She looks very confident with that gun

Nice lighting and color choices too.
Good luck with that contract.
Reply
sweet. long time no dev, man

Reply

sti d'crack! Jadore trop le gun!
Reply