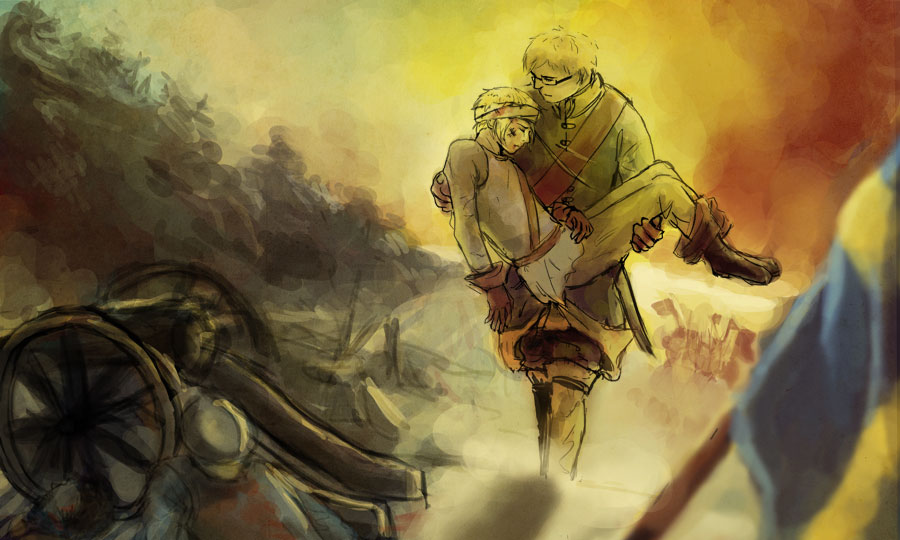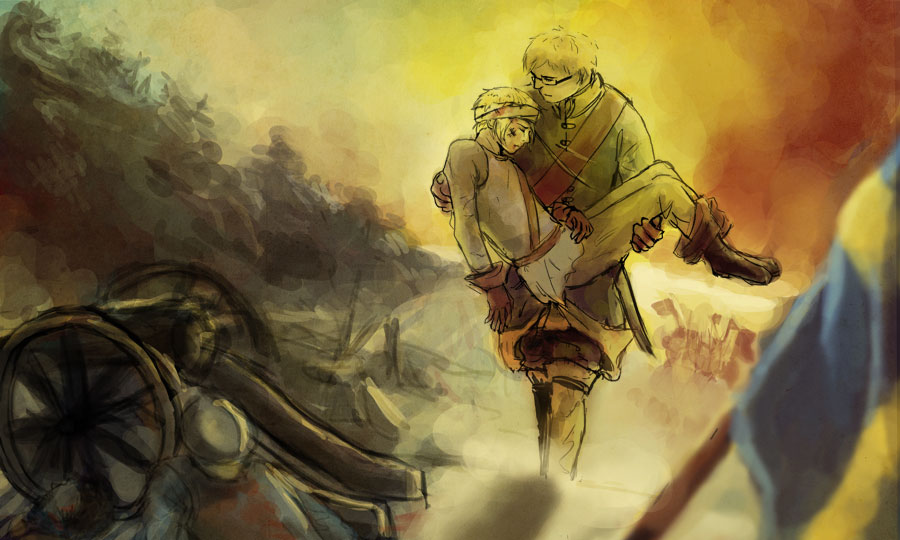 Watch
Inspired purely by reading history books. Contrary to what the fandom sometimes think, Finland wasn't home doing the dishes while sweden was at war.
I don't know what to say about this... I went a little crazy with the colours? It's also very sloppy made. Sorry, but I'm a lazyass.
There was so many thing in this pic I couldn't daw D: And anatomy, why do you hate me?
Textures:
[link]
Reference for pose:
[link]
žion=&q=carrying#/d241ylw
I hope you like...?
Tino and Berwald belongs to

Also, when I showed this to my parents and friends they all pointed to Berwald and asked "Is that you?" WTF people.
I always love your work. You have such an eye for colour and composition, and that proficiency is shown off very well in this picture. The firey colours of the background meeting starkly with the cool colours of the Swedish flag in the right corner, contrasted with how the background colours gradually fade to dark and grey tones in the foreground. It's an interesting and odd choice, and a very sophisticated use of colour and line. It compliments the composition of the piece. Also, I really love how even though the red and yellow are colours of war, they are muted and somewhat tinged with green and grey. It makes for a gorgeous palette and also enhances the dark mood of the picture.

As to the subjects of the picture, I was a little put off at first by the sketchiness of the lines, but on further examination, I think it was a very good decision to leave them so rough. It gives their figures a sense of movement and transience that would otherwise be lost.

I also think the actual expressions and idea are wonderful. Finland looks beat up, and it looks genuine while not being over the top. I especially love how you maintained Sweden's immobility of face while still making his expression show so much. The downturn of his mouth, the slightly kinked eyebrow, the bowed head and shoulders. It is so understated and yet so expressive of his emotions. This is an extremely excellent capture of his character, and I think it is wonderful.

On the critique side of things, I have one or two suggestions. Both Sweden and Finland are drawn wonderfully, but their pose seems a bit off to me. Sweden is fine, the balance of his body and his anatomy are great, and I think you did a really good job good making him look like the tall, broad, intimidating guy he is, but how he's holding Finland seems incorrect. I just seems physically impossible to hold someone up with the hands placed where they. I know Sweden is very strong, but it's a matter of balance and distribution of weight that makes it seem a little weird. If Finland had his arms wrapped around Sweden's neck for additional support or if Sweden's hands were placed differently, I'm pretty sure it would work, but as is it makes Finland seem like he is floating. I think it looks a little odd because Sweden's whole figure is slumped over with the effort of holding Finland up, and the whole composition seems tipped and heavy with the weight and darkness of the concept (which is wonderful, by the way), but Finland himself, the focal point of this whole, dark, heavy scene seems weightless.

Though I wrote a lot in that above paragraph of critique, I think that it is a minor objection. The amount of detail you put into this is exquisite (I just noticed the dead guy in the corner... that is dark and stark and effective, my friend) and your effort, talent, and thought are truly evident in this piece. I love fluff and romantic pictures, but it always makes me happy when people draw SuFin (or any other Hetalia thing, for that matter) in a darker light. It is history after all, and there is just as much destruction, war, and hate in history as there is art, peace, and love. Every country is stained with blood and grief, a concept that you have portrayed beautifully through this picture.
The Artist thought this was FAIR
66 out of 66 deviants thought this was fair.