Journal Entry:
Sun Aug 8, 2010, 10:09 AM
Listening to: IAMX - I am terrified
Reading: Your mind
Eating: american cookies
Drinking: Ice Tea
Hey guys...
I´m BACK. Yeah... after a long time of absence I am back in being more active here.
And I´m back with some new stuff.
In some days I hope to upload my pictures from my trip to Versailles (Paris) and from the concerts of Indochine, And One, Mesh, VNV Nation, Ashbury Heights and some other acts from Amphi Festival in Cologne.
But before this I was posting 2 self-portraits I made today in freakin crazy mood of excitness for the next IAMX concert. I´m looking forward to March 19th 2011 in Brussels and I hope that I can go to the concert/festival of Wallonie in Belgium on September 17th to see them live. If I can´t I will die *lol*
Well just check my self-portraits in my new IAMX style

I am terrified

Pretty Little Angel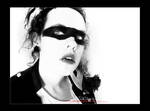 Stay depeched and IAMXed
SawSomethingPhotography

Watch

Welcome back!
And do you actually know how much of an IAMX-lover I am? Come into my arms
LOL! Love the new pics inspired by his style.
HeŽll do live shows again next year? Sheesh, I have to check if heŽll be on Tour in Germany, too
Reply

Wooooot cool! So we need to meet at one of his concerts. I´m so unbelievably crazy and freakin´out because of his music and his style. I just love him! He´s so amazing!
Cool that you discovered him as well and it´s worth to spread the news about him.
He will be in Germany I am sure and I am sure he will be in Cologne again like last year. This concert in Cologne was so... I don´t have a word for it *lol*
Reply

Cool! Great taste in music we have hehe. Indeed we have to. I discovered him when I won the "Spit it out" Single on a DM-Party, what fate lol.
Saw him last year here in Berlin, what a creative and crazy show, yep. I guess I now have to stay alert for more possible german show-dates, watching. *nods*
Guess what, thereŽll be a german Vampire-movie out in Oct,they used his music for the Trailer already and IŽm hoping thereŽll be more in the actual film then. He so needs to be known by more people

Reply

Oh whats the name of the movie? I would like to see that as well? Well for sure more people should discover them but if this really happens that they become more big I will miss that freakin´ gigs in that little clubs. It´s so great that he wants to be in direct contact with the audience and this will get lost if they become bigger and bigger.
So I hope they stay big enough that they can live from that but small enough for us to enjoy those gigs in that small and darm clubs *_*
Well I hope to see them next month in Belgium in Namur for the festival "Fetes de Wallonie". Cross fingers that I can quit my job earlier to go there because till march would be too long if I would miss this gig *lol*
Do you know the soundtrack from "Les Chevaliers du Ciel"? It´s produced by Chris as well. I love his song "Into the fire" -->
[link]
So Chris Corner was producing this during his time of Sneaker Pimps but it already sounds so IAMX.
And you should check on Youtube "Sneaker Pimps - Loretta Young Silks" (Acoustic) So great!!!!
"Blacksheep" from Sneaker Pimps I love as well. Checkt that I´m sure you might like it as well

Greetz
Reply