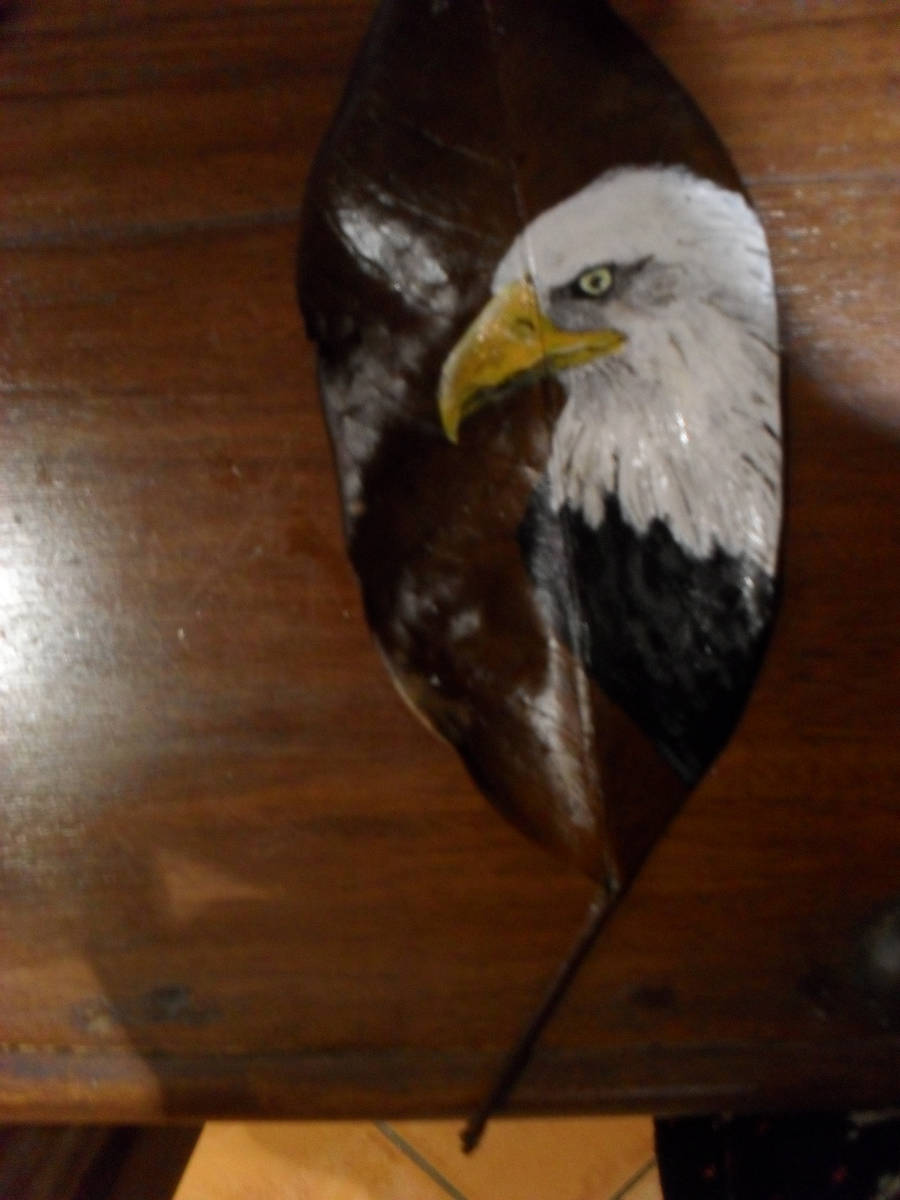 Watch
well people seem to like these "leaf paintings" so heres another, The eagle alot smaller than the parrot But still i like it.
Tell me what you think, or sugest another animal to put on the next one?

Xo Le SaVy

you have done such an amazing job
i was blown away when you showed me in person
>.<
Reply

It's so realistic, the feathers look like actual feathers O:

Haha, keep it up, I'm sure you'll get some good money out of it.

I'd give you some ideas if I wasn't so tired and didn't need to get off the puter.
Maybe I'll tell you at school.

xoJacQui
Reply

thankyou

i kinda destroyed the wolf XD i needed one to practice the whole preserve thing.. maybe i should preserve the leaf and THEN paint on it..
Reply

Yeah, that would be a good idea, and then hair spray the paint once it's finished and dry. Hopefully that would make it last longer :]
Reply

Yus hopefully, Im going to try and get ahold of some geese feathers to paint on, do you know where i could get them?
Reply

Nope, but I thought you said you'd already ordered some.
Reply

Nup, i will order some if possible but nope i dont know where to get them from yet.
Reply

Haha, just look it up on the net.
Or maybe go to a pillow place (like Pillow Talk((I think that's what it's called)) near Bunnings in Maroochydore) and ask for one cheap goose feather pillow, then you'll have heaps.
Reply

Wow, that is beautiful! Did you have to coat the leaf with anything before painting on it?
Reply

Thankyou, i coated it with a very strong hair spray XD but i dont think that will actually preserve them so this arvy im going to get some wax paper, then what you do is iron that onto a leaf and it will be preserved. Hope that helped
Reply