WELCOME, EVERYBODY!
This marks the first time I've ever organized some kind of giveaway on my DA, and I'm really excited to do so! I'm sure a lot of you who watch me have noticed, but I have been uploaded a lot more art lately in an effort to revitalize my account. Being back has been really nice, and I've already gained some new friends and a lot of new watchers, which is excellent! I also recently broke 100,000 page views, but unfortunately didn't have any kiriban planned for it. QuQ
I REFUSE TO LET YOUR LOVE AND SUPPORT GO UNNOTICED ANY LONGER!
I have made a lot of friends on DA, and have received a ton of support and positivity from users on here, and so I'd like to engage with you all further and host a COUPLE of events!
~
~~
~~~
~~
~
MY FIRST ART RAFFLE
First up, is the raffle. Since I've been gaining a lot of attention from submitting character reference sheets lately, I wanted my raffle to be for some custom character reference sheets! I don't know how many people I can get to enter, but I'm going to set up three winning places.
THE PRIZE:
A character referene sheet consisting of a full body, a second full body/alternate form, and three headshots. Simple or aesthetic background. Text blurbs (provide me with some flavor text or facts about your character if you win!)
Examples: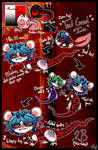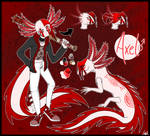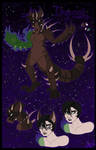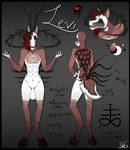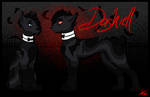 HOW TO ENTER:
Be a watcher! (New or old is fine.)
Have an account older than three months. (I'll make an exception if you and I have spoken on DA before, but you MUST link me to it.)
Comment on this journal!
Share this journal! (Must be new journal/poll, not edited.)
HOW TO EARN RAFFLE TICKETS:
Comment anything on this journal = +1
Tag some friends = +1 per tag
Share in a poll = +1
Share in a journal = +1
Link one of your favorite pieces of mine in your comment = +1
Benefits for widget friends:
Insta +5 tickets from commenting!
Mass-tagging whenever I host an event!
You can opt out of sharing my event journals!
END DATE:
July 31st @ 11:59 p.m. EDT - IT'S NOW CLOSED!!!
I am running the tickets right now for the drawing~~
WINNERS:
Proof:
Raffle 001 Winners
Congratulations, you guys!!
EDIT - BONUS WINNER:
Proof:
Raffle 001 Winners v3
Shimmer let me know that they would prefer a simple fullbody, and Torn wanted to pass his winning spot on to another artist, so I went back in and pulled another ticket to hand off the reference sheet slot to another person since that was the big ticket item. Congrats to our new winner!
POST-100,000 KIRIBAN
The second event I'm hosting is a post-100,000 page view kiriban! Since I missed the milestone, the official one will be 111,111! If you can screen shot it and send it to me then you win and I'll give you either a free full body piece of your character/persona (colored and shaded), a full body piece of a canon character from a fandom of your choice (if you don't have any OCs/a persona), or TWO custom character designs (my closed species are on the table)!
~
Thanks again to everyone who wants to participate, and to everyone who got me this far. You guys rock, and it really means a lot to me that you helped me out. <3
Essy-G over and out.