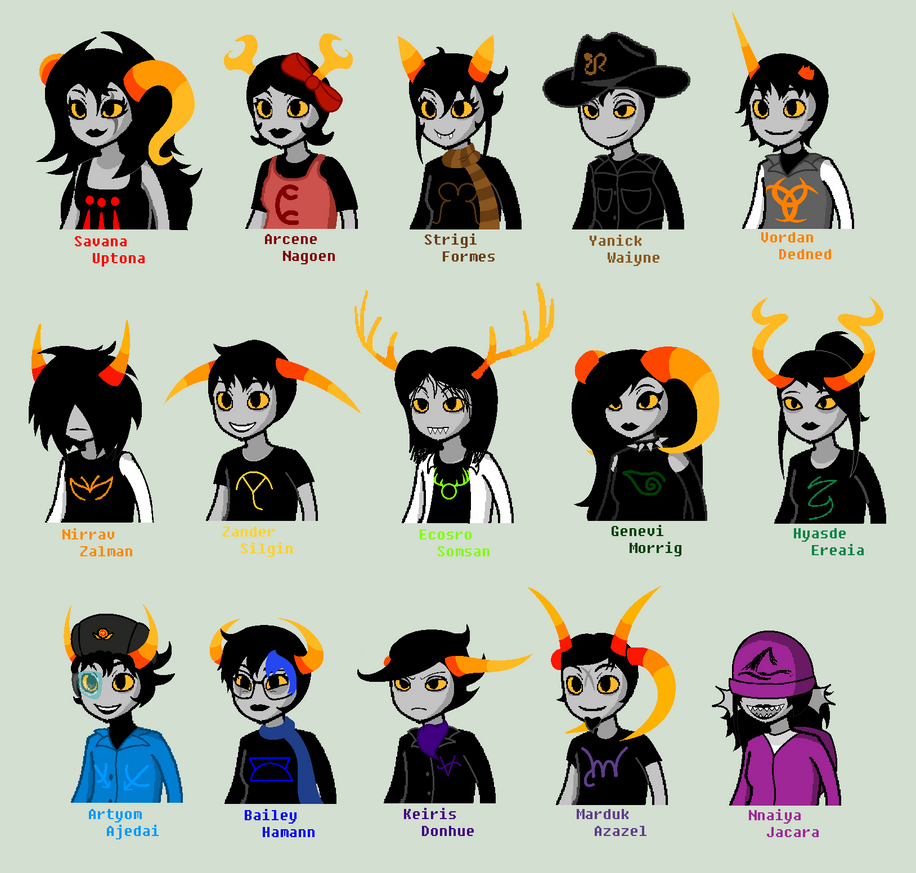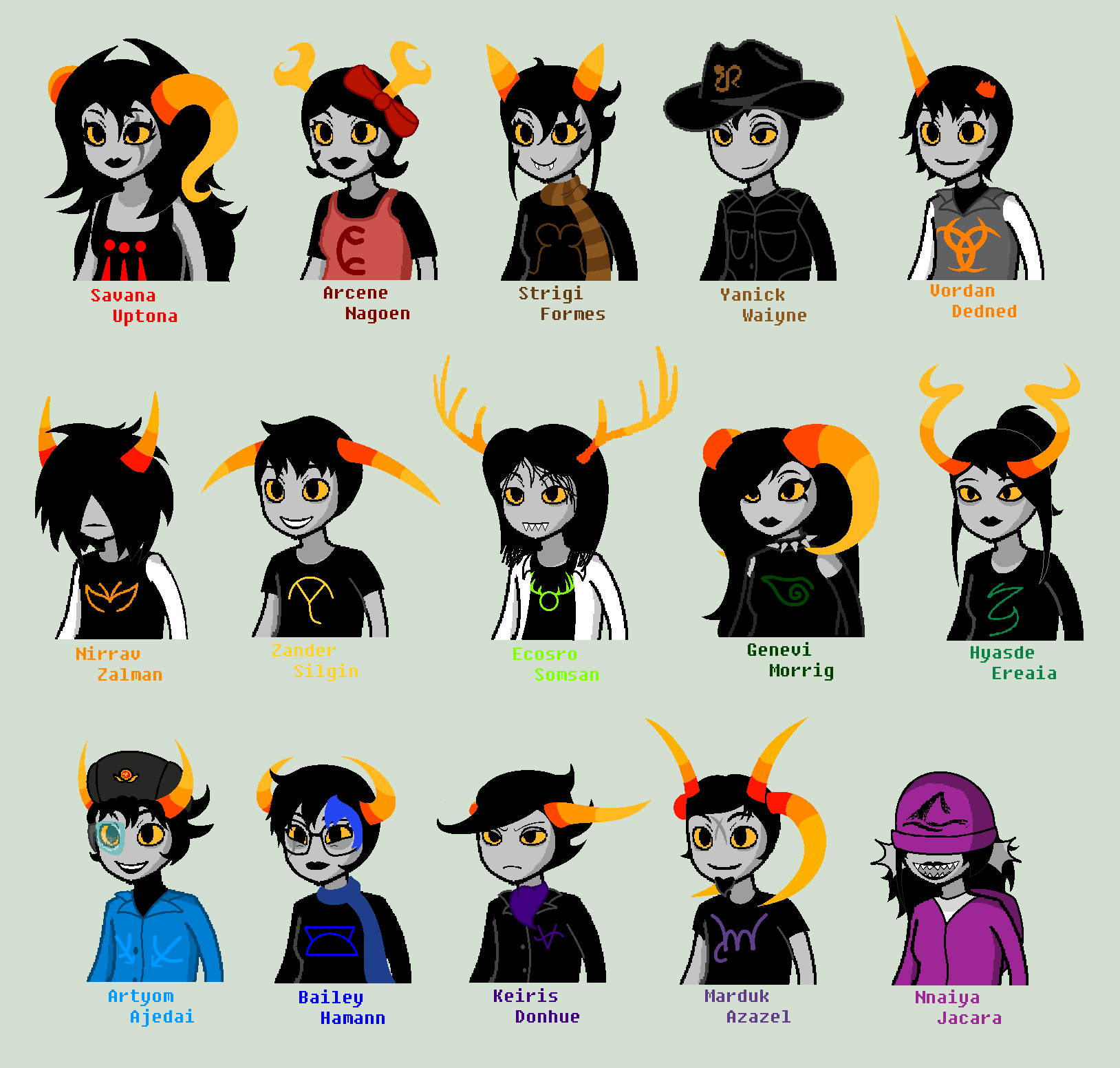 Watch
OH MY GED I'M GETTING SH*T DONE. So, here we have my team's talksprites~
~
The Team:
savannaegoth.deviantart.com/ar…
The Dancestors:
savannaegoth.deviantart.com/ar…
The Descendants:
Session 1 Team DESCENDANT TALKSPRITES
~
Sprite Sheets

Savana:
savannaegoth.deviantart.com/ar…

Arcene: savannaegoth.deviantart.com/ar…
Strigi:
savannaegoth.deviantart.com/ar…

Yanick:
savannaegoth.deviantart.com/ar…

Vordan:
savannaegoth.deviantart.com/ar…

Nirrav: savannaegoth.deviantart.com/ar…
Zander:
savannaegoth.deviantart.com/ar…

Ecosro:
savannaegoth.deviantart.com/ar…

Genevi: savannaegoth.deviantart.com/ar…
Hyasde:
savannaegoth.deviantart.com/ar…

Artyom:
savannaegoth.deviantart.com/ar…

Bailey: savannaegoth.deviantart.com/ar…
Keiris:
savannaegoth.deviantart.com/ar…

Marduk:
savannaegoth.deviantart.com/ar…

Nnaiya:
savannaegoth.deviantart.com/ar…
~
BiosSavana
- Savana is a very strange kind of troll. While she types and writes with grace and eloquence, she talks using a lot of slang and nicknames for her friends. She's a bit of a rebel and has been shown to have all sorts of different emotions. She's a pretty confident fighter and can control both shadows and light as well as being skilled in hand-to-hand combat. She is a free spirit and enjoys intellectual pursuits as well as surrounding herself with nature. She loves flying and manipulates shadows and waves of light and uses them to support herself in the air. She tries to keep a positive relationship with all trolls and despite her best efforts, some are still afraid of her and a few even despise her. She suffers from depression and insomnia and dreams in the void but is able to visit both moons thanks to the aid of Zander's dancestor. She is loyal and fights hard to protect those she's closest to especially after her accident. She very much enjoys singing and making music.
Arcene
- Arcene...well...to be frank is a bit of a hermit. Arcene hardly knew any members of her team aside from Strigi and as a result has almost little to no relationship with the lot of them, but she's warming up to them and is beginning to think of them as her family. Arcene lived in isolation but was happy; she had her thoughts and all the time in the world to do what she wanted to do. She is skilled at using throwing axes but thinks of fighting as work and doesn't like to mix work and her personal life. She is quiet and does participate in team conversations, usually just when it comes to voicing her opinion. She's still fairly happy even after she drowned and broke her horn in a fight with some imps. Not much is known about her still by her team; all they know is that they can trust her. She's only ever been seen openly interacting with Strigi and she's very kind and cheerful around her. Arcene likes to garden and go swimming and she's very good at both. She also has the ability to walk in others' dreams and can help others discover their desires and learn truths about their inner selves and can help them to find an inner peace.
Strigi
- Strigi is a childish, oblivious, cheery little troll. She has a tendency to copy the actions she witnesses and as a result annoys many trolls. Her outfit, for example, bears close resemblance to her matesprit's with the exception of long sleeves and a scarf to keep her warm. She would rather be having fun than working and often pushes trolls out of their comfort zones without realizing it. She doesn't mean any harm, and is quite sensitive to what other trolls do and think. She likes spending her time in the trees or on the beach or really anywhere where she can feel the wind in her hair and the moon on her back. She specializes in dropping from trees onto her enemies and is actually quite a fierce fighter. She can get a little hyper and obnoxious sometimes and is very loud. She is a social butterfly and doesn't like it when things are too quiet or when everyone's too busy to spend time with her. Despite her wild behavior, she's a very affectionate troll and tries to cheer up her friends.
Yanick
- Yanick is a dependable, capable troll with a very laid-back personality. He is loyal and and brave and will fight for what he believes in. He isn't likely to back down from a fight and isn't easy to put down. He doesn't let his friends give up on themselves and is often a voice of reassurance and wisdom. He is a hard worker and doesn't complain. However, he can become easily frustrated. He isn't fond of quiet trolls or childish ones. But he'll always have your back in a fight. He likes having time to himself and prefers to be in wide open spaces as he has a bit of a personal space issue and suffers from slight claustrophobia. He isn't great at using technology and suffers from massive headaches from the noises of the labs and the machines in the meteor. He likes going outside during storms and feeling the wind in his hair. He loves the feeling of freedom. He's very sly and can usually hold his own if he's ever cornered in a fight. He likes relaxing and sitting on the porch outside of his hive.
Vordan
- Vordan is a strong, friendly troll who is a very skilled fighter and likes working with computers and designing new weapons with Artyom. He isn't very good at using war hammers and ended up losing his horn because of this. He and Zander were attacked by an ogre who overpowered Vordan and smashed his horn. Zander saved him, but Vordan gave up using his bloodline's signature weapon ever since to avoid endangering himself any further. Vordan doesn't like reading and is a big gamer instead. He's protective of his friends and is very forgiving and understanding (except when it comes to Marduk). He is loyal and helpful and once he's your friend, he'll always stand by you and will never give up on trying to help you. Vordan has an extreme need for speed and alchemized a special hovercycle to help him satiate his hunger for feeling the world fly by.
Nirrav
- Nirrav, like Nnaiya, is a quiet, reserved troll. He had a bad accident that left him mute and blind and he remained hidden behind his wall of hair even after his voice and eyesight returned. He doesn't mind large crowds as long as no one tries to interact with him. He's very private and doesn't like opening up to anyone. He prefers trolls keeping their distance from him due to his claustrophobia. If he does talk to you or let you see his eyes, then it's a sure sign that he trusts you and feels an emotional connection with you. He has gotten into quite a few scraps with lusi and other monsters that he's come across in the wilds of Alternia and as a result it's dangerous for him to go out alone on the off chance that he's attacked by the same creatures. They were actually the lusi of his deceased low blood friends who were killed because they had all challenged the hemospectrum. They were culled but Nirrav managed to escape, but it required him killing a few high bloods in the process. It bothered him enough that he just forced himself to forget it. It's why he was so sympathetic to Savana when she was corrupted. He is actually very warm and friendly towards the few trolls whom he trusts and he likes going on adventures and exploring, looking for treasure.
Zander
- Zander is a very optimistic, sociable, friendly troll who likes making friends and being there to support and be a friend to all of his teammates. He tries to keep the others from fighting and lightens the mood with his easygoing nature and friendly ways. He's a skilled socializer and rarely gets upset with anyone. He's extremely forgiving and understanding and protective of his friends. He's very athletic and some of his favorite activities are running and rock climbing. His slim figure is very deceptive as he packs a lot of upper body strength from wielding heavy weaponry such as war hammers and maces. He can be pretty excitable and his enthusiasm has proven to be very contagious to trolls who are upset. Zander is also able to befriend other creatures and can tame them.
Ecosro
- Ecosro is a unique sort of troll whose blood line was hunted to extinction due to the fear that their powers would upset the hemospectrum. Ecosro is a lime blood. He's a very proper troll who has a strange, formal way of speaking that sometimes confuses others. He agreed to help the team with their game after Savana revived him. Now, he's a valued member of his team as well as Savana's mentor. He is quite knowledgeable of many things and can often help his teammates in deciding the best course of action in a situation that would otherwise seem hopeless. His social skills are a bit lacking, however, and it's obvious that he isn't used to conversing with others by the way he interacts with them. It is because of this that some of the trolls see him as a cold and distant troll. He doesn't always get jokes as he can't find the humor in them and finds them to be inappropriate. He has chosen a life of celibacy as he doubts that he is cut out for being a part of anyone's quadrants; the aspect of filling quadrants doesn't exactly appeal to him. He likes helping others, though, and will offer to be of help to avoid feeling useless; he always has to be doing something. He's an efficient worker and a skilled mentor.
Genevi
- Genevi is a stoic, secretive troll who prefers quiet company or no company at all. She has an interest in intellectual pursuits and doesn't like loud, overly joyful trolls. She keeps her emotions bottled up and doesn't open up to others. She is very realistic and is rather pessimistic as a result. She can be harsh on others who make mistakes and she has a boiling temper that she tries not to let surface. Other trolls tend to be very nervous around her and avoid her. Genevi is an excellent fighter and is likely to triumph over any opponent by taking advantage of their weaknesses and using intimidation. She doesn't like fighting dirty, but will do it if she feels it's necessary to protect her team. She doesn't like being made fun of and gets annoyed by others' childish behavior. She focuses on getting her work done and doesn't like others who waste her time. She believes in taking revenge only if the wrong done to her was severe enough that it would demand action. She battles an inner conflict that comes from her inner emotional turmoil and while others may be afraid of her or think that she's too aggressive, she does harbor common sense and logical thinking and is good at giving words of wisdom and speaking sense into others. She also gained a bad reputation for being a descendant of The Guardian, a troll who guarded the underworld and oversaw the passage of souls in between the two realms. Genevi wears platform boots due to her small size. She hates it whenever anyone comments on her height. She wears a spiked collar to cover up various scars she has received.
Hyasde
- Hyasde is a peaceful, gentle troll who is known for her adept healing skills and knowledge of treatment. She is who the team goes to when injuries surface. She tends to be very motherly toward her patients and supportive of her friends. However, she does suffer from low self-esteem and never thought that she would achieve her dreams of becoming a vampire troll like others of her blood color. After her dream had been fulfilled, however, she gained more confidence and joined in on battle training. Her fellow jade blood companion and moirail, Tailan, also helped Hyasde to find her confidence and stand up for herself against others who might want to manipulate her. She encouraged Hyasde to unlock her full potential, to be the best she could be. Hyasde still tends to her team's wounds but has a much tougher shell and as it turns out is very skilled at using various exotic melee weapons. Hyasde is a bit of a romantic as well; she has a weakness for various romantic gestures and dreams of being swept off her feet.
Artyom
- Artyom is a hearty, personable troll. He's very helpful and supportive of his team members and isn't easy to discourage. He is very skilled at making and using explosives and enjoys battle training with the others as well as planning strategies and trying out new battle tactics. He tends to be rather loud and as a result skittish trolls try to avoid him. He enjoys spending much of his time in some of the meteor's many labs and on his respective planet full of snow and mines. He finds the cold weather on his frozen planet to be bracing and challenges himself to navigate around it while avoiding the many mines. He also likes racing his friends over the snow and ice on their various vehicles. He doesn't like quiet, reserved trolls and will often make attempts at getting others to loosen up. Artyom can be a bit hard-headed at times but would never do anything that would risk the safety and well being of his friends (aside from dodging mines).
Bailey
- Bailey is a very intelligent troll. She has a vast knowledge on many things and is a very rational thinker. She doesn't particularly enjoy spending time with the more immature trolls and tends to avoid socializing with them. She has a special affinity for reading and magic and enjoys learning new spells from her collection of ancient tomes she has acquired through her many adventures with her team. She spends many nights stargazing, learning constellations, and making maps of the night sky. What time she doesn't spend reading, stargazing, and spell casting, she spends with members of her team. She particularly enjoys visiting hers and her moirail's planets and occasionally goes imp and ogre hunting. Bailey has a sense of humor that some might see as offensive or cynical, but her friends love that about her and they know she doesn't mean to offend.
Keiris
- Keiris is of noble blood, and isn't about to let anyone forget it. He thinks very highly of himself and enjoys more intellectual pursuits. He writes and reads poetry and goes hunting with his wolf lusus. He is quick to temper and doesn't get on well with trolls who like to goof around or make lots of jokes. He is very task-oriented and is a hard worker. He is very prideful and hates admitting he's wrong or taking orders from any blood lower than him. He is appalled at the behavior of those whose bloods are higher than his in the group as he believes that they should behave in a more dignified manner. He is an excellent marksman and uses a sniper rifle. He's heels over horns flushed for Bailey and because of this he is quick to hate anyone who harms or argues with her. The grudges this troll can hold are legendary. Keiris has a bit of a secret romantic side and despite his best efforts, he can't seem to successfully woo the troll of his dreams. He also suffers from an alcohol addiction and as a result several areas of his hive are littered with empty wine glasses and wine bottles.
Marduk
- Marduk is pretty metal dude. He really enjoys listening to his music and zoning out. Sometimes he uses it to escape from reality when things are getting really serious in order to keep his head. He tends to be a bit of a slacker and takes longer than other trolls to get his work done. He has a bad habit of sleeping for long periods of time and he goes to his moon more than the others. He has a really friendly, relaxed air about him that makes others trust him. After Savana had been cured by Bailey and revived by Aminon, he visited her in her dream bubbles and tried to corrupt her again so that she could take him to join His Honorable Tyranny's army. After discovering his evil intentions, Vordan killed him in order to redeem him as his ancestor was known for doing. After he was revived, Marduk no longer wanted to corrupt Savana and began working harder and improving his relationships with other trolls. Although he was forgiven by Savana and their relationship grew, Vordan never forgave him and they became Kismesis.
Nnaiya
- Nnaiya is a very quiet, shy troll. She hides under her hat so that she won't make eye contact with others. However, because of her keen, shark-like senses, she is able to avoid running into any obstacles. She never says more than ten words at a time and is terrified of large crowds. She spends most of her time out of the sea as it's too crowded with other trolls and lusi. This is most likely the cause for her not liking her outgoing moirail whom she hasn't broken up with simply because she doesn't want to hurt her. She likes skating by herself on natural rock formations or ramps that she's built herself (although she isn't very good with building things, she's much better at destroying them and taking things apart). She's a fairly adept skater, however, she still takes some nasty spills and gets cut up from wiping out, but she doesn't let it dampen her spirits. Instead, she just smiles and gets right back on her board after patching up. She uses her board in melee as well, and especially enjoys her rocket board. She listens to hip hop and rap and is very good at break dancing.
~
Bases (c)

These Trolls (c)

HS (c)