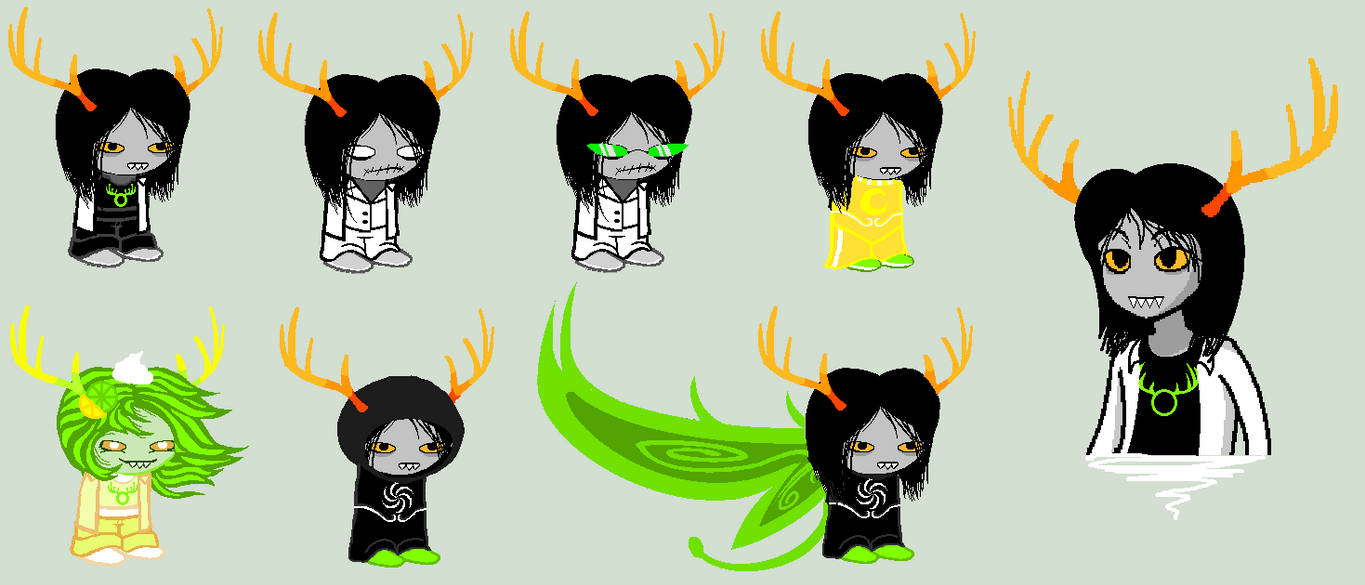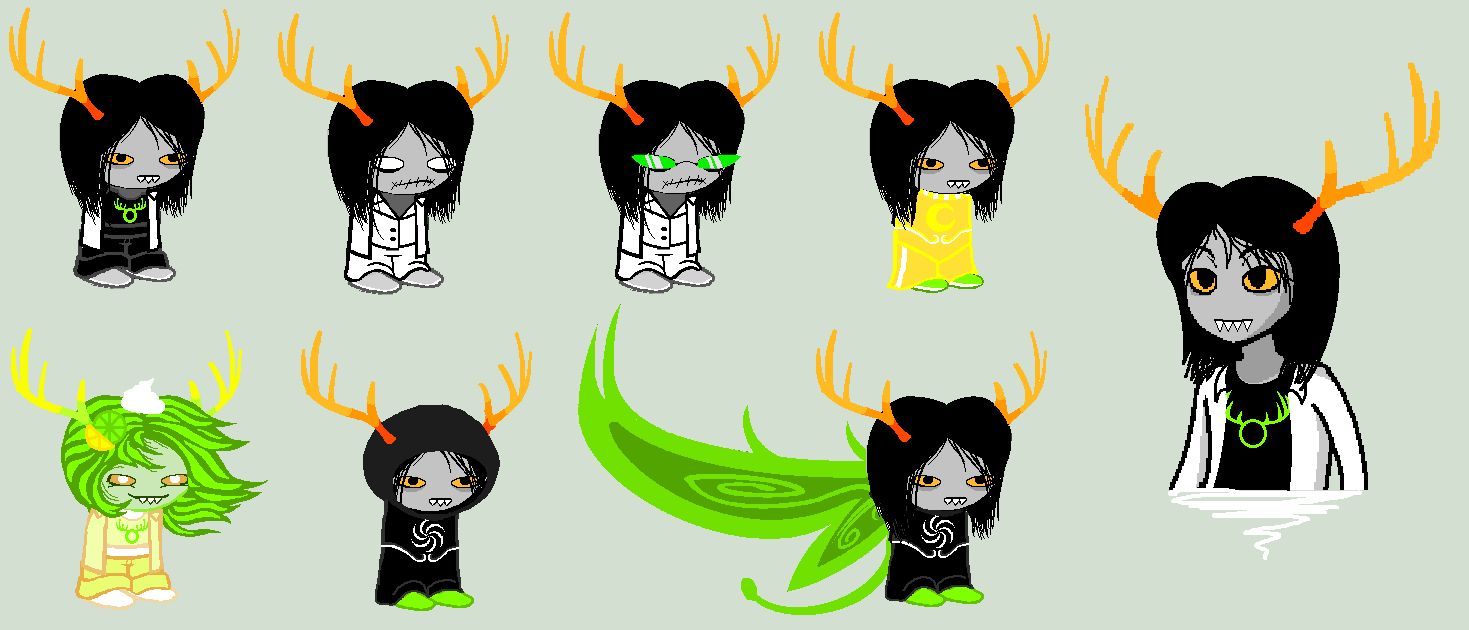 Watch
1) Current sprite.
2) Dead.
3) Dead with shades because he's
classy
.
4) Prospit dream attire.
5) Trickster mode--key lime pie theme.
6) Seer of Space--hood up.
7) God Tier with wings--hood down.
~
Ecosro
- Ecosro is a unique sort of troll whose blood line was hunted to extinction due to the fear that their powers would upset the hemospectrum. Ecosro is a lime blood. He's a very proper troll who has a strange, formal way of speaking that sometimes confuses others. He agreed to help the team with their game after Savana revived him. Now, he's a valued member of his team as well as Savana's mentor. He is quite knowledgeable of many things and can often help his teammates in deciding the best course of action in a situation that would otherwise seem hopeless. His social skills are a bit lacking, however, and it's obvious that he isn't used to conversing with others by the way he interacts with them. It is because of this that some of the trolls see him as a cold and distant troll. He doesn't always get jokes as he can't find the humor in them and finds them to be inappropriate. He has chosen a life of celibacy as he doubts that he is cut out for being a part of anyone's quadrants; the aspect of filling quadrants doesn't exactly appeal to him. He likes helping others, though, and will offer to be of help to avoid feeling useless; he always has to be doing something. He's an efficient worker and a skilled mentor.
~
The Team:
savannaegoth.deviantart.com/ar…
Profile:
savannaegoth.deviantart.com/ar…
~

Wwhat P0wwers D0 Limebl00ds Havve??? I Tried Findin Stuff Ab0ut it But I G0t N0thin. This 0nly C0nclusi0n I Made Wwas That They C0uld C0ntr0l Em0ti0ns 0r Keep The Highbl00ds Calm And N0t Cull The L0wwerbl00ds(somethin along the lines of that) Wwhat D0 Y0u Think?
Reply

Well, I just assumed they had great magical powers and heightened psionics.
Ecosro himself isn't like other limebloods in the aspect that he really feels little to no emotion. I don't think that limebloods even had a problem with anger and unstable emotions due to their lower blood color. It was probably due to their immense powers and superior control that made them so dangerous to the hemospectrum.
Reply

I thought he was a girl for a while XD
Reply

Asdkjkgjlkajedhf -- FFFFF -- heh, okay.
Well, surprise! My lovely babu is a boy! He's got his own bulge and everything.
Actually, there's a running joke between my brother and I that he's a pretty girl because he does kind of look like one when I draw him.
Reply

Nice XD
Actually, I have made like 14 fantrolls and 4 fankids (including my beta kids' alpha counterparts). Maybe I could compile my fantrolls into one picture and upload it.

But a bit of a warning to you, my fantrolls have unusual blood colors (for example, one of my OCs is a limeblood like your babu Ecosro, but another is a jasperblood (dark green), and I even have one that is an orchidblood!).

Reply

That'd be totes cool! You have to send me a link if you do! I'd love to see them. And don't worry about odd blood colors. Have you seen my team's colors? XD
I get a bunch of crap about them almost all being mutants and I'm all like, nooooooo . . . they're just different shades and slight alterations of the canon colors.
Reply

Yep, I have. Your team is actually pretty interesting!

Some of my colors are slightly lighter, and some are inbetween two canon colors (for example, my fantroll Boroha has rusty red blood, which is inbetween Aradia's and Tavros' blood colors).

Reply

im laughing so ard right now, key lime pie is my fav dessert *w*
why stitched lips thoughhhh? i always love stitched lips but thats so mysterious D:
Reply

<3
His lips were stitched after he died, he was going to live out his afterlife without uttering a single word. He was killed when all limebloods were hunted to extinction. Savana met him in a dreambubble and encouraged him to join her team's session in Sgrub. After he agreed, he took her to where he'd been carefully preserving his body. She revived him and he became her mentor.
Reply

Those wings are beautiful
Reply

Amg, thank you! They're actually super huge . . . I've got his God Tier in my gallery in my HS folder. I mean for real. They're ENORMOUS.
Reply