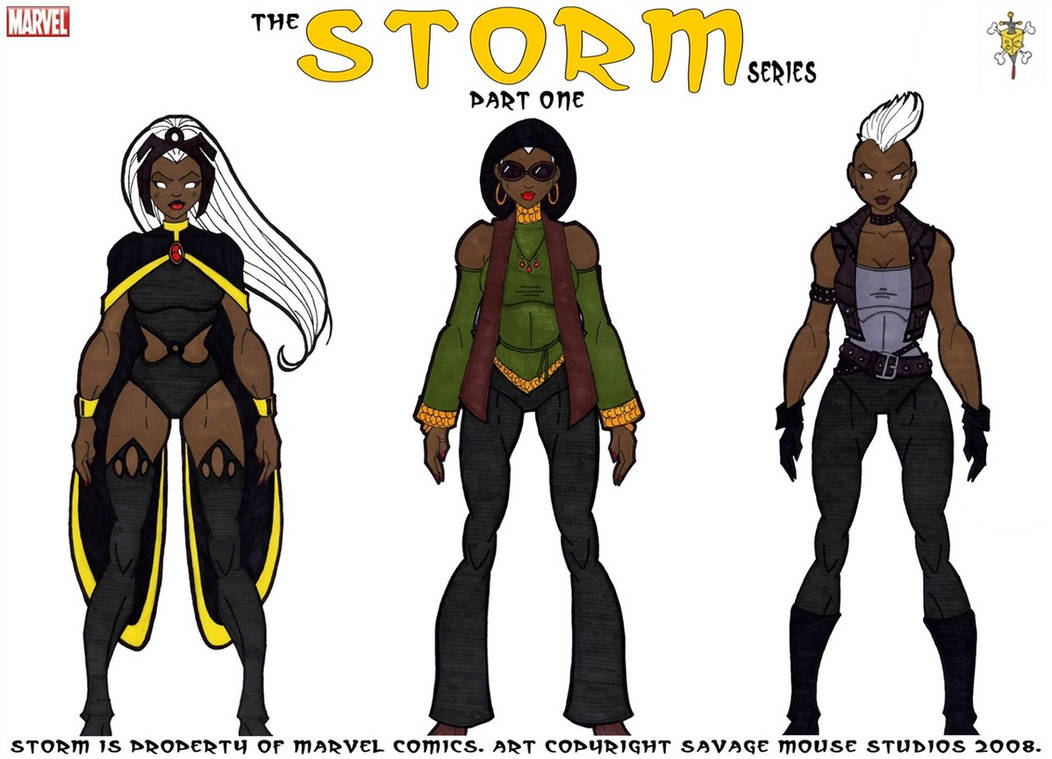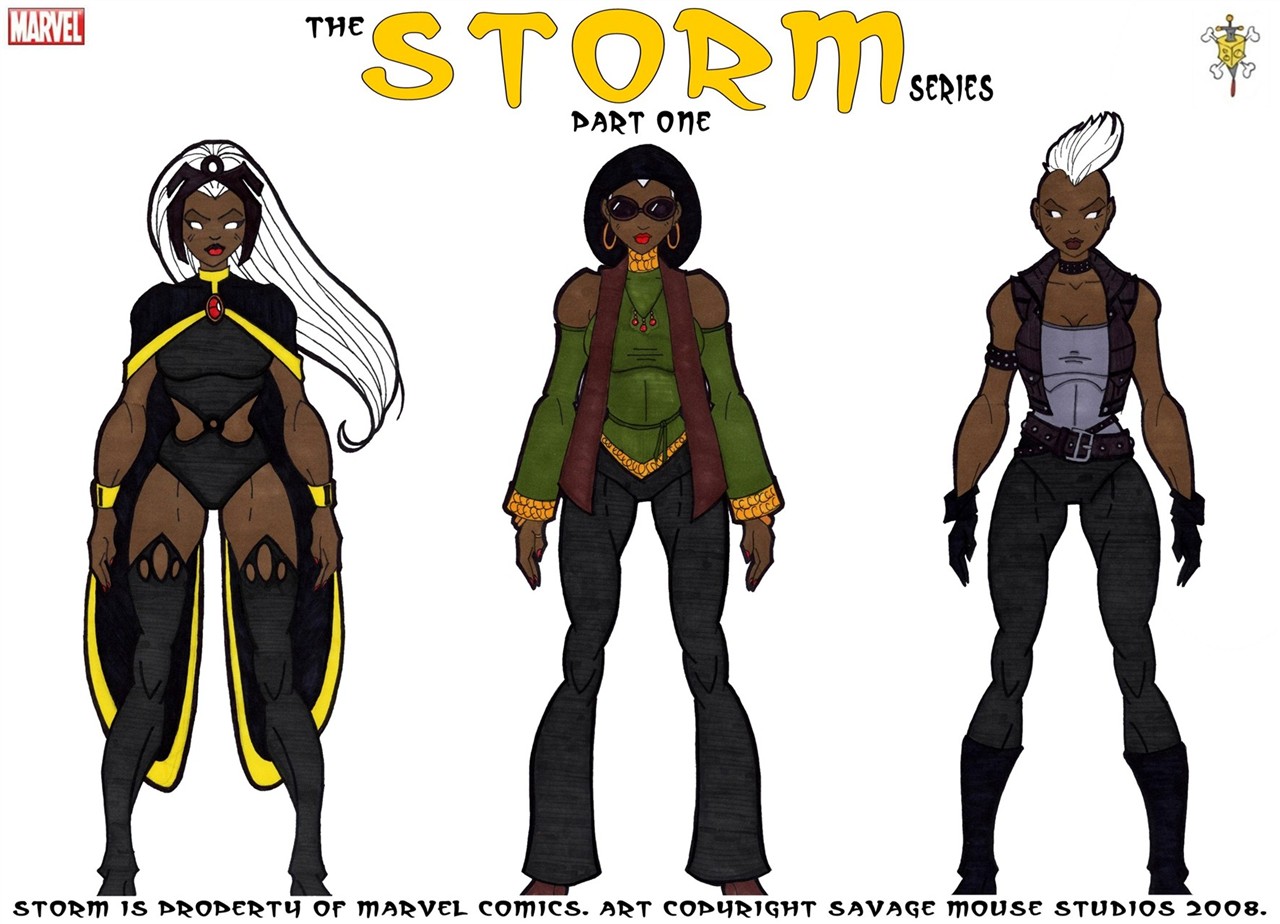 Watch
THE STORM SERIES: PART ONE
*May contain spoilers.*
The Series ~~>
[link]
#1- Storm's first costume, circa May 1975, worn for her first appearance in GIANT SIZE X-MEN #1. Basic elements of this costume, mainly Ororo's tiara from Kenya and her mother's ruby brooch, as well as the color scheme, have frequently reappeared in subsequent designs over the last thirty-three years. I'm pretty sure the ring that holds the top and bottom of her suit together is supposed to be gold, but I had a slight coloring malfunction. Also, I severely underestimated just how much time and ink it was gonna take to do all of her capes. Woman has more capes than Evel Knievel and Liberace combined. I realize that's supposed to be how she flies, with the wind in the cape and all that, or at least that's how it used to be, I don't know if we still stick to that, but geez. Friggin' capes. NO CAPES! Anyways, she wore this costume for over eight years, which is a pretty good shelf life by today's standards.
#2- I didn't want to do too many 'civvies' versions for the character series, but I like all of Ro's early outfits in what I refer to as the "alarmingly 70's" style, so I put a little amalgam of them together here for fun. I think I'm getting better at sunglasses. One of the funnier things I've seen about Ororo's early days with the X-Men is that she didn't always like to wear clothes if she didn't have to. I guess because she was from Africa. And all the Africans Chris Claremont saw in the National Geographic didn't seem to wear many clothes either. I just think it's silly.
#3- And now for something completely different… After going through a whole lot of messed up stuff, capped off by taking out Callisto after the Morlocks kidnapped Angel, Storm went through some very drastic character changes, which manifested visually in this new look, circa 1983. Storm turned to this all-leather ensemble, complete with the vest she won from Callisto (along with leadership of the Morlocks), after spending some time with Yukio while the X-Men were in Japan. I've never quite understood the mohawk, I suppose Marvel was attempting to appeal to the young people, and it happened to be the style at the time. I like this costume, mostly because it made Kitty cry.
To be continued...
STORM is property of Marvel Comics
Art by Michele Mixell, Savage Mouse Studios 2008
Materials: Sharpies, Microns and Prismas on legal-sized printing paper.
Acknowledgement: Along with my personal comic collection and knowledge of X-Men history, I referenced several other sources for this series, including the unbelievably comprehensive UncannyX-Men.net (www.uncannyxmen.net), Marvel.com (www.marvel.com), Comicvine (www.comicvine.com), Kataclysm's X-Men: Evolution Page (www.evolution.eracerx.com/screenshots.php), and various other fansites across the internet, as well as the wonderful fanarts found here on DeviantART. Check 'em out.