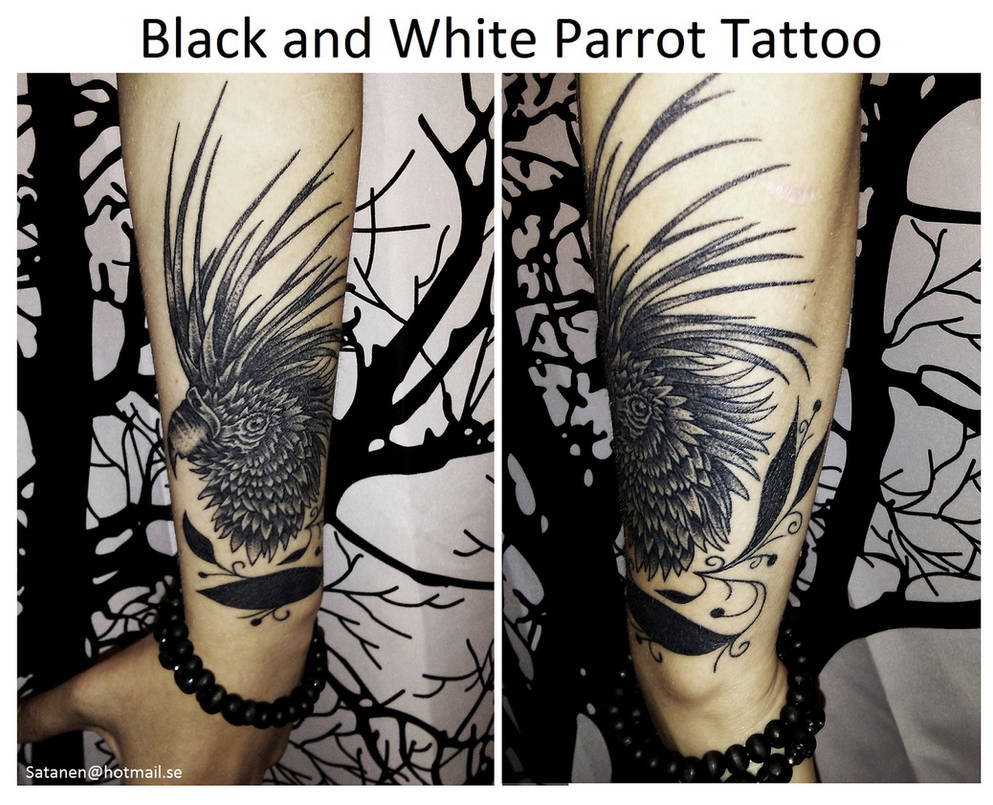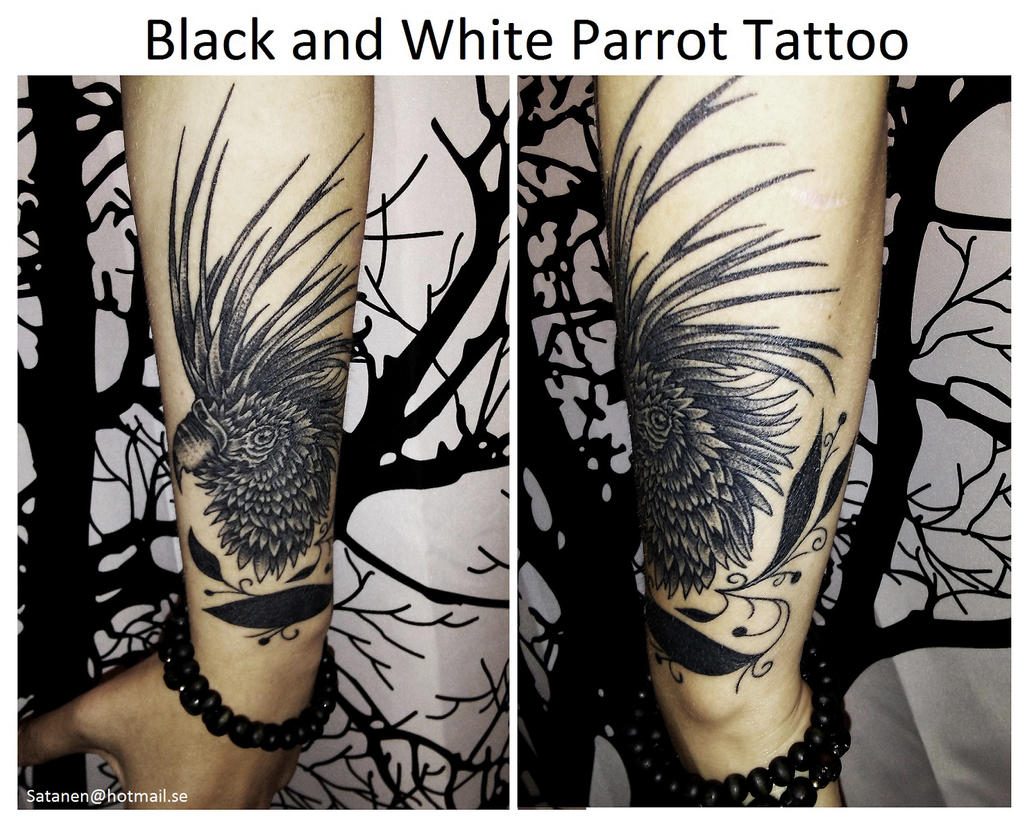 Watch
I painted the picture myself and the tattoo artist added his own touch on it by adding textures and leafs.
The tattoo took 4 painful hours to complete, but I am satisfied with it. In this photo it is as good as fully healed.

//Satanen


AWWWWWWWW you have a parrot tattooooo!!!

That's soooo niiiiiiiceeeee!!

Oops. Sorry, fan-dragoning a little XD The design is awesome btw, and it turned out GREAT. I like the spikey-like plumage, but also the floral motiff below is quite nice and complements the main part in a very nice way. Now that I see this, I realize your style is quite good for tattoos. You should draw designs for money

Reply

Haha no worries thanks! I'm glad to hear you like it
I'm VERY happy how it turned out. Especially since it was the very first black and grey parrot tattoo he was ever asked to make.

So it was a bit scary even though I made the design myself. (Except for the black leaves. That was his idea).

But thankfully he was the right artist for the job

The healing was the worst part because of the intense itching

(sometimes it almost drove me nuts
).
But now it's fully healed and it was worth all the pain, money and itching.

So now I'm already thinking about that I should make another one someday in the future.

>your style is quite good for tattoos. You should draw designs for money

Oh, well haha thank you. I probably could!

But then I should also learn how to tattoo. And me dealing with customers is not a great combo

Reply

Ah, indeed, but a good tattooist should be able to work on unfamiliar themes. It's all lines and shades after all

Otherwise mine would be having a hard time with me because my designs are always stuff he's never done before XD
Hahahah, tell me about it. I'm still healing mine, on the chest, and next session is gonna be next month already XD Though thankfully it's not itching, perhaps it's the stuff I grease it with that makes the skin feel better. But what really annoys me is the stickiness, all my shirts are turning sticky and solid on the front

Sooo, was that your first tattoo?

Any further ideas? I'm really curious about tattoos

They told me the same because of my designs, you should learn to do tattoos. Nah, no way, the thought that not only mistakes cannot be corrected but they also stay for life one somebody's skin, noooooooooo

But you've worked with media which is by far more unforgiving with mistakes than my pencils, and you do very well with it. I think you can totally become a tattooist - and a very good one because of your sorta not-give-a-fuck attitude

if you know what I mean. As for customers.... that can be a pain indeed, but I imagine those that go for tattoos are not the most social type usually. There's bound to be mindless chicks wanting another butterfly or chinese hieroglyph or whatever nonsense is fashionable now, but.... at least no one expects from a tattooist to be particularly bright and social

Reply

Ooh, on the chest. That must have been painful! But awesome. What kind of motive?

Planning to share some pics when it's done?
Mine didn't itch at all at first. But once the skin started to rip off It was 2 weeks of non stop hellish itching.

And I rubbed a special lotion on it daily but it didn't help. (The only thing that kinda helped for a short moment was when I spanked it haha).

Well, this tattoo was my first professional one.

I had a small homemade tattoo on my arm before, containing black wonky roman numbers.

(Not made by me. But a past "friend" who said that "he was good at tattooing" haha yeah, we are no longer friends).

But this parrot one covers it now so you can no longer see it

Not sure what I would like in the future. I feel like I either should continue the black leaves/bird theme on my arm or some occult symbols that I personally have a connection to. (Though this parrot one has a meaning for me).

>They told me the same because of my designs, you should learn to do tattoos. Nah, no way, the thought that not only mistakes cannot be corrected but they also stay for life one somebody's skin, noooooooooo

Haha that's exactly how I feel

And well, it all depends. Sometimes I care more than I personally are comfortable to admit

But not all people deserve the same amount of care & sympathy.

So I wouldn't feel really guilty to make a bad tattoo on someone that deserves it.
Reply

Ooooh yeah, it was damn pleasant

I mean, it actually doesn't bother me. As for pictures - I don't usually share pictures of the tattoo itself (too personal, hehe), but I'll upload the design. But well, since you ask, you get a sneak peek earlier

sta.sh/0fzmn1bar1n
(Haven't scanned the shaded version yet, but he's gonna be all blue with dark blue and black wings; the flames are also blue.) Hope you enjoy

I actually have two others, but they are simple, just outlines and symbols.... though one is half across my back :3 That's the design for it:
The Pentagram 666
The other is on the shoulder, just Lucifer's and Azazel's Sigils, very simple.
Hmmm, weird. I use an ointment thing that is actually for babies XD Works quite well although it smells weirdly XD Hardly ever any itch at all, however.
Ooooh, so it was a cover-up tattoo - I never would have guessed! That means your guy really did his job well

And I'm glad for you. Oooh, and I'd be quite interested what occult symbols that would be :3
So what is it with the parrot? He reminds me of a species of black parrots that I remember having seen before, is that related?
Hahahah, you're right about that

Reply

Thanks for sharing!

I think both looks great with all the symbolism included.
You are very good at designing tattoos! Though I have to admit that I am a bit bitter about the whole satanic chaos movenment.

It's a long strange story that I don't really dare to write about. But all I can say is that I'm glad to be alive!

And all that ties into my tattoo believe it or not.

To do something entierly for myself. A self celebration, a symbol of rebirth & a new fresh beginning!
Like a phoenix rising from the ashes! I could go on and on how much it means to me really,

but I think this is the best and most simple way I can explain it.

And yes, that's correct. It's mostly based on the Black Goliath Cockatoo

Reply

Thank you, I was hoping you'd enjoy :3
To be honest, I'm not sure exactly what you mean by "Satanic chaos movement", but well, if you change your mind about writing, you're always welcome to talk to me. All I know is that what you mention here is exactly what I put in my own designs as well. Most of the symbols you say in those designs stand for (spiritual) rebirth, inner power and freedom of spirit - and well of course, devotion to Lucifer. So.... yeah, about that you're welcome to share as well, because I have the feeling we have something in common there....
I'm definitely glad you are alive as well

Ah, I knew I'd seen this spiky black crest before! They are quite fascinating. Like, their entire family goes super colorful and they are like, "nope, I'll just be black"

Reply

Sorry for slow reply (lots of things going on).

Well, I was referring to things like the TOBL and such. But my mind might have confused one of the symbols.

And thanks. Someday when I feel more safe I might.
I just lay low for now.

Indeed! The black cockatoo is quite the quirky goth version of a normal white/pink cockatoo.

They are quite famous for using sticks to drum on trees with. And their beak is so big that they aren't able to close their mouth whatsoever.

I was very fascinated by them as soon I discovered that pitch black parrots indeed exists haha.

Reply
(1 Reply)

I'm surprised I didn't see you post about this on Facebook... lol
Reply

I posted about it the same day it was made but I never posted the fully healed version on facebook

Reply

That's a pretty rad tattoo
Reply

It is very awesome. I love tattoos. I get one every few months. Now I'm pretty much covered with tatts.

Reply

Thank you, glad you like it! I have wanted to make one for many years now.

I could handle the pain but the itching afterwards drove me crazy. But I still consider to maybe make another one somday.
(Only time and money will tell

)
Reply

Wow, that's a sweet design!
Reply

Thanks! I'm glad I finally found a tattoo artist that was willing to corporate

Reply

When you're artistic yourself I can imagine you might be pickier than the average person about the quality of the art you're putting on yourself, I know I would be!
Reply

Yes indeed! That's why it was extra important for me to find a skilled tattoo artist.

I even told the artist that he made me jealous, because if I knew how to tattoo I would of made it by myself haha.

Reply

Reply