Other Version of this project, the darker one
Siouxsie and the... Butterflies xD
I pasted her from this artwork of mine: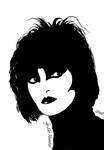 Image details
Image size
719x1111px 113.11 KB

God I love Siouxsi and the Banshees! Especially Cities of Dust. You did a great job with her pose and expression, really captured her essence. The butterflies work well

Haha, hey that's my fav song XD I can listen to it all day

I'm glad you like it and thank you for the opinion. I have some more arts with Siouxsie in my gallery and there will be more in the future, so be my guest

What other songs do you like? I really love Little Sister, Painted Bird, Israel, Red Light and many more but those are pretty much my fav.
It may change because I guess there are plenty I haven't discovered yet XD
BTW: You commented under sb's comment under my work, I think i'm lucky i discovered that XD

Well, Cities of Dust is iconic: it captured so much of what the early goth movement was and what it was trying to communicate. I won't be pretentious and say it's the best goth song , like, EVERRRRRR, but it's up there. Red light would probably be my second fave. It just maintains that haunting electronic sound that really made the band work for me.

Yeah, sorry about that. The gods of DA hate me....

It's interesting what you say.
I really can't tell anything about living early goth movement,
simply because, I wasn't even alive back then XD
Besides, I noticed that crime series ten to use Siouxsie's music for trailers or sometimes endings. It's funny feeling especially when you discovered the band real long time before their music was being used in cinematic productions xD
Like Love Crime in Hannibal and Nightshift in Mindhunter.
I also remember one of Siouxsie's songs playing in Atomic Blond movie,
but I watched it a while ago and i don't remember which one was it xD
Don't worry, I tend to lose messages too. xD So, sorry for late reply too xD

Oh no, it's quite alright! Have you ever heard of the band Boy Harsher? They are a modern band, but they have been resurrecting a sound very similar to stuff like The Banshees and The Eurythmics and such. You should give them a listen, they have dark apocalyptic vibe. "Modulations" and "don't you want to save me" are my favorites by them.

I Do, I listen to their records from time to time.
Their song "Pain" randomly popped in my playlist and I liked it, so i decided to find some more songs.
"A Realness" is my most fav song for now.

HOLY CRUD, I've never met anybody else who liked Boy Harsher! Pain is a pretty good song. "A Realness" is really cool too. I've been trying to find obscure stuff lately: I've been getting into this guy called Filmmaker