SLOTS OPEN: 3/3

FULL! (wow for some reason people filled these in just a few days)




HEY, HEY! It's time for commissions! Like, for real now.

This time there's only three slots now since I may have to do some other things this summer (and I'm going away for the weekend, but able to do commissions otherwise).

But yeah -- STILL OPEN!

Please do take a look on the commission info which is right after the price list.
Thank you!





☆ C O M M I S S I O N _ P R I C E S ☆
(Do notice: 1€ = 1.12 USD)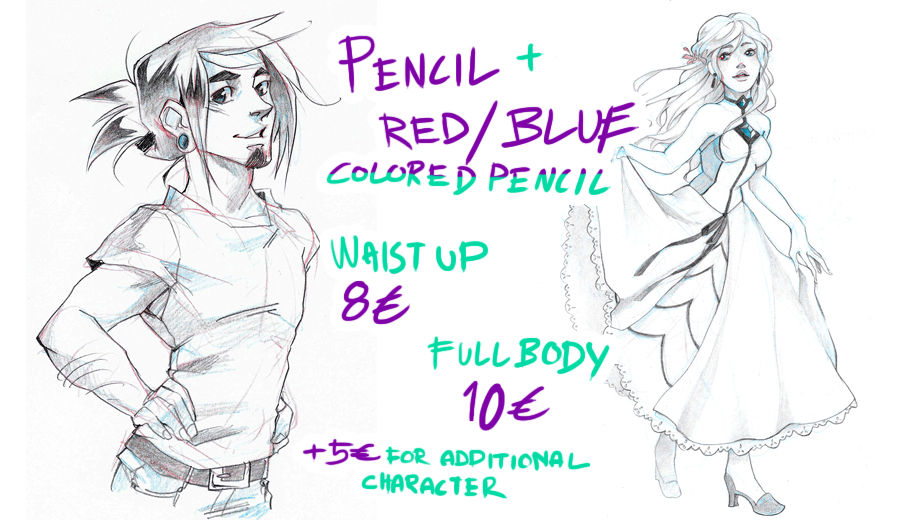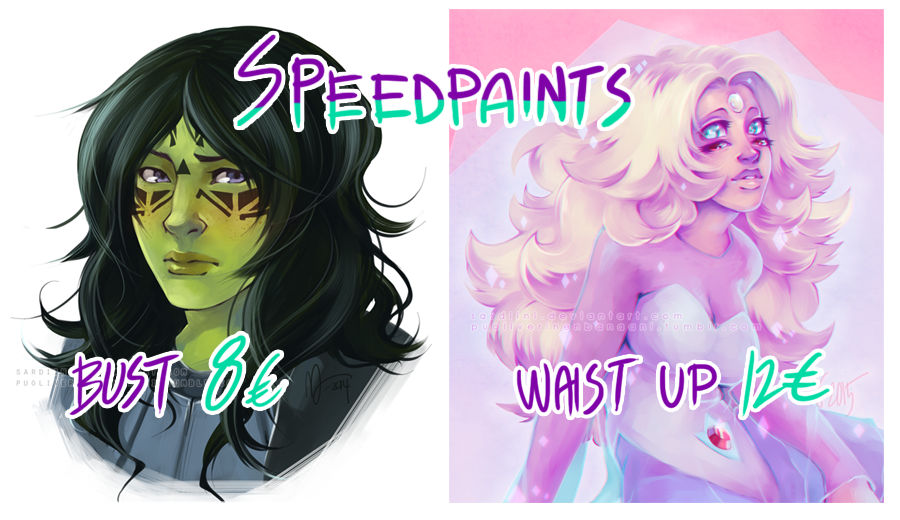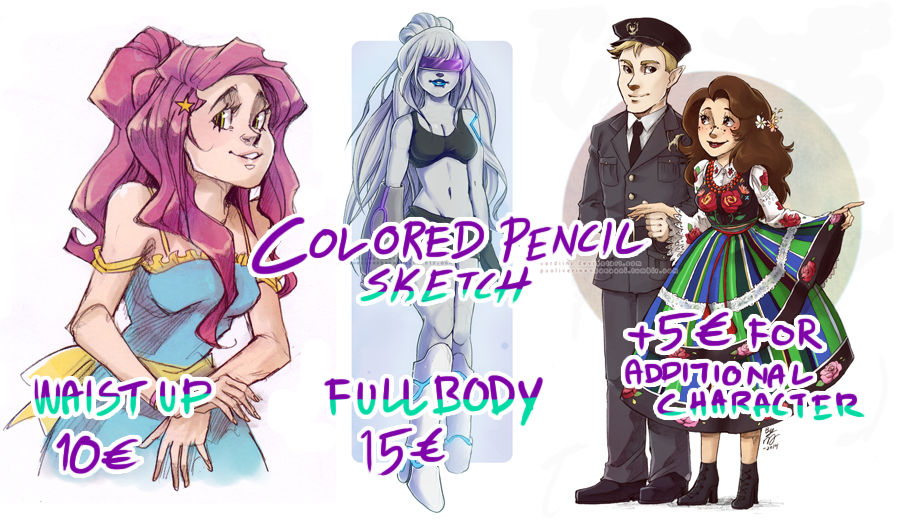 Summary:

SPEEDPAINT
bust 8€
waist up 12€

PENCIL /+ BLUE/RED COLORED PENCIL SKETCH
waist up 8€
full body 10€
(additional character + 5€)

COLORED PENCIL SKETCH
waist up 10€
full body 15€
(additional character + 5€)
If you want a commission with a different technique, you can may find more pleasing technique from
my gallery
and we can discuss about the price.




Please do read the info before asking for commissioning, thank you!
Here's a folder for all the commission works I've done and posted here on DA>>
☆ C O M M I S S I O N _ I N F O ☆

I can draw these


>> Humans, anthros, or other human-like creatures
>> Ponies and some kind of other animals
>> Your OCs, characters from your fandom
>> NSFW stuff, unless it contains something listed below.



I do NOT accept / I prefer NOT to draw these


>> realistic stuff
>> Mecha characters
>> Vehicles such as cars, trucks, motorcycles…
>> vore, gore (mild use of blood is fine tho), oversized body parts, mpreg, loli/shotacon…








>> I have my reasons for what I can and don't want to draw, and I usually don't make expections.
>> If you want a commission, send me a note and tell me what you want me to do for you and in which technique.
>> Send me as good references as you can, and I'll do my best! If you want a special pose, expression to the character/s, please include it on the note.
>> I'll send you pictures of the sketches/color choises once they are done to check if you are fine with them (with colored pencil works at least). If there's something to fix, don't hesitate to ask to fix it -- I'll gladly correct the mistakes!
>> I may livestream and post some of the works on my tumblr including DA and NSFW works on Hentai Foundry or y!Gallery. Please do inform me if you want to keep the commission private and don't want me to post the final work on some of the sites or any of them.
>> You can also ask if you want to post the final work yourself to your own accounts – it's fine as long as you credit me!

>> Paying happens with PAYPAL (bank transfer for Finns ONLY)
>> After the payment I'll send you the finished picture in its original/bigger size without the watermark via Dropbox or e-mail.
>> You can use the final work only for personal use: as an avatar, signature, wallpaper…
>> NO STEALING, claiming you made it, reposting on DA or tumblr or selling.

>> I try to finish the commissions as soon as I can, but don't get your hopes up that it'll be ready in a week.
>> If you want to ask more, ask with note or comment here!