Please visit the
Commission Hub
for policies & payment info.
TRADITIONAL DRAWING PRICES


Full body - $60 (additional characters $25 ea)


3/4 body - $40 (additional characters $15 ea)


Cutie - $25 (additional characters $10 ea, includes mat and back board)


"Sailor Legs" - $25 (includes 2 characters from the waist down)
(fan senshi and any other characters are okay for legs commissions, too!)

Inked lineart, 3/4 body - $25 (additional characters $10 ea)

These are base prices subject to character complexity. I am also available for digital art; please contact me for rates if you are interested. All other combination images would be decided on a case by case basis (i.e. something like group bust shots, two half body characters, backgrounds, etc.) so please let me know what you have in mind. I can work with your budget! Cutie will come backed and matted. Larger drawings will be matted based on materials availability. Please let me know if you'd like a larger drawing matted.

COMMISSION PROCESS

When you contact me for an drawing commission, please include example images or written descriptions of the characters or setting involved. We will discuss the details and decide on a final price. All prices are subject to complexity of the character(s). You will then be put onto the Pending list.

A full payment will move your commission to the Active list.

After your payment, I will complete a rough sketch for your approval. If changes are needed, I will contact you with a second sketch for approval before I ink and color. This is the final time when major changes to the design or composition can be made.

You can follow the general progress of your commission on this page. When the commission is done, I will mail you the final drawing in a cardboard supported envelope. Full body images are about (but not exactly) 8" x 10". If you need an exact size please let me know. If the image is colored digitally, I will send you the original line art, a signed color print of digital version, and a hi-res copy of the final file. I can also provide a high resolution scan of traditional art - please let me know if this is an option you'd like.

I retain the right to use your drawing commissions as the basis for print sales if the work is solely of canon characters. You have the choice to opt out of this if you notify me at the time of booking.

EXAMPLES
Traditionally Colored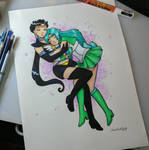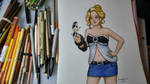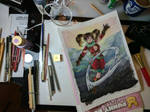 Cutie
CURRENT STATUS & WAIT LIST

DRAWINGS:
Done - To Be Mailed
...

Active - Paid In Full
Art for Jenna (planning)
Shallan Devar for Susan (inking)
Star Butterfly for Melinda H (RICC) (sketching)

Pending Payment
Illustrations, see note for KeithVII (planning)

CUTIE DRAWINGS:
Done - To Be Mailed
Ame stream gift (to be shipped)

Active - Paid In Full
Boxer Dog for other Andrew - (FxB Gift) (sketching)
Culinarian for Kevin (AAC) (sketching)
Blacksmith for Kevin (AAC) (sketching)
Weaver for Kevin (AAC) (sketching)
Carpenter for Kevin (AAC) (sketching)
Saint Germain & Cardia from Code Realize for Joline D (AAC) (inking)
Violet Evergarden for Rowan (AAC) (sketching)
Queenie for Isaac W (AAC) (sketching)
Miku for yuezhengmigi (RICC) (inking)
Daredevil for yuezhengmigi (RICC) (sketching)
Princess Marco for Melinda H (RICC) (inking)

Pending Payment
...