I'm selling the originals of three of my "Sailor Legs" pieces for $20 each. They come in a 9" x 12" white mats and I will ship worldwide. Please contact me for shipping estimates.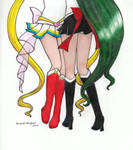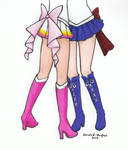 (last one on hold for MikoNoMeian)
Drawing commissions are open; anyone who books a commission in the next two days will have the opportunity to see me do the work on my LiveStream.
Okay, business aside! What else is going on?!
I'm having a contest over at
AdorkaStock
involving animals and people and fashion so check that out.
Work's been going well! I'm making some "art" for a game (I can't tell you what it is!) and even though it's kind of slave labor I'm having fun

When I can tell you what it is, I promise I will. Then you all have to go out and buy the game! (It's going to be on the DS)
I have spent far too much money on Sailormoon toys in the last few weeks but it's been fun.
xSoraliciousx
is my muse.
Pinkachu06
is my plushie ninja. Between these two girls I'm going to have to remortgage my house

I am totally EXCITED about Animazement at the end of May because SO MANY COOL PEOPLE ARE GOING! They are up to 4 Sailormoon related guests (including Keiko Han [Beryl/Luna] which I AM SO EXCITED ABOUT because she didn't go last year because of Swine Flu >,<). I'm also going to hang out with a ton of awesome DA peeps (
lilly-peacecraft
,
kuroitenshi13
,
Yen-Sama
,
kungpow12345
,
Itsu-de-Mo
DID I FORGET ANYONE?) Totally stoked. Anyone else going? I will be at Lilly's Art table; she's being a sweetheart and sharing

So that's going to be awesome. I demand it.
AND UM. I guess that's it for now. I wanted to do a stock shoot this weekend by my bodysuit is missssssinggggggg!

Oh well, hopefully it turns up in the laundry.
I LEAVE YOU WITH THESE SHINY THINGS:
:thumb161461616: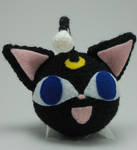 :thumb142032238: