hello everyone today is one special day for my my birthday and I was thinking that I can do something special for that day
this event will be having limited slots,MYO slot can be gifted, one MYO slot per person,
What are Hakimimis?
you can found more bout them here

Hakimimi infoWhat is a hakimimi?

Hakimimis are humanoids who have animalistic features, carrying crystals/glass on their chests.

Abilities

They are shamans who have the power to grow their trees. Inside their crystal/glass, they have trees instead of hearts; these trees are identical to the ones that they live in. If something happens to their tree, it will happen to them as well because they are connected.

Characteristics

♡ They can live forever unless their trees get sick.
♡ If their tree dies, they will either die as well or turn into witches.
♡ They have 2 forms: their normal form and witch form (which they can sometimes control if they're not heartbroken)
♡ Every Hakimimi has their own tree inside their crystal/glass

Rules to join

♡
must be watcher

♡
SLOTS:
1.
2.
CheshireQtea
3.
Winlem
4.
dev-yn
5.
belphekit
6.
bao-mao
7.
CypherLichi
8.
Cami-Sama-Sama
9.
xAnatneMx
10.
EtherealSpooky
extra slots for new people (first time Hakimimi owner)
1.
Laluch
2.
3.
4.
yukicole02
Rules
before posting your Hakimimi need to be approved.
date jan19 to jan feb1
finish ref before feb 3
you are allowed to use Common and Uncommon traits
tell me if Hakimimi was a gift
first comes first
serve
do no use the tree that was taken!
you cant change tree once it is chosen
The list of taken tree can be found here!


Hakimimi Archive
Hello! This journal will list the taken trees.
If a tree is listed here, then it is unavailable.
You cannot have the same trees unless both parties purchase the ultra-rare twin trait.
This means no two trees will be the same. Most will have different species, but the exception to this is the different varieties of fruit-bearing trees as well as hybrid trees!
If you would like to claim a tree, please comment below in the designated section.
If you do not comment in the section, your comment will be removed.
There will be a cherry blossom if it has become official through the reference sheet that must be posted into our group.
It will be listed as: Genus, Species of tree - Character Name - Rarity - Username
If you delete your account, your tree's genus and species will be unclaimed and can be claimed by other members. You will have one month to tell us if you have simply m
TRAITS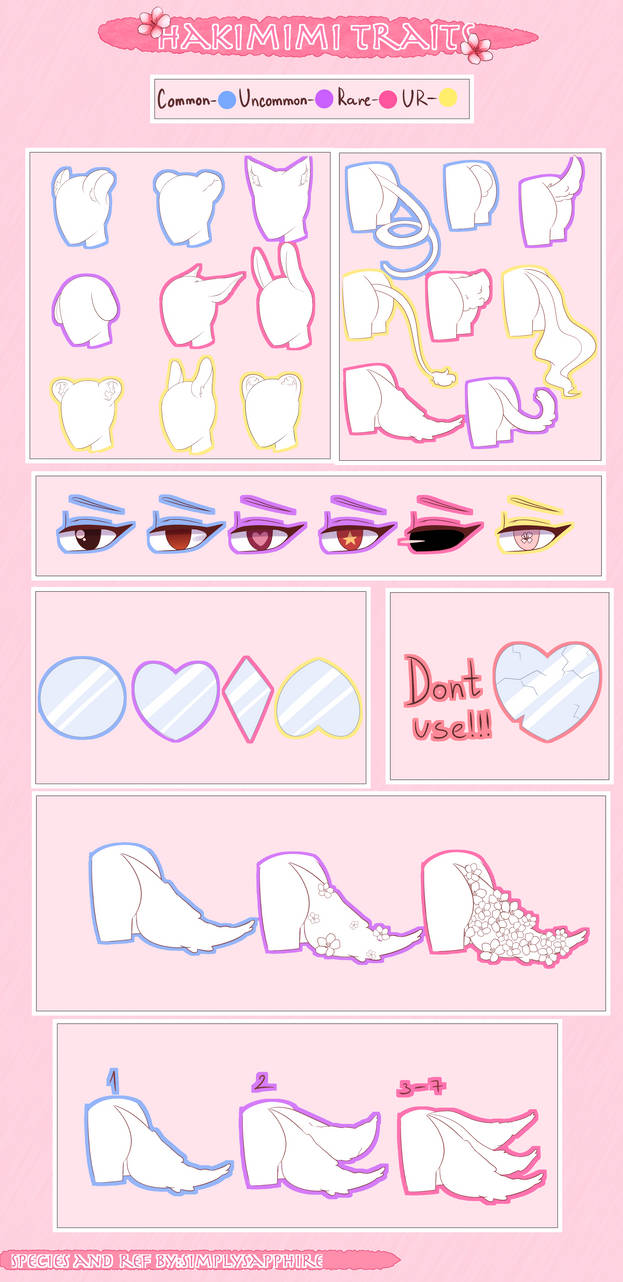 you can buy rare traits for 200pts
ultra rare 250
If you did not get in time to take slot that is no problem !
there will be big discount!!!
here you can even buy rare slots
SLOTS
1.
CrystalCamethyst
2.
belphekit
3.
voidarlingg
4.
AmeliaGrayson
5.
PandaNarwhal
Common 100
Uncommon 150
Rare 200
ultra rare 250