Journal Entry:
Fri Jan 13, 2012, 2:21 PM
Newcomer!


There were no puppies in store for Zodd this year.
Well, I'm sure he didn't care about puppies, but he was certainly looking forward to his love-date.
It was canceled last minute since his girlfriend had a bad injury. So now we are keeping fingers crossed that she will recover from that!

And what's more - we now have one more dog in our tiny pack (formerly Zodd + my boyfriend Lucas + me) and his name is Chibi.
A very fitting name, since he is both tiny and cute, just like chibi characters are


I looked at pure breeds, but couldn't find one breed in the "not very big" department that attracted me, so I started looking at crossbreeds and came across Chibi in an ad online.
He had the LOOK!
A few phone calls later and we had decided to go pick him up.
It was a six hour drive to get there and six hours to get back home again.
Zodd came along, to greet his new baby brother, and he was not impressed even though he is very sweet towards the tiny n00b.
He is extremely cute and VERY clever!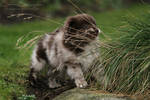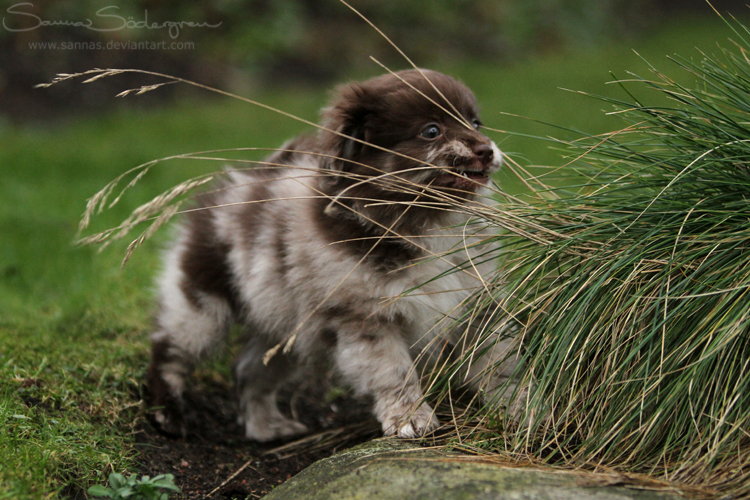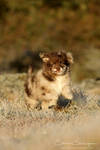 FAQs

Q: May I use your photos on minstall.no?
A: My photos are not stock, so I will not give permission for anyone to use them in games and such no matter the site. This doesn't just apply to minstall.no. Sorry...

Q: May I use your photo as reference to a drawing I wish to make?
A: f you wish to use my photos as reference for a piece of art (for example a painting or a drawing or sculpture) you are welcome to do so, as long as you give credit and link back to the original work.
And I would very much like to see the finished work and fave it, so please send me a note or message with a link to your finished work!

As usual - a big thanks for all the favs!!! Your support mean so much to me and I am so happy you enjoy my work





*********************************************






Reading: Nothing at the moment...

Watch

Aw! your new puppies so cute!

Reply

I had trouble finding a show breed I liked in small dogs, but ended up finding a line of Poms that looked like Kleinspitz and were bred for agility and fell in love. It's a shame I can't show them, but there's worse things in life than that!

I looked into importing Kleinspitz but with the cost it wasn't possible for me (They're not in the US, and I wanted that size-range or smaller), but my Poms look like the Kleinspitz, and act like how I'm told they act. They don't even look like Pomeranian's as shown in the US, but rather like the old spitzy Poms, from before the breed split in the 70's.
Reply

I think your Poms are gorgeous!
I do like the Kleinspitz as well, so perhaps that's why

I think you've seen my pic Attack of the fluff
[link]
featuring Elvira, the Kleinspitz.
She was a very nice girl. 100% dedicated to her master and only him.
I've seen a few showpics of Poms in the US and I must say the grooming is horrible. It's hard to see what the dog looks like with that kind of extreme hairdo.
I think Spitz dogs should be natural. That's the attraction with them (for me at least).
I think you did a good choice finding your own kind of Pom!
And if you ever need help importing a Kleinspitz let me know and I will help. I'm sure the flight will cost loads though... To bad really since I wouldn't mind a merle Pom from you ;D
Reply

Oh lord, I may hit you up on the offer to help with importing in a few years... never know! In the mean time, Sekrit's breeder is stud-shopping, and I'm deciding whether I'll litter raise, or send her to her breeder for a litter

One plus about sending her off, is then I'm not likely to come home with a puppy!! I am on the waitlist for a litter out of Sekrit's sire. I get 2nd pick girl, or 1st pick boy. I'm crossing fingers for a boy to show in UKC.
My problem with AKC show Poms isn't the hair. I can live with the hair, and they don't look so poofed when ungroomed. My issue is how "Puggy" their heads are getting, VERY unspitz-like, and IMO unhealthy. Crowded, and retained teeth, and other dental issues are common. I'm PROUD of my Poms with full dentition, no teething issues. How a Spitz SHOULD be, IMO. And without the overcrowding like some Poms, they don't have the dental hygiene issues common in Poms. Raw bones, and toys keep their teeth clean, like with my Cardigans.
Reply

hälsa den lilla parveln välkommen!!

Reply

Congrats on your newest addition!

Chibi's absolutely adorable! Gorgeous! 8D
I guess the Azawakh is gonna have to wait!

I'm so sorry to hear about Zodd's date.

I bet you must have been exciting for his first breeding.. then plans changed so abruptly. I'm sure things will work out later on!

Keep us posted!
Again, adorable addition you've got there, Sannas! Please flood us with pics!!
Reply

Thank you!
Well, the Azawakh wasn't planned just yet anyway, so this little critter will keep me busy a while XD
I'm so not used to all this energy! Haha, it will take some getting used to

Reply

When you said Zodd was not impressed I got an image in my mind of him looking at you and saying "Wait! He's coming WITH us? Oh...great."

Reply

Reply