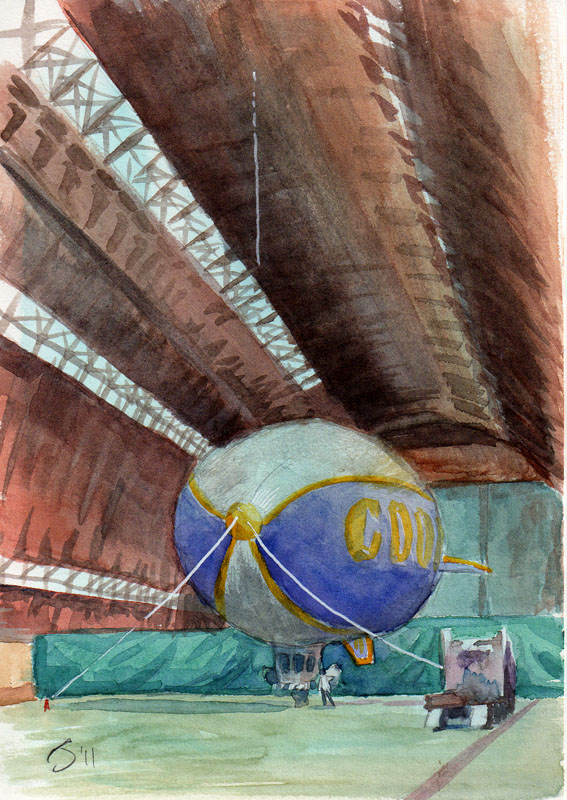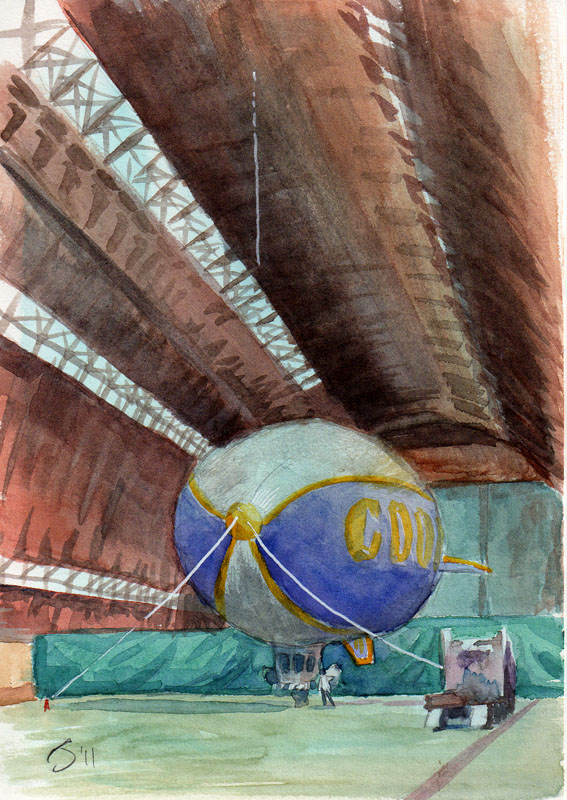 Watch
Watercolor, 5x7.
Last week my studio's outdoor painting group went painting at
MCAS Tustin
. As it happened, Goodyear was leasing space for the
Spirit of America
, and they kindly allowed us inside while they were maintaining the airship, which looked very small inside a hangar designed to hold six of them at a time.
I am relatively new to watercolor; this is one of the first finished pieces I have done from life that was not a total disaster. The light really was that green, but there was a play of warm to cool to warm browns across the roof barrel that I did not quite capture. Also difficult to simplify and suggest the thousands of crossbeams in the arch.
This is a really nice image of an unusual subject. I love the gradients you have working on the surface of the blimp, and the way you simplified the truss work works very well. You have definitely captured the scale well. The depth of the hangar seems somewhat compressed as you have merged your foreground value with the background. This combines with the sharp value shift and edge where the roof of the hangar meets the "back door" really work against the gradient you have coming along the roof from background to foreground.

Color design wise you've really highlighted the blimp nicely, and for the most part the edges reinforce this. You've economized your strokes well and captured the lighting very nicely.

With the size of your paper capturing more detail would be difficult at best. I'd love to see what a studio version of this would look like.
The Artist thought this was FAIR
1 out of 1 deviants thought this was fair.