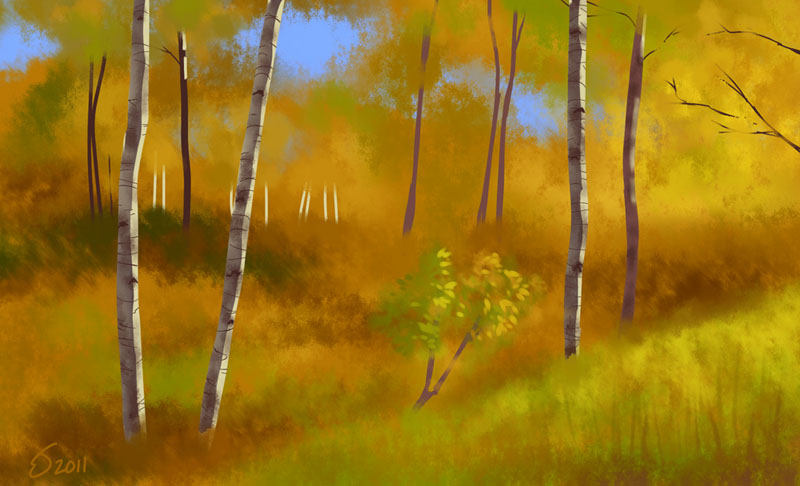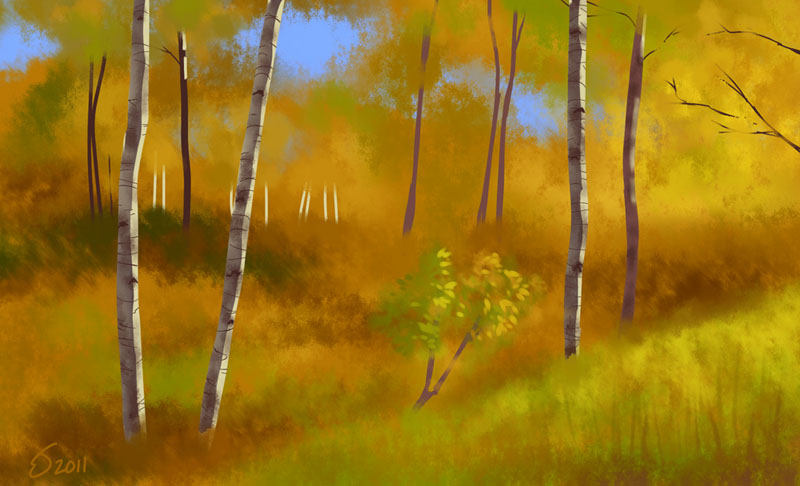 Watch
Paint Tool Sai, color adjustments in Photoshop, about 90 minutes (I am not fast)

Study from photo reference. Although I am happy with the color, I got impatient with the trees, so the woods are a bit sparse.
Nice work as usual, nice to see you doing some landscape work! I like the violet of the tree shadows, and the design of the tree bark, it reminds me of the work of Eyvind Earle or even some of the Spumco backgrounds (think Yogi), only much more textural. I think you could get away with more simplified trees like the silhouettes, perhaps even linking some of those shapes to create more of a middle ground and a more clear ground plane. Overall I would say depth of field is the one thing really missing. I like the stand of lit trees to the center rear, but they are so consistent in execution they almost read as a lighting/lens effect. I think that some loose leaves or other atmospherics could really help enliven the scene, but it's not really needed. I wonder a bit about the fade at the bottom of the left foreground tree versus the seeming 'tear off' of the tree to its right.
The color overall is wonderfully vibrant! Now I want to see Moira prowling around this place.

The Artist thought this was FAIR
1 out of 1 deviants thought this was fair.