Hello everybody and welcome to another Interview, enough of the long introduction with my crappy old jokes or w/e

Today in the spotlight we have the artist who once was in Norway, now in Greece, you don't know him, well he is …
















Enjoy !


















What is your name ?
My name is Henning Ludvigsen
What is your alias and why you choose it ?
I'm using my normal name, Henning, for everything. I used to have a handle many years ago when I worked on the Amiga playform; Bridgeclaw.
Tell us a bit about yourself Henning?
I'm a Norwegian guy in the beginning of my thirties, and I've been living in Athens, Greece, for the past 6 years working as the Art Director in a computer game company. We're currently developing the MMORPG named Darkfall, which will release in the beginning of 2009.
However, I have always been drawing for as long as I can remember, and I started creating my first digital illustrations on the Commodore-64 computer over 20 years ago. Still, with VERY limited resolution sizes and only 16 colours to pick from, there's not really much you can do with it, he-he. When the Amiga platform hit the market, us digital artists suddenly had more options with thousands of colours available and better drawing programs. Still, it was more related to pixel-art than actual painting, but a great base of education as I really feel that I've been working with digital art since the beginning of it and that having that technical experience can help me out. I have traditional art education, so everything related to digital art is completely self taught. I working almost 10 years in the advertisement agency industry before I got burned out and jumped ship to get into computer game development, which I'm currently doing. I'm living and working with my girlfriend and fellow artist, Natascha Roeoesli.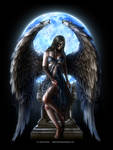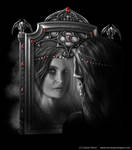 As a child, what were your greatest memories related to Art ?
Tough one to answer, but I remember looking at pencil drawings and oil paintings made by my father and my grandfather. I think this caught my attention automatically as I was into drawing form my early years.
Do you get loads of support from family/friends ?
Yes, I think I get just as much support as I need. No one is questioning my work or anything I'm doing, but then on the other hand, I'm basically the only one amongst my friends who is into art. My family totally supports my decision of leaving Norway and move across Europe to work from Greece. A tough choice which includes a lot of sacrifice and time away from everyone, but when we meet once or twice per years, it's always very nice.
Have you done any previous studies before getting yourself into Digital Art ?
I do have 2 years of basic, traditional art education, and that's about it. I feel that I have a very deep experience when it comes to digital art, since I've been working on the very f(continuation stopped)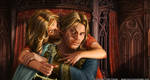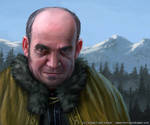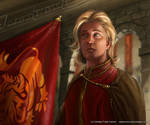 How long does it take you to get into the feel of creating something new and stunning ?
I'm usually a fast working, and when I've decided to give my full attention to a project, I'm getting into the feel of things very quickly. This, however, is linked to how stressed I am at the moment of creation. If I'm having other things to think about, it will influence my concentration,
How did you first discover DeviantART ?
I honestly don't remember. I think I found it by pure luck back in July 2004.
You are really well known over DA, is it the same case in real life too ?
I don't know how well known I am, but people seem to enjoy stealing my art far too often, which is a sign that I might be onto something, at least.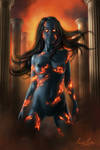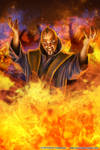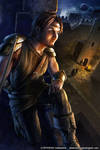 Do you plan your images before doing them, or make them up on the spot ?
I'm very inpatient, and I can never get myself to sit down and create a lot of sketches and plan things ahead much. If I'm feeling like painting something, I'll simply just jump straight into it and the see how I manage to get out it again.
What does your work represent to you?
I don't have much story or thought behind my work. Often I simply paint a subject because I might think it's cool, or even bizarre. I hope that my work can represent some interesting stories, though. Not that I have thought behind any of my paintings, but I still think that you can let your imagination run wild and come up with anything when browsing my gallery.
What does the word Fantasy represent to you ?
It's basically my life. I'm working here in Greece on a Massively Multiplayer Online Role-playing Game, which is set in a Fantasy setting, I love pen and paper role-playing, fantasy movies, and fantasy art. It's a setting that I simply have a great love for, and obviously I'm also devoting a major part of my life to it.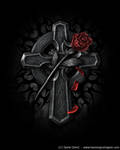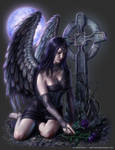 Who will be your favourite artist at this moment ?
I've always have a thing of good old Boris Vallejo, but my favourite digital artist would have to be Michael Komarck if I had to pick only one from the sea of amazing artists out there.
We also see your girlfriend Tascha, is also a lot into Digital Art, do you inspire from each other or try to oppose to see who comes top ?
Yes, Tascha is an amazing artist, and we don't have a competitive relationship at all when it comes to art. We help each other out all the time.
How did you meet her ? First strike love ?
No big secret; we met at DeviantART, which I think is pretty cool. She is from Switzerland, and I'm a Norwegian living in Athens, what other place to meet others with similar interest? Hehe.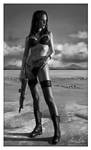 How do you respond to change in trends in this "digital" world ?
I like changes in the digital art scene. That's what the digital era is all about; new ideas, new technology, and new styles. We're all pioneers in the digital art world. People have painted for hundreds of years, but we've only had access to digital painting and drawing tools for a few years. I'm looking forward to see what the future brings.
So where is your working place, in an office at home ? Once you're finished with your pieces where would you post them ?
I'm working full-time (well, more than full-time) at our company's office where I have a little office, and both Natascha and I have one desk each in the living-room of our apartment where all the personal and extra projects and paintings are being done.
Could you tell us about Pixelbrush, how you came up with it ? Difficulties, hopes with it ?
Pixelbrush was the name of an art book that Natascha and I was working on a while back. The book was as good as done when we decided to buy the domain name and set up for forums so that we could answer some questions that both of us kept getting asked repeatedly. What we didn't expect was that suddenly lots of artists would sign up and actually use the forums, ask for events and competitions, etc.
I want Pixelbrush to be a non-elitist place where anyone can post art and learn from each other. We have monthly and weekly themed events where the atmosphere is very relaxed, fun, and helpful. I hope that Pixelbrush will keep on going and being a small and cozy little place where people enjoy hanging around. Nothing more.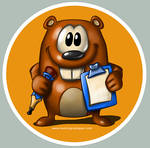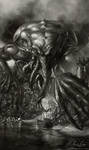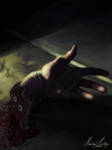 What software do you use and what is your favourite tool ?
I've been using Photoshop since the first version of it, so I'm pretty much married to that pieces of software, which I love. I've tried other painting packages, but I simply can't get around using a different kind of user interface.
Is there any tips for other Digital Painter or Illustrator you would like to share ?
My best advice ever is to believe in yourself, and don't be afraid to jump into new and unknown tasks with both legs. You will most likely surprise yourself how well you will end up if you keep on putting some pressure to your own expectations about yourself. Simply put; keep pushing your limits and never say no. Always deliver more than what the client is asking for.
Do you work with commission, if so is it enough to make a living out of ? Or do you have another job which you work full-time ?
I used to accept commissions, but I have stopped accepting commissions from private people, I'm at the moment mostly sticking with a couple of companies, clients that I've had for a few years. I'm doing extra work because I want the experience and for the love of the work.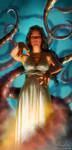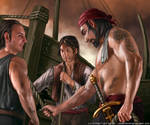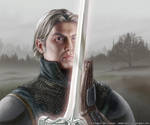 We can see that you work for Game company, so what's the process, how does it work ?
Yes, I'm the Art Director of Aventurine S.A. I've been involved with the game (Darkfall) for about 9 years now (6 years full time), and we have announced the release to be in the end of January 2009. It's very strange finally seeing this project finally up and running and close to release.
Do you usually have a message to send through your work ?
I'm very rarely using messages or stories in my work. I'm painting because I love painting, and I'm not really much of a storyteller.
What would be your casual routine like ?
I love watching films and TV-series on DVD.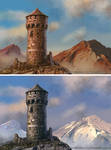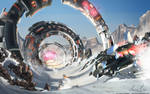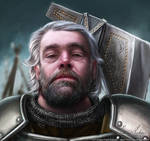 What are your other hobbies, when you're not drawing or sketching ?
Well, since I'm on the other side of Europe from friends and family, Natascha and I usually spend out spare time shopping, or simply watching films and TV-series on DVD.
What do you think is your strongest subject when coming to Digital Painting ?
I have a lot to learn about most things, but I do believe that I have an eye for light and shadows. I've always had the interest for it, at least.
What is your ultimate goal in Digital Art ?
My goal, and hope is that I will be able to enjoy painting for a long time and at the same time manage to make a decent living out of it.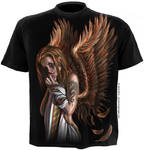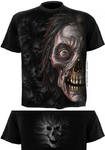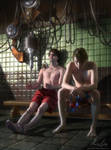 We also see that you are exploring the 3D, an art that you want to carry on ?
Most people don't know this, but I'm actually working with 3D a lot more than 2D. It's just that since our first game project isn't out yet, I can't show much of my 3D work. I will definitely be doing 3D in the future, probably as much as I'm currently doing, which is most of the time during my working hours.
Where does your Inspiration source come from ?
I find inspiration through music, films, weird dreams, and strange ideas suddenly popping into my head from nowhere.
What would your top 5 tips be for anyone that is starting to Paint or Illustrate ?
1) Be patient, not even the great masters out there create masterpieces every time.
2) Don't cheat; and be honest about your methods.
3) Don't be afraid to take on projects that pushes your own limitations.
4) Always deliver more than you're supposed to.
5) Most important; paint EVERY DAY, even if it's just a 5 minute doodle.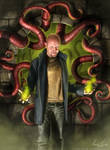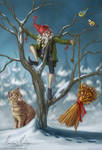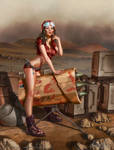 What do you think of today's Digital Arts levels and amount of work ?
There are tons and tons of amazing digital artists out there, and I'm always having a hard time browsing art community galleries, like for example DeviantART. It's just so much to pick from with very high level of quality.
What type of music do you listen to ?
Music is a big part of my life, and I'm listening to music almost all the time. I'm into alternative rock, indie, hard-rock, and heavy.
What is your setup like ?
I have a really old computer at home, and I will probably get a nice one once I move back to Norway. The one I have can run Photoshop nicely, which is all I need.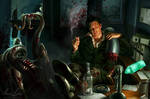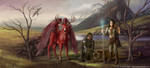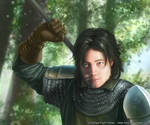 What is your opinion about people thinking a tablet will make their work better?
Well, they are probably right that it will make their work better, but I don't get why people think that getting a tablet will automatically turn your art into a masterpiece. You will still have to paint it, and that require real old school skills.
If there was another software you would like to master, which one would it be ?
I would have loved to get in to Painter, just because of the brushes, but I can't get used to the interface after working with Photoshop since the beginning of time.
You have achieved a staggering number of 5 Daily Deviation over DA, how do you feel ?
It's always great fun getting a DA, and I'm always proud when it happens. Still, I sometimes find it strange which of my pieces gets chosen because it's never the ones I would hope, or even think would get that kind of attention, haha.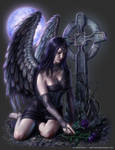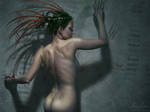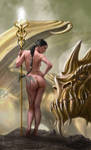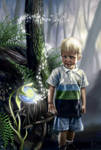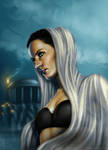 Your popularity over DA is ever so increasing, I mean how do you feel, going back to your first day here on DA, how do you feel achieving such impressive stats ?
I'm not really that into stats, but I really appreciate all the comments and gallery visits I'm getting. DA is a great place, and even though it's a bit hard to be seen here in the beginning because of the vast amount of accounts it feel even better when you do get some attention.
Wow, now that I see it, you've been on many of Ballistic Publishing (Exposé) how do you feel achieving this ? You have also seem to have won many awards, got anything to add ?
Yes, I've been in a few Ballistic books, I honestly don't know the number, but a few. I love art books, and I'm always proud to be a part of one along with other artists whom I adore.
Did you had to go through some very challenging task in your Digital career ?
I'm going through challenging tasks every single day, and it's a great feeling when you've managed to work out the challenge.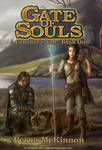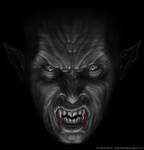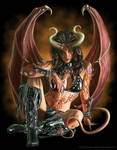 What are your future plans ? Where would you see yourself in about 10 years time ?
I hope that my life will be a bit calmer and that I won't have to work myself silly to do what I want to do. More freedom and more time for vacation, hopefully, hehe.
If you could, you would ...
Take Natascha on a brilliant holiday to some jungle/beach paradise.
What is your favourite piece, that you ever created ? And why you chose this piece ?
I'm rarely satisfied with my work, but if I had to pick one, it would be a painting I've done for the Call of Cthulhu board game, which I can't show yet, hehe. From my available gallery, I'm guessing that "Wall" would be the one I would pick from the lot. I like the simplicity in this piece, and I love working on skin and muscle definitions.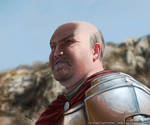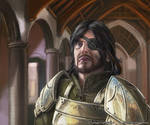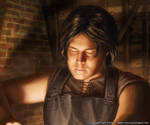 Would you like to go through whatever you did during the process of making this piece ?
I have way of working, which I'm almost sticking to with all of my pieces. I start out with a line art sketch, I block this sketch in and start adding values in grey-scale only. This because I prefer working with shape before doing anything with colour. Once the shape is up, I add colour, and then fiddle around and go over the piece in several passes.
What are your favourite pieces on DA, could you share them ?
It's impossible to pick just a few, so I will invite you to check out my favorites instead, hehe.
If you had to sum up all your work into one sentence, what would it be ?
Weird fantasy with a dash of semi realism !?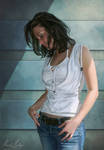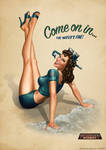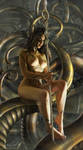 And to finish it off, What would you like to say to your fans out there ? And what did you think of this Interview ?
Thanks for reading the interview everyone, keep on painting and don't hold back; challenge yourself and only paint for yourself. I appreciate the interview and I had fun answering all the questions, thanks for having me
Sangiev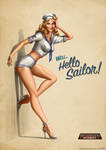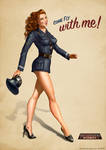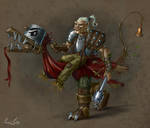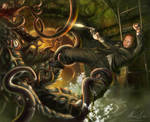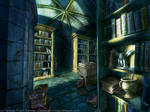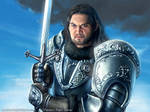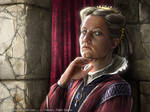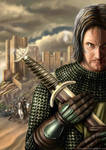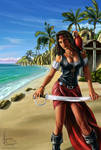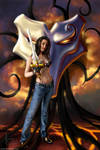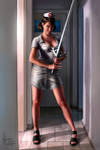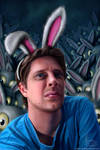 And that is it for today, hope you enjoyed and had a great time, loads to learn from, even how to pick a girl friend on the net

Now let's not carry on, visit his stunning gallery and

and then

him he deserve our

















That's it from me, hope you enjoyed !
Regards,
Sangiev
,