Hello everybody, how you all doing ? Today, I bring you another Interview following the 'Hidden Talent' series of news article ! I have recently been receiving Notes & Comments saying how they found Hidden Talent – Interviews somewhat useful, so I would like to thank all of them for this very kind message

And for those of you that supports me non-stop, you know who you are …

So as I said, today I'm bringing you one fine painter, if I give away one hint, you'll find her but still .. She uses "*" for "y", you still don't know ?? It's the one and the only … with her D*sneyland.












Enjoy!
What is your name ?
My name is Brianna Lyn Garcia. Or Bri for short.
What is your alias and why you choose it ?
My alias is bri-chan, a name I chose when I joined deviantArt 6 years ago. I was in high school and really into anime at the time, so I did the popular thing to do – take my nickname and add a Japanese suffix to it. Looking back on it, I kinda regret it since I'm no longer interested in anime. But it's the name everyone knows me by so I guess I'm kinda stuck with it.
Tell us a bit about yourself Brianna?
I'm a 24-year-old freckled redhead, half Mexican and half Irish. I currently live in Orange County and I work as a Sketch Artist at the Happiest Place on Earth, the D*sneyland Resort (don't ask about the '*' it's an inside joke). I've lived in Southern California all my life, and I spent 4 years going to school at the Academy of Art University in San Francisco where I majored in animation and visual development. I'm a comic book nut, my favorite food is shrimp, and I have a small interest in photography.
:thumb103914080: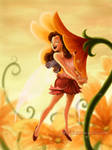 Do you get loads of support from family/friends ?
More than one would think. My parents knew early on I had a love of drawing, so they encouraged it at every moment. For many birthdays and Christmases I would get art supplies as gifts. In earlier years, my mother helped me get a job at her company dealing with artwork, and best of all she also paid for a good chunk of my college education. I love you, Mom. Seriously.
Have you done any previous studies before getting yourself into Digital Art ?
I took plenty of life drawing classes before getting into art school, but as for digital art, I'm pretty much self-taught, and I think it shows. Digital art was not always my strongest point and I really wish I could have taken more digital painting classes at school before I graduated.
How long does it take you to get into the feel of creating something new and stunning ?
Sometimes it takes a few days or weeks, and then sometimes inspiration hits me in the middle of the night and I have to stay up until 3am working on a project. It really varies. The sudden inspiration is my favorite because for no reason at all I'll feel motivated to work really hard to make something beautiful.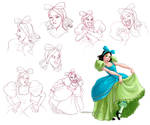 :thumb99300129: :thumb100990052:
You are really well known over DA, is it the same case in real life too ?
Only when I'm at work. My artwork gets passed around backstage a lot, and since I make it known that I work at D*sneyland, a lot of people come by my location to say hi to me. It's really fun, meeting and talking to people who know my art online, it adds something new and interesting to my day. It's also been helpful in making friends and finding contacts in the industry. For example, an artist who works at Walt D*sney Imagineering found my work online and we've become good friends. He has offered help and recommendations in my search for a future career.
We also heard, that you recently have a new job as a Sketch Artist, is it better than your old one ? How do you feel ? Was it a promotion or you asked for it ?
So far I am enjoying it more than my previous job. I worked in Fantasyland Attractions for nearly 2 years which was a lot of fun, but also stressful. On a daily basis I was dealing with crazy hours, ride shutdowns, rotations, long lines, and insane guests who want to complain about the tiniest things. At the same time I felt a sense of pride because Fantasyland is the heart of D*sneyland, it's where everyone wanted to go. But I knew I would not stay there forever.
One day not too long ago I was in California Adventure, talking to the artist who worked there. She told me about her job and informed me that they had one spot open since another cast member had just recently left. I had to go to D*sney's office building and apply for the job and submit a portfolio. I later found out I was up against nine other applicants, but I'd like to think that my talent shone through and that's why they chose me. Now I'm getting paid to draw D*sney characters all day, which I certainly consider a step up from working the rides!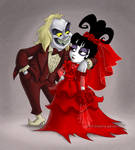 How did the love for D*sneyland start for you ? How did you join ? How excited were you, when you were announced that you were accepted ?!
It began like a lot of cast members, I started out with an Annual Pass since I lived nearby and went there several times a month. I got a ton of inspiration from watching the characters (especially Alice and the Mad Hatter) and that's where my love of the park first began. Eventually I thought it would be fun to work there and looking back, my first interview was kinda funny, since I think they were on a hiring spree for the summer. I applied in the morning, they asked me to stay for an interview, and as soon as I was done, they asked to come back for a second interview a few hours later. Immediately after that, they offered me the job.
And honestly, starting work there was absolutely terrifying! I had almost a week of training, which is a complicated process since you have to know how all of the rides in your location work. You even take a couple written tests that review the attractions, and on the last day of training a Lead cast member watches you work to determine whether or not you pass. It was only after this whole process did I finally relax and the job became fun. I'm happy to say though that my training to become a Sketch Artist was a LOT easier.
Are you happy to carry on the way it is for your entire life ?
At the moment I am happy, but never satisfied. I've always considered my job at D*sneyland to be temporary, my ultimate goal is to work for an animation studio in visual development. I love animated films like nothing else and my dream is to help create those movies (and get paid good money while doing so).
Do you plan your images before doing them, or make them up on the spot ?
I tend to make them up as I go. I'm not really one who does a lot of thumbnails or rough drafts, outside of school projects. I usually get an image in my head and I try to recreate that image on paper as best to my ability. Only once in a while will I do extensive planning.
:thumb64293596: :thumb64551817:
What does your work represent to you?
The art in my DA gallery just represents having fun. I like to make people laugh, or inspire them to do their own projects like my shoe art. A lot represents the people around me in my life. The other work I don't post on my site is a combination of what I learned during my four years at school.
Who will be your favourite artist at this moment ?
A favorite artist of mine has always been Glen Keane, a master animator who gave life to characters as Ariel, Aladdin, Pocahontas, Tarzan, and the Beast. He puts so much life and emotion into his characters, the kind of work I could only dream of doing.
Here on DA I have a whole list of artists I love and admire. A few of them would include
makani
,
lily-fox
,
loish
,
damie-m
, and
bonegoddess
How do you respond to change in trends in this "digital" world ?
It certainly wasn't easy. I was so used to traditional work, using everything from markers and colored pencils, to watercolor and gouache in my work, and it wasn't until my last two years at art school that I really took a shot at digital painting. I did what I could to teach myself, but what I do is pretty basic compared to most others. I'd say I'm still adjusting.
:thumb44869600: :thumb55165295: :thumb44057319:
So where is your working place, in an office at home ? Once you're finished with your pieces where would you post them ?
A lot of my working space tends to be at home, on my computer desk. It was a lot easier in San Francisco when I could always walk down to the illustration building and have an entire room in which to work. I also tend to take my sketchbook to work with me, and I'll arrive a few hours early to draw characters and people. Anything I like I usually finish on my computer, and I'll post them on any number of sites. DA is my main gallery, but I also post work on my Livejournal or Facebook to show off to friends and family.
What software do you use and what is your favourite tool ?
My favorite software right now is Photoshop CS2. I did use Corel Painter for a time, but I just kinda fell out of practice. I would like to do more with Painter, it seems like such an amazing program. Either way my favorite tool would be my Wacom tablet, which got me through college. I've heard some amazing things about the Cintiq but sadly I have not yet had the pleasure of experiencing one.
Is there any tips for other Digital Painter or Illustrator you would like to share ?
Tips? Me? HA! Please, give ME the tips, I'm the one who needs them!
:thumb44699922: :thumb91726664: :thumb48808240:
Do you work with commission, if so is it enough to make a living out of ?
I do, but I'm not sure its enough to make a living. Combining work with commissions is usually enough to help me get by, but my hours are kinda unpredictable so I never have an actual amount of time I can set aside to do commission work.
Do you usually have a message to send through your work ?
Not really in my DA gallery, most of the art I post here is the stuff I do for fun in my spare time. But even in those I'd hope that people see the fun I have and that not all art has to be serious business. My professional portfolio is a little different and I try to include my best works from school where I learned a ton about design, composition, and storytelling.
What would be your casual routine like ?
A day at work? Get up at 8, get to D*sneyland by 11, take photos and/or draw, start work sometime in the afternoon, and off by 9.
If it's my day off, I do my best to stay at home and do absolutely nothing. Maybe hang out with friends.
:thumb40363712:
:thumb40989502:
What are your other hobbies, when you're not drawing or sketching ?
I mentioned earlier I have an interest in photography, but a very minimal one. I love going to the movies, especially midnight showings, those are the best kind of crowds to see movies with. I have a casual interest in cosplay, and I love reading everything from novels to comic books.
What is your ultimate goal in Digital Art ?
Just to become as talented as some of the other artists I see out there. Teach me your ways so I can create a kickass portfolio!
Where does your Inspiration source come from ?
Most inspiration comes from other artists, and a lot comes from the people I work with. All the Hatter and Alice artwork I've done, including my LJ comics, were inspired by the characters actors at the park. I also love listening to all types of music, y'know the kind that creates images in your mind. I also love listening to comedians and standup like Eddie Izzard and Mitch Hedberg (rest in peace, Mitch). It's when I'm happy and laughing that I'm most likely to draw something.
:thumb41160124: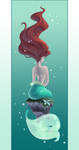 :thumb34850960:
What would your top 5 tips be for anyone that is starting to Paint or Illustrate ?
Do your research, be passionate about your work, don't be afraid to take leaps, accept critiques and constructive criticism, and practice day and night.
What do you think of today's Digital Arts levels and amount of work ?
It's overwhelming, and a little frightening. I become intimidated because I worry I'll never achieve what I want to in the digital world. But that doesn't mean I'll stop, it just means a little more work to do.
You have achieved an amazing number of 2 Daily Deviation over DA, how do you feel ?
It was very flattering, I'll say that. The first one I never even saw coming, it was totally out of left field, and the second was a nice surprise. My thanks go to the folks who nominated my work for the DD, it feels great to be recognized.
:thumb28506088: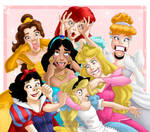 What type of music do you listen to ?
Everything I can get a hold of. On my iTunes playlist I have a ton of Disney music, both from the movies and from the parks all over the world. I love trance and techno, classical, rock music, and soundtracks (Moulin Rouge FTW!). My favorite artists would include Nightwish, Within Temptation, Robert Miles, Rob Dougan, Bond, and Danny Elfman.
What is your setup like ?
Just a computer desk at home. Now at work I have a $6,000 animation table which I love to death! I share it with two other artists but on the days they aren't there, it's allllll mine.
If there was another software you would like to master, which one would it be ?
Corel Painter. I've seen what others can do with it, and it just amazes me.
:thumb29969597:
:thumb33306115:
Your popularity over DA is ever so increasing, I mean how do you feel, going back to your first day, this is more than impressive !
Looking back, I made the jump to DA only because a bunch of other artists I knew were doing the same. It's weird to think I started here at the age of 17 and watched the community grow. In truth I only became popular because I usually posted fanart that was big at the time. It's not because I was hoping to gain a lot of attention, I just tend to jump the bandwagon a lot and draw stuff for other fans. And while it's nice, I don't consider internet popularity a vital part of my life. It certainly hasn't helped me get the career I want, but it does help knowing people online are willing to commission me, just in case I need some extra help with bills.
You have a piece, which is hypa-uba known over dA - 'Smile for the camera', how do you feel, that being a major achievement !?
'Smile' is something I NEVER expected to become this popular. For one, it was the most favorited piece on DA at one point (dunno if it still is), I've had people tell me they print it out for everything from their school binders and lockers, to t-shirts and bags and posters. It does irk me a little that they don't ask me first, but meh.
This picture is currently framed and hanging up in the Princess break room at D*sneyland, and I've also been told that it hangs on the walls of various backstage areas at D*sney World in Orlando, and even in the offices of Tokyo D*sneyland. It has also made an appearance at D*sney Consumer Products as an example of what NOT to do in their own designs (LOL). What surprised me the most is when I received a photo of the Princesses in Orlando acting out the 'Smile' picture themselves. Especially when I had never even met any of them. It makes me incredibly happy to know that it's well loved.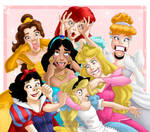 :thumb29006348: :thumb25992363:
Did you had to go through some very challenging task in your Digital career ?
Well, it hasn't been much of a career yet. But I will say the most challenging task I went through was Advanced Perspective with Joko Budiono at the Academy of Art. That man pushed us like no other, just piling on the work and showing no mercy. It was stressful, I lost sleep, and I nearly went crazy, but in the end it was worth it because his illustration projects helped me take a big step up in my skills.
What are your future plans ?
I kinda take it step by step, but I hope that in the next few years I will have moved up in the industry. My job at D*sneyland is fun, but it's not a career. I want the freedom to create and do what I want, and be able to make a living off of that.
If you could, you would ...
Buy a Harley Davidson. It's one of my goals to someday own a motorcycle. My daddy is a biker, and I wanna be like him!

:thumb22795361: :thumb16448228: :thumb15880520:
What is your favourite piece, that you ever created ? And why you chose this piece ?
Aww, why did you have to go and ask that? My favorite piece is a painting that I haven't posted online, so people won't be able to see it! But I'll go ahead and describe it. It was an illustration I did for my favorite childhood poem "The Owl and the Pussycat." I did the classic image of them sailing together in the moonlight in a pea green boat. It was a project I did for school and took me over 2 weeks to paint. It's one of my most successful digital illustrations and again, it's simply my favorite poem.
What are your favourite pieces on DA, could you share them ?
Gah, there's so many to choose from.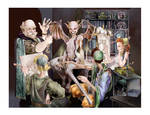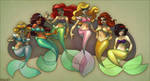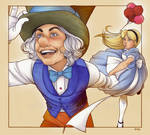 :thumb101971018: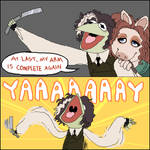 The first one I find fascinating and so original, of course I had to choose a few D*sney/Alice ones, and the last just makes me laugh hysterically.
If you had to sum up all your work into one sentence, what would it be ?
The demented product of a D*sney fangirl.
Killer Question : Who is your favourite D*sney Princess, character ?
Ooh, tough one. My favorite princess would be Ariel because she's a spunky redhead who actually got off her butt to chase down her prince. I also just love mermaids. My other favorite characters would be Alice and the Mad Hatter (duh), but I go off the park versions rather than movie characters. I can't help but be amused when the Mad Hatter says that he likes to play up the "sexual tension" between himself and Alice.
And to finish it off, What would you like to say to your millions of fans out there ? And what did you think of this Interview ?
To my fans and friends, thank you for giving me the motivation to keep going and for always being there when I get lonely in my real life. This interview has been extremely diverting, it's my first real one so I'm glad it was both fun and professional.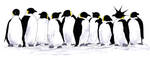 :thumb1196692: :thumb6099443: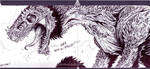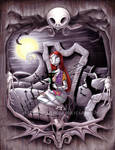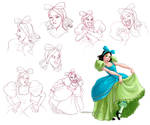 :thumb99002713: :thumb27742728: :thumb16798282:
So that was it for today, hope you all had a lovely time reading ! Lots of cool infos. and even I learnt loads of new things

So there you have it ! You can always

to show your support and comments are greatly appreciated !
Don't forget to check her our here :












That's it from me, hope you enjoyed !
Kind Regards,
Sangiev
,