Hello everyone,
And again, I'm seeing you with another Interview ! All these interviews were planned ages ago and all coming out at the same time

So BANG. Today we're interviewing a great pencil artist, he has talent towards many art medium but his main style could be Pencil Drawing, Web-Designer, Vector Artist. You've probably guessed it, it's the amazing, the one and only …












So here we go

What is your name ?
Bobby Sandhu. Bobby is my nick.
What is your alias and why you choose it ?
Bobbyrock, coz I like rock music, well at least I used to. Otherwise I go by durkaman on other sites.
Tell us a bit about yourself Bobby ?
I'm a regular guy, doing too many things… and sometimes getting stuck. But lately I have got a lot organized and have been able to take control of everything.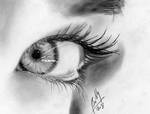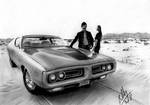 Have you done any previous studies before getting yourself into Pencil Drawing ?
Nothing on fine arts, I basically did Post Graduation in English Elective and received a gold medal as I ranked first in the University. As far as pencils and digital arts go, I'm a self taught.
How long does it take you to get into the feel of creating something new and stunning ?
Not much long, if I like something and I feel like drawing it, I just save it somewhere safe and draw it when I have time.
Do you plan your images before doing them, or make them up on the spot ?
I plan them I guess, I mostly take reference images for my drawings, after that its all natural.
Who will be your favourite artist at this moment ?
It has always been the same since I came here. It's simply
Tunaferit
For his art, as well as for his being friendly and sincere friend.
How do you respond to change in trends in this pencil drawing world ?
I never respond to anything, I simply do it my own way. Instead of studying the style and how someone did the artwork, I only enjoy looking at it as a whole. That's all.
So where is your working place, in an office at home ? Once you're finished with your pieces where would you post them ?

I draw on my bed.. I have seen artists using canvas, using studios and doing lots of stuff while creating drawings.. I simply put on my boxer shorts and put the sketchbook on my bed and start sketching sitting on the bed… oh yes, I do put on some music while doing it… that's always there.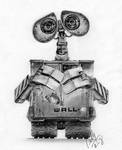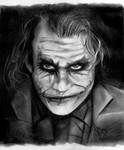 What tools do you use ?
I don't have any special pencils or any other stuff. I have realized that I'm very low on resources as I only use simple HB pencils from B1 to B6 and a simple school eraser. I have recently seen what the best pencil artists on DA use for their drawings… I was amazed at the number and shapes of erasers. I cant get the technical names for that kind of gear. Once I know what they are called, im going to get them. I'm hoping for an increase of 70% increase in my art's quality after that.
Is there any tips for other Drawers you would like to share ?
I did a tutorial long time back, which basically sums up my technique. For technical skills anyone can refer to it. Apart from that I can only urge artists to do aesthetic work.
You've started a new Blog, which took your time ... Can we expect more work from you now ?
It didn't take my time at all. I created it in two days and my fiancé takes care of the content.. I started it just for fun, but it recently got a lot of recognition due to Stumble upon. I will try to keep drawing more and more. But my major site is still in progress and it will still take lots of time to come out. Let's see what happens.
What else do you do other than Drawing ?
I do Web designing and I'm at the rank of Project Manager in my company. And I do most of digital art as well. My DA gallery has lots of other stuff as well.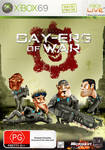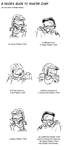 What would be your casual routine like ?
It's very hectic these days. I wake up at 7:00 and work on my personal projects till 8. Then have my breakfast and leave for office. Stay in office till 6-6:45 in the evening. Then I come home and start working on my projects again. If I have time, I watch a movie or something else. I keep working till 10 in the night and then go to bed and start all over again.
You currently reside in India does any of the culture and trend there affect your vision of art ?
It does tremendously. I'm basically a Punjabi and I have drawn many regional portraits which I didn't upload at DA. I love my roots and where I belong. My site www.punjabiportal.com is totally dedicated to my culture and Punjab.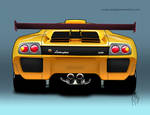 What is your ultimate goal in your career ?
At the moment it is to make www.punjabiportal.com ultra successful and keep working on it till I die. It has finally given me a cause for my life, which is to promote my culture and my roots online and do it in an aesthetical way.
You're known to be one of the best Pencil Drawer on DA, how do you feel achieving such high status?
I seriously don't consider myself as the best and I certainly do not stand in the best of DA. I think I'm more of an average pencil artist who has built his reputation on his being friendly and helpful to everyone.
Would you like to make Pencil Drawing your profession?
I will surely want to do that. I have tried to do that, but it doesn't pay and not many are interested. That's why I had to look for alternatives in digital medium.
Where does your Inspiration source come from ?
Mostly it's the image I want to draw. I mostly draw from reference images. And when I see a good one, I feel this push to draw it in one form or the other.
You are currently vectoring/vexeling and drawing, what style would suit you more ?
I have no idea. I have had these arguments in head about what to do. But being an artist and being able to do all the mediums, I love them all. I also have an insatiable love for 3d modeling. But I don't have that much time to make renders in it. I can't tell you what I'm gonna do next. I'm just enjoying them all for the time being. One thing is for sure though, I'm moving over vectors and vexels for now. I'm moving into digital painting and brushing.
What do you think of today's Drawing levels and amount of work ?
Too much of quantity I guess. Of course seeing other ace artist's work makes you feel how insignificant you are and how much more work you have to do still. I enjoy watching traditional art more then anything. There are galleries that I just love to go through once a week, purely for aesthetical reasons.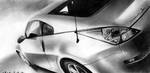 What type of music do you listen to ?
Rock… isn't that obvious, my id is Bobbyrock here ha ha ha ha. But seriously yes, that's what I used to listen to back in 2004. Hardcore rock, Metal, Gothic, Industrial and alternative rock. But these days I'm getting into Sufi music along with trance, techno, new age and progressive music. My favourite bands so far are REM, Pink Floyd, The Eagles, Radiohead, Scorpions, Journey, Don McLean, Enigma, Deep Forest, ATB, Rammstein, Rob Zombie and Megadeth.
What is your gear like ?
It's very simple. Just simple HB pencils and one eraser.
If there was another style you would like to master, which one would it be ?
Uum I won't say Master.. so far I have learnt many styles… pencils, watercolors, vectors, vexels, 3d modeling, web designing, flash, HTML, logo designing, branding, word press, joomla etc.. the list goes on, I do all of these and I guess I do pretty good. These days I have been playing with digital paintings and car chops… very soon you will see the results of that.
Your popularity over DA has increased, were you expecting that ?
Actually I was expecting more than that. I was expecting a bigger canvas of communication, which is sadly decreasing. Very few friends stay in contact and most of them just

the work and leave. That's simply not enough. Many of those whom I dedicated my works in the beginning, those who were actually very close to me at that time, do not even cross my pages anymore… that's kind of sad. I do keep visiting and keep knocking, but rarely I get an answer. For that
Tunaferit
must be praised, he still comes to me (and most of his other watchers) and occasionally says hi.. it makes my day every time he does that.
You also have nearly 72k Page Views, most people reaching this will stop replying to fans, how do you keep up with everything ?
Well, that's what keeps me interested in DA actually. I enjoy it more than uploading a new work. The most interesting part is to reply to my faves and comments… most of those who

my works know that I reply in a very unique way to the faves. Every single work I upload has a different way of replying back for faves. And that's what keeps me interested. As for comments, simply if someone took out some time out of his/her life, its my duty and honor to reply back to him/her.
So far you had an amazing number of 4 Daily Deviation, is there any more coming ? How do you feel achieving this ?
Nothing special about that. The truth is that many get undeserving DDs and a lot more than that, who deserve DDs, never get them. I have got 4 DDs in four different art categories: pencils, vector, skinning and wallpapers. Strange isn't that? I actually see myself riding too many boats and some boats that I ride aren't even on display at DA. I'm a professional web designer and very few know that coz I never upload my designs here. If I would, I will surely get another DD.. maybe in another account.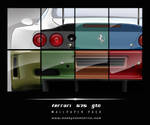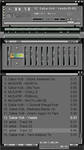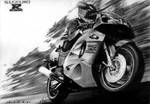 Did you had to go through some very challenging task in GFX career ?
Not anything so far. In pencils, nothing has been tough. It's all fun and it's the urge inside to draw the certain piece that pushes me to finish it by hook or by crook.
What are your future plans ?
I really don't know. My art is not paying me well, in fact it's not paying at al. Soon year back I moved into web designing, in which I excelled and started getting paid rather well. But this job leaves very little time for drawing or for myself. All in all I always have a very bad taste in my mouth and I have no idea what I'm gonna do. I own two sites www.jungplunga.com and www.punjabiportal.com which I'm trying to promote. Hopefully they will become my financial resources and ill leave the job.
What is your favorite piece, that you ever created? Could you explain why you chose this piece?
I haven't uploaded my personal favorite work on DA yet. I created it many years back when I was in University. Actually I did upload it in 2004, but very people liked it, so I took it out. Somehow people are more interested in fan art and glam portraits. My personal fave is nothing like that. It's a line art of Shakespeare's character of King Lear.
What are your favorite pieces on DA, could you share them ?
Tunaferit
RTyson
dangeruss
's galleries
And to finish it off, What would you like to say to your millions of fans out there ?
Not millions actually and no fans. I have a few friends and many who watch me. I'm not a big artist or a legendary figure to leave any message. I will just say that I try to draw good art and I try to help everyone I can. I just hope that all of you do the same to people around you.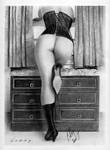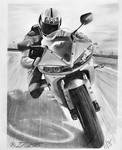 So there we have finished this Interview with this great person, as you've heard/read he misses his friends and watchers. So we should all give him some

and go support his work, he is extremely talented and you should really check out his amazing gallery !
But that's it for now, so hope you enjoyed, if you did like the article then you may

and/or comment ? All of these are obviously greatly appreciated and will be answered by me ?!













Have a lovely day,
Thank You,
Sangiev