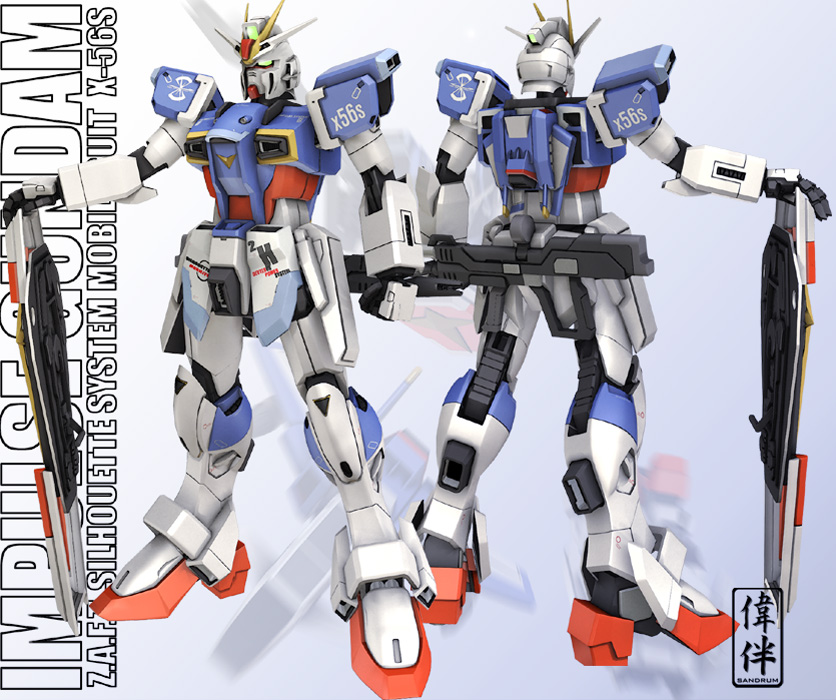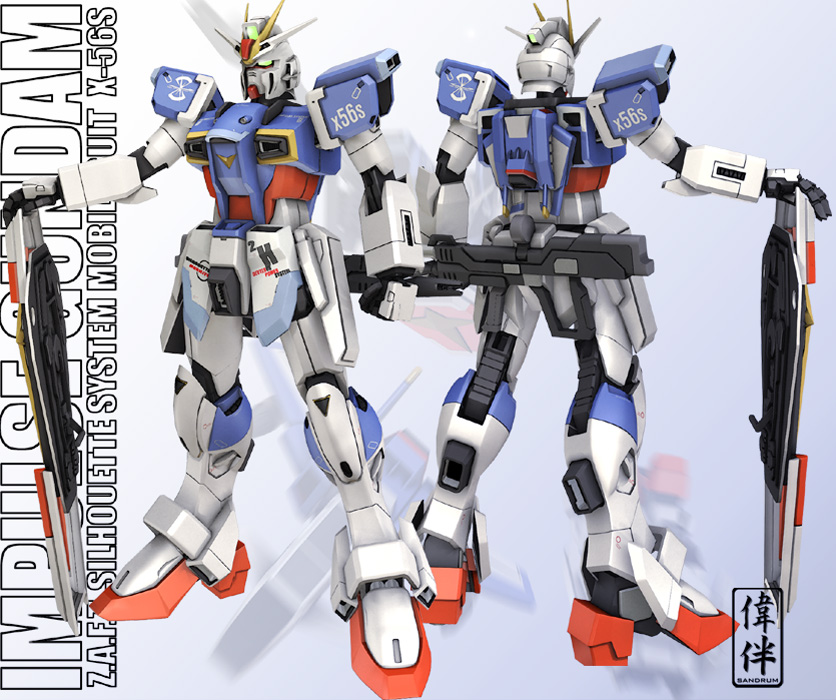 Watch
HUGE 3D MAKOVER
Remember the
Impulse Gundam
that I made here? This is the same polygon mesh, but heavily modified. There were so many inadequacies that I wanted to address in the beginning that I never got to until now. For starters, the original 3D mesh was based off of the 1/144HG model, which is a tiny tiny thing. Very difficult to see details that one would want to duplicate in 3D. The differences this time around stem around trying to make it more capable of dynamic movement the way that the Strike and Freedom are. So on that train of thought, I created a 2ndary shoulder rotation system - which is really needed by this model since the chest flyer requires such a shoulder configuration whereupon the arms rotate toward the head at 90 degrees. Next, smaller ventilation systems have been redetailed. The
Strike Gundam
and
Freedom Gundam
have a more V shaped contour in the torso, however, I left the brutish square shape in the Impulse thinking that the Silhouette system AND the need to combine with other flyers mean that an adequate torso size is necessary. The Waist has been lifted, as have the front and rear skirt armor. The length of the arms has been increased, as was the vernier on the shoulders. The legs have been portioned out differently than they were before since now their is a frame underneath that is a combination of the Wing Gundam and Freedom, since the former is capable of transforming but the latter doesn't have as freemoving a knee cap system as the Wing. The legs have also been lengthened to accomodate the frame better. The feet have also been lengthened to keep them from looking too stubby in comparison to the legs. The result is that this new Impulse Gundam is about 1 meter taller than what it should be, but much more capable of free movement without the polygons looking like they will collapse into the body.
The style of the insignias differs a bit but is mainly based on those found on the Cosmic Region plastic figure of the same name. Except for the 2H in the front, which is a chemical representation of "DEUTERIUM", an isotope of Heavy Water. Impulse gets its power from the fission of the nuclei - called deuteron - of this atom. Unfortunately, it's power is pooled in the form of a battery which is quickly depletable in the wrong circumstances, though replenishable via a "DEUTERON BEAM" eminated from the Minerva (mothership). How this process could even be branded concievable is beyond me.
This 3D model was created and retooled to fight against the Freedom in the animation planned for it.
EDIT: Now includes diagonal/rear view. Sorry if this offends those who have already faved.

Software: Lightwave 8.3 (modelling/ rendering), Macromedia Freehand (logos), Photoshop (post processes).
Gundam is (c) Sunrise/Bandai/Sotsu Agency