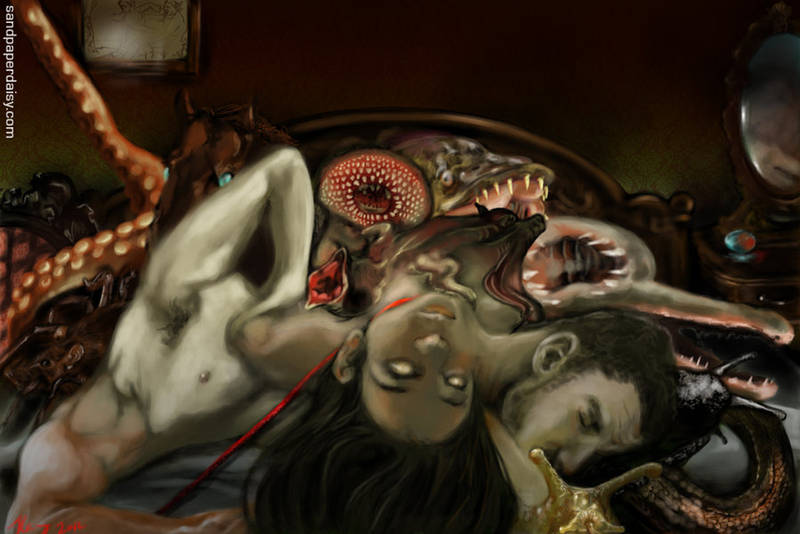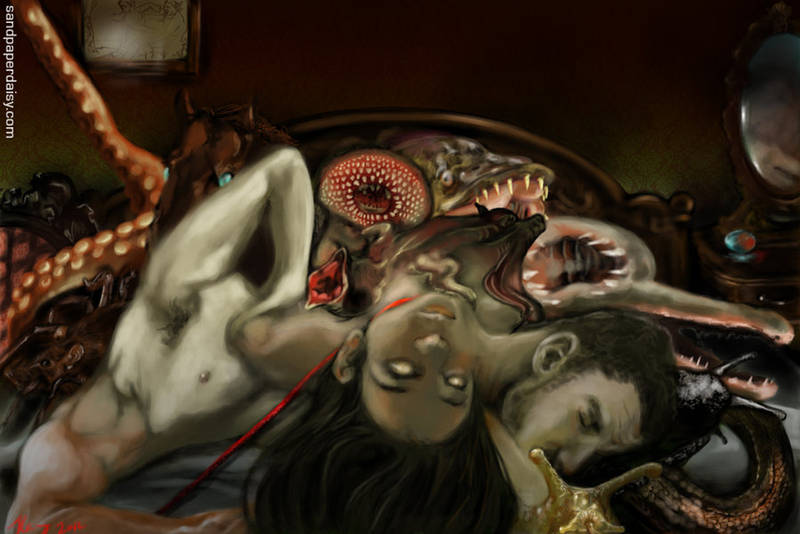 Watch
by sandpaperdaisy / Heather Landry 2012

"Helen Vaughan did well to bind the cord about her neck and die, though the death was horrible. The blackened face, the hideous form upon the bed, changing and melting before your eyes from woman to man, from man to beast, and from beast to worse than beast, all the strange horror that you witnessed, surprises me but little. What you say the doctor whom you sent for saw and shuddered at I noticed long ago; I knew what I had done the moment the child was born..."

--Arthur Machen, The Great God Pan

I love this story. I did this as a drawing over a decade ago and have been waiting to revisit it as a painting ever since then. I'm happy with how it turned out.

Very, very good work. Oh, maybe there's a couple of tentacles and a mouth too many, but you managed to capture a legitimate vision of what Dr. Matheson saw when Helen Vaughan was obliged to strangle herself with that rope.
Reply

Looking at it again this is STILL amazing!
Reply

Ha! Thanks

It's always nice to hear something from awhile back can still get a powerful response.
Reply

holy crap, I honestly don't know what I'm looking at here but I just love the creepy surreal vibes I get when I look at it

Sounds like a good story, maybe if I read it this painting will make more sense?
Reply

Oh yeah, definitely. The story is a horror masterpiece and this is a scene straight from it. And thank you so much!!
Reply

Reply

Intoxicating! Much like Helen's thousand-year-old wine :3 *two tentacles up*
Reply

Was just sent the link to this- did you ever wonder whether Machen was perhaps protesting too much? Was breaking the fleshy bonds that confined the spirit to one quotidian form so horrible a notion?
Reply

It's a good question...certainly, it could be a wonderful experience just as much as it could be a horrifying one. (If I had to guess I would think it would be both.) I think that one of the things Machen was possibly trying to imply was that humans might not have the capabilities necessary to look upon the spirit world and retain their humanity. Mary went insane and Helen, as kind of an amphibious creature dwelling between the fleshy and the spirit world, was completely amoral and destructive.

Who knows if Machen underestimated humanity or not. I certainly anticipate and hope for a day when I can stop seeing through a glass darkly and see everything face to face, but I definitely want to be capable of handling it when I do.
Reply

You remember, in The White People, Machen compared true horror to simple things like a walking chair- a distortion or alteration of the nature of reality. Did he know about psychedelic substances? Schizophrenia? But the damage there can come from an inability to distinguish the real from the unreal; no one to my knowledge has suggested that such hallucinations are or could be true.
Reply

Her and Wilbur Whateley would be one hell of a pair.
Reply

XD Can you imagine the wedding?
Reply

The relatives coming together would be the best part.

Reply

LOL Yog-Sothoth and Pan chatting, Wilbur's twin as the best man
Reply

Wilbur's twin carrying the veil with one teeny tentacle... then catching the bouquet.

And Pan & Nyarlathotep would likely get into a drunken snark contest, if not worse.
Reply


Pan walking Helen up to the altar...oh, and while they were dating -
Pan: What makes you think you're good enough for my daughter?
Wilbur: Well, my father is the Gate and Key between worlds -
Pan: I don't care if your father created the universe!!!!
Reply

Thank you! I'm really glad that you felt like you could plunge into it and keep finding new things. I was hoping to do the text at least some justice, since I've always admired how uneasy the story made me feel and how it always ignited my imagination.
Reply

Wow! You really pictured the text! And you really caught the "changing ang melting", stunning! It's so absurd but you can't stop looking at it. And oh, the details!

<3
Reply