Hello!!

Link for
ITA
Version:
fav.me/d7p2x2m
Here
SAMY
and
CONSU
!! We found this journal through

and we thought the idea of ​​doing interviews with Original Characters was a lot of fun and since we had liked her version, we decided to try them out ourselves!!


Rules:
1. Choose some of your OCs
2. Make your OCs answer these questions
3. Tag other people
4. Add one question of your own.
We have chosen for this interview
6 of our Original Characters
.

Yes, there are six! Because they are a group and they were born from our minds together. We chose them because we are attached at their,

in fact it is a long time since we work on them, on their design and their history (In phase: work in progress). But here you can get to know them a little better.
Someone may have already seen our drawings on them, however we present them again for those who do not know them:

Serenity Morgan from U.S.A.


Agnese Floris from Italy


Alexander Grey from England


松本 大我 (Matsumoto Taiga)from Japan


Сергей Алексеевич Васильев (Sergey Alekseevič Vasilyev) from Russia


Jean Lacroix from France
For obvious reasons during the interview there isn't the siberian husky Амос (Amos) (the dog of Sergey)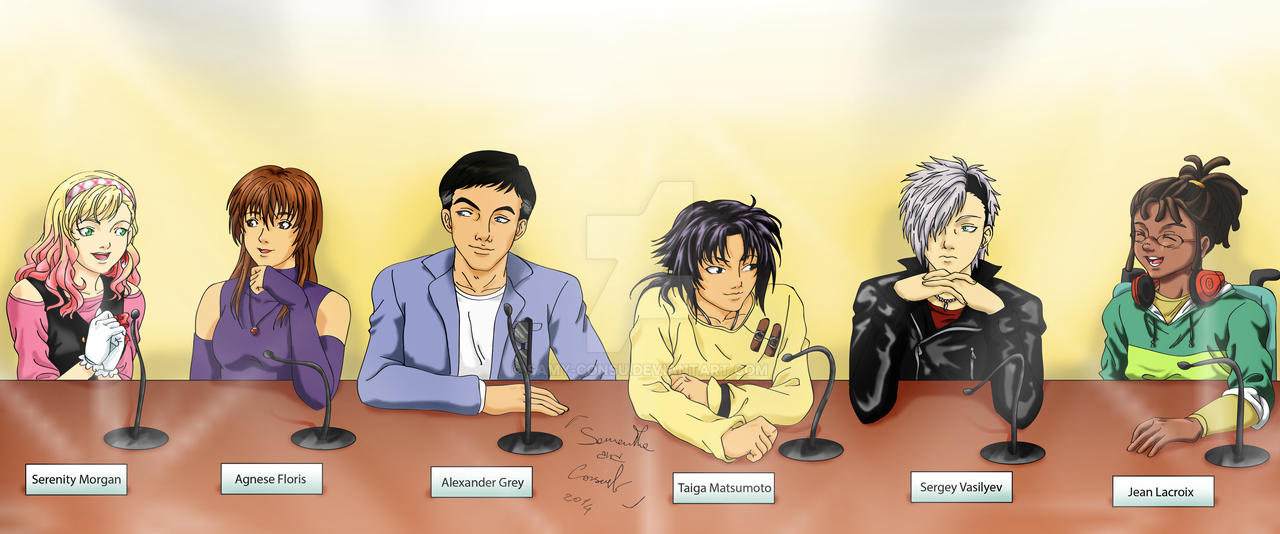 Now, Let's begin!!!
(sorry if it is a long interview,there are many questions)



-1. How old are you?

Serenity: Hello everyone! * very excited* ~ then I am the youngest of the group, I'm 19 years old!
Agnese: CIAO, nice to meet you. I am 20 years old (although the age you should not ask to girls...)
Alexander: Nice to meet you. Well, I am the leader of the group and I am 41 years old. *very composed*
Taiga: Kon'nichiwa Min'na-san!!!!Dōzo yoroshiku onegai shimasu!!...sorry, maybe I should make myself understood better. Nice to meet you, I hope we have a good relationship .. oh I forgot, I'm 22 years old! * euphoric *
Sergey: priyatno poznakomit'sya (Nice to meet you). I'm 23 years old. * Synthetic *
Jean: Salut! Nice to meet you. I'm 22 years old and I'm very excited, this is my first interview.

-2. Do you want a hug?

Serenity: Oh, yes yes!!!! Good this question, I like hugs ! (I hope I do not sound like shameless)
Agnese: Hug? So suddenly... okay.
Alexander: *coughs*...Now? I do not know if this is the context.
Taiga: So ... not that I'm so expansive in public ... maybe later.
Sergey: Hug? ...The next question, please.
Jean: Is this the first question? So it takes me aback. But yes, this it can do.*a little embarrassed *

-3. Have any bad habits?

Alexander: If you allow, I answer for this question. If you want clear answers.
The others: *they look worried*
Alexander: Serenity tends to impose a little her interests at the others. Ah! also teases too much timidity of Jean. Agnese, instead, she knows how to be a little too headstrong, while Taiga should be more obedient and also, these two should quarrel less. Sergey... he should be more collaborative. Finally, Jean. He is a good guy but he let himself be influenced too much by the impulsive actions of Taiga. In the end, I...
Agnese: ... drink too much tea ...
Taiga: .... it's too hard with us sometimes!
Alexander: *looks severely*

-4. You a virgin?

Serenity: I'd like to have a boyfriend! * laughs *
Agnese: But that question is that?? And Privacy? however, I have nothing to say about it! * Very embarrassment *
Alexander: I have been married, that's it!
Taiga and Jean: ..... hem ... us ... * speechless * *blush*
Sergey: Next question!

-5. Have any kids?

Alexander: Yes, I have a daughter. Her name is Alyson, she is 16 years old.
Serenity: If you think as we said before (question # 4) ... * laughs *
Agnese: No, excluding Alexander, none of us are married or have children.

-6. Favorite food or drink?

Serenity: I'm a vegetarian. So any vegetarian food in the world for me is fine.
Agnese: She is not an example of the classic stereotype of an American type. However, I adore my Italian cooking: Pasta and Pizza are great inventions! * thumbs up *
Alexander: As has been said ... I love drinking good tea, but of good quality.
Taiga: Do you know or you ate Sukiyaki? It's very good and suitable to eat together!
Sergey: I do not have a favorite dish, but I must say that I like a typical drink of my country. No, I'm not talking about Vodka, I mean the Kvas (Russian fermented drink, not much alcoholic, whose main ingredient is the sap of birch).
Jean: I love sweets, all kinds. My mother cooks them very well. A name for example: Crêpe Suzette.
Agnese: Who is interested can write down these names, if you want to taste them. * smiles *
Jean: I'm taking me hungry! * laughs *

-7. Any secrets?
Serenity: My parents (who are temporarily separated) believe that I am away from home to study, but instead I am with this group for other matters. * a little ashamed for this *
Agnese: I have a outstanding issue with someone. I must avenge my brother.*determined*
Alexander: Almost everything about me is a secret to their. *Very reserved*
The others: The Boss is always nice!*whisper*
Taiga: I should not talk, but I just say that none of them is aware of my origins ... except Alexander-san. *he does the indifferent*
Sergey: I do not like to talk about this. It's about my family .... it was part of an organization of which I'm not proud.
Jean: Shouldn't be secrets between us, because we are like a family. I'd like it but I know this is difficult. My parents do not know that we are involved with things dangerous too. *sorry*
Alexander: For any clarification, towards their family, I deal that they can to a good education.

-8. Love anyone?

Serenity: I said that I do not have a boyfriend! ... but I love everyone!!! However I have two boys that strike me more, one of them is here. *She watch Russian guy*
Agnese: Do not expect any kind of statement here today! And you, Serenity cannot think of two guys!
Serenity: I have to decide! *smile* Anyway, I know that you are not indifferent to a guy in the group! *laughs*
Agnese: What do you mean?! You don't joke!! *red*
Taiga: Well, I really .... maybe ... but ... I do not know if she .... *embarrassed*
Jean: The girls came in mode "Gossip Love" *laughs*. Anyway, I'm not busy, I'm a bit clumsy with these things ... even if I have confidence on my blog with a girl, but we never met *sigh*
Sergey: No Comment!
Taiga: But you never speak?
Sergey: Only if needed! This is not your problem. * indifferent *
Alexander: You can see that they are young guys ! *smile*. In my heart there is my family.

-9. What is your job?

Alexander: Well, now I do not know if I can give you news about it, I should compare myself with my superiors. I can tell you that we work for a global agency that it working undercover on inexplicable facts, that the normal institutions are not able to solve and explain. I think you can understand something.
Serenity: He is so good at dealing with the press! *adoration*
Taiga: But I am not safe of one thing ... we have a salary?
Agnese: I had not thought of that!
Jean: Do you mean that if we do not have a salary, it's not a real job?
Sergey: We must to clarify this point. As soon as possible!
Alexander: Do not worry, everything is in order * sigh *.....it takes patience with them * whisper *

-10. Why are you in this team? (Question added by us)

Alexander: I can say that everyone was chosen for its features. Everyone is different but we complement each other. After you!
Serenity: I'm a little ashamed to say it, because when I was little, people thought me a bit strange ... Anyway, I'm an Esper or Sensitive, as you wish ... it seems strange in to see me but it's true! * thumbs up *
Agnese: I ? I chose of my own initiative. I did not innate capacity but my particular interest is the study of witchcraft and its applications.
Taiga: I, instead ... how can I say ... * embarrassed *.. Alexander-san already knew me, called me because he knew of my physical skills over average, of my a good sixth sense, of my hearing and I have to say also of my sense of smell highly developed . * make a happy smile *
Sergey: That no one at the end say "freaks"! ... Anyway I psychokinesis skills since I was little.
Jean: Well, I have to say that I have a good IQ, above average, then I'm fast in the research because I manage well the technological resources. So are the support for the team. * blushes *
Alexander: Now it's my turn. So, I have been chosen to lead the group because in addition to my greater experience, I have skills of adaptation and strategy for every eventuality, thanks also to my past military education.

-11. Favorite season?

Serenity: Absolutely the Summer! Sun, sand, sea ... and handsome boys in swimsuit * laughs *
Agnese: I prefer the Autumn, with its colors and atmosphere.
Alexander: I do not have a particular favorite season, but I find it pleasant to drink hot tea on rainy days.
Taiga: Season? I really think the Spring. The picnic under the cherry blossoms have no equal! * big smiles *
Sergey: I'm used to cold temperatures ... so I am comfortable with the winter environment.
Jean: They have already chosen all seasons! For me, I think it may be Spring. I like to feel the first warm rays of the sun and to see nature waking up.

-12. Who's your best friend?

Serenity: I already said that I love them all, but one of my best friends is Jacy, a young Native American. Only lately that I not see him so much times, but he gave me the earring with feather. Now I tied a lot with Agnes, is like a sister. *Love mode*
Agnese: Me too, I found with Serenity a very caring and loyal friend. *smile*
Alexander: What can I say? In a difficult time in my life I have found in David Floris (the father of Agnese) a person of true support. I also had other people that I can define friends, but now there aren't more.
Taiga: I've never had so many friends in my childhood, perhaps I was a little undisciplined, but someone somethime there was. However, I think I found friends who are like family.
Sergey: I'm a guy who likes to be alone sometimes. With Jean, the first time that I met he was on his blog and now I consider myself lucky to have met him.
Jean: I think that with Taiga and Sergey I have established a good relationship, even if them are different.

-13. Hobbies?
Serenity: I like to take care of the animals, so I like to cuddle Amos the dog Sergey. Oh, and I like to dress well. * simle *
Agnese: Wait! but sometimes you deal even with Taiga as a puppy!
Serenity: It's true! I do not know why, but he inspires me tenderness * laughs *
Taiga: HEY! I'm not a dog!! * angry *
Alexander: Stay calm! *smile *
Agnese: I like to read. My favorite topics revolve around ancient cultures, mysteries, magic and alchemy. Yes, I know, these genres aren't very funny.
Alexander: I have to say that in my spare time relaxes me a nice game of chess. With the father of Agnese, we sit and make good games but also with Jean.
Jean: It's true! But I have not managed to win yet.
Alexander: Or don't you want to beat your boss?
Jean: No, I would never trick you ...
Alexander: * suspicious *
Taiga: To me like to listen to music and make exercise with martial arts, maybe do both together. * Laughs*
Sergey: My free time is spent in exercise and going out with Amos.
Jean: Among my hobbies I manage my blog, which is on the arguments of the Gothic and mystery. Sure, it sounds strange says from me, but this topic has always intrigued me. * smile *~Also with Taiga, I often listen to music with him, we share this passion.
-14. What are you going to do when this tag is over?
Serenity: I'll send a message to my friend Jacy, so tell him of this interview! * happy *
Agnese: For when we're done it will be time for dinner, so I guess I'll go get something to eat.
Alexander: I have a meeting with my superiors. Them will also want to know how it went this interview.
Taiga: Maybe ... I will do as Agnese! * Smile *
Sergey: I'll take Amos a walk. He will be waiting for me.
Jean: I think I'm going to update my blog.

-15. What is your eye color?

Serenity: My eyes? You can see them very well, they are of a beautiful green! * smiles with gentle eyes *
Agnese: Do not you see? They are hazel.
Alexander: Eyes? well yes, they are clear color, azure tending a little gray.
Taiga: The color of my eyes is black.
Sergey: They are clear color, a blue tending to aquamarine color.
Jean: Even the question about the color of the eyes! * smiles * ~ My eyes are dark brown.

-16. Are you good? Or bad?

Serenity: "We're the good guys!" * laughs * I've always wanted to say something like that! However, I always want to give the best of myself to others!
Agnese: Basically good! I do not like the evil, so do not make me angry! *blink *
Alexander: I do not think I'm a bad person for my luck, but I'll leave others to decide this.
Taiga: I think good, but I think that Yin & Yang reflects well me .
Sergey: Any answer I tell you, how do you know if I lie? Only I know how I am!*look elsewhere*
Jean: I consider myself good. I do not think I've ever done something so serious for make me be "bad."* laughs *

-17. If you could get anything right now what would it be?

Serenity: I think I would like a lot of things for me and for them, I do not know how to decide ... * ponder *
Agnese: Spending a bit of time with my mother, I do not see her often.
*Serenity hugs Agnese*
Alexander: Unlimited supply of good tea from all over the world ... of course free! * smiles *
Taiga: Go back, to my childhood.
Sergey: I want to see, at least once, Amos biting Taiga!
Taiga: What do you mean? He and I are friends!!
Jean: Do not take seriously him! He's kidding, right?
Sergey: * smiles secretly*
Jean: Well, the thing is obvious ... I would like to experience the feeling of walking!
-18. What is your greatest fear?

Serenity: Between remain alone or locked up in a dark place alone, there's a difference? ... I do not like these! * shakes head*
Agnese: In don't want to see who I love to suffer.
Alexander: Not be able to help those around me.
Taiga: Becoming what I do not want!
Sergey: I think that this time I agree with the answer of "Puppy"
Taiga: I'm not a dog puppy!!!! * growls *
Jean: I would never be a burden to anybody!

-19. Does your name have a special meaning?

Serenity: I really like my name, it has a nice sound! It's of English origin. My parents chose it as a wish for my life (tranquillity, peacefulness), because instead, for character I'm not very quiet. * laughs *
Agnese: I do not know why my parents chose it, I think simply because they liked it. However, once I discovered that it derives from the greek (Agne) and means "pure" and "caste"...I do not know if they have chosen for this. * smile *
Alexander: My name? Well, it has some importance for what I know. It's of greek origin (Alexandros) and means "man keeper" or "man who defends the people." Many important men in history brought this name.
Taiga: Well, my name is written with the kanji 大 (tai) that is "great" and 我 (ga) which can be read as "self" or "I". In Buddhism it's linked to the concept of the "Greater self" , that expresses a heightened sense of responsibility and desire to contribute to the welfare of others and to world ... Maybe my parents left me a lesson, and this also what think my grandfather. * smile *
Sergey: Always curious questions ... however, I think it should be of Latin origin (Sergius), derives from the Latin word 'servare' (preserve) and means "guardian, curator of" ... but really Jean found the meaning of the name.
Jean: Yes, in fact I have always been intrigued and amused from research of the names! * Laughs * ~ My name is of Hebrew origin and means "gift from God", recalling the grace made ​​to Elizabeth, who conceives a child (John the Baptist) in old age. So my name is very popular in the world in all its variations! Personally, I really appreciate its significance. * happy *
Serenity: wow I did not know that our names were so beautiful! * happy *

-20. Any siblings?
Serenity: No, unfortunately, but I would have liked to have a brother or sister, more young or no. But luckily I have Agnese now! * love mode *
Agnese: Very cute Serenity. * smiles fondly * ~ Instead, I have little brother, Diego.
Alexander: Yes, I have a younger sister of few years, Candis. She still lives in London.
Taiga: Nothing siblings . But really I never thought of them ... in the end I was fine also so.
Sergey: I have a little brother, or rather half-brother. His name is Dmitrj (Дмитрий), and he lives with our mother in Russia.
Jean: Also I haven't any brothers or sisters, but as Serenity, perhaps also me would have liked to have. * smiles *

-21. Where do you live?

Alexander: Before that we answer at this question, I must clarify that we come from different countries, but at the moment because of our jobs, we live together in Italy.
Serenity: Then we say our hometowns. Well, I am originally from Miami, Florida, obviously the USA *blink*
Agnese: I am originally from Sassari, island of Sardinia, Italy.
Alexander: Well, I come from the British capital, London, where I was born and where I lived until a few years ago.
Taiga: the undersigned, instead, was born in Sapporo, on the island of Hokkaido, but I spent also most of my childhood in Tokyo.
Sergey: I also lived previously in two Russian cities. I am originally from the town of Archangel, the capital of the Oblast 'Arcangelo, but I also spent of the time of my life in St. Petersburg.
Jean: Well, for me it's a bit complicated. My origins are in Africa, but I do not remember much I was very young, I just some photos. When my parents adopted me, we went to live in Paris, because they are French.

-22. Do you find yourself attractive?

*they look at themselves and each other*
Serenity: Are you really asking this?...Sure!I like myself and the others find me very cute.I also had letters from admirers.
*thumbs up*
*others look at she, they were assured of hers response*
Agnese: I do not usually ask myself this question, but I'm fine with myself and I think this is important to please others. * smiles *
Alexander: These questions are for "teenages" and it don't do much for me. * sighs * ~ still leave the judgment to others.
Serenity: Mr. Alexander is very attractive! * smiles *
Agnese: Also I think this! * Smiles *
Taiga: I do not think I'm bad, so I guess I consider myself pleasant .* blushes *
Sergey: ... I realized that here there are very different questions, but this is not one of the my main thoughts.
Jean: I think that I will follow the thought of Agnese. I do not want to sound with low self-esteem, but I'm not going to judge me. I'm a simple guy.

-23. What's your favorite manga?

Serenity: I love the love stories that are sweet and complicated. Also, I love Sailor Moon, is my childhood! Then I also have the name of a character in the series! * happy *
Agnese: I really like the works of CLAMP.
Alexander: I'm sorry but in my childhood, there are few manga, there were mainly the anime when I kid. An example is Captain Harlock.
Taiga: Maybe before I forgot to say that I like the manga, not only because I am Japanese, in fact I choose carefully the stories. The names that other have said so far are beautiful works, I might add Evangelion, Death Note, Free!, but I also like works of authorship, such as Jiro Taniguchi-sensei, Isao Takahata-sensei and Hayao Miyazaki-sensei.
Agnese and Serenity: We also like the works of the studio Ghibli! * Love mode*
Sergey: I do not read a lot of this kind of genre, or more in general. But my little brother displayed me some work.
Jean: I am following the euphoria of Agnese and Serenity for the works of the studio Ghibli. But particularly I like the works with theme of sport, they give good emotions.

-24. What is your battle, sad, ect.. theme song(s)?

Jean: How do you mean? if we have a soundtrack or if we like other soundtracks? * confused*
Agnese: ... In fact I cannot say this at the moment ... then, it would be hard to remember all now.
Sergey: Another strange question and unnecessary. Come on! Let's other question!

-25. How do you imagine yourself in the future?

Serenity: I do not know ... * thinks * ~ I would love a "Happy End" but I do not know how it should be precisely yet. I hope to find "my soul mate" and devote myself to the animals. * super smile *
Agnese: I think I'd like to deepen the studies on Anthropological Sciences. In this group I approached this topic. And love ... I hope to meet him. * smiles *
Alexander: I do not know if I will dedicate myself to something else, but I know that I would like to recover the time lost with my daughter.
Taiga: * thinks * ~ This question takes me aback, I never really thought about it! * embarrassed laughs* ~ But if I think about my nature, maybe something with the environment.
Sergey: I want to finish with the study, for the future then I'll see. Also continue to help my family.
Jean: I do not know what will happen from now on, but I would give some of my time to contribute to the assistance of people in need.

-26. Who do you respect the most?

*Young people look at each other *
Together: The Boss! * chorus *
Alexander: * smile * ... Well, thank you. I respect you all.
*they gets a sigh of relief *
Alexander: If you do not make me angry or do not create problems! *mocking smile *
* They laughing shyly because they know its severity*

-27. Any last words?

Serenity: We have to say something serious or not?
Agnese: I think what you want!
Serenity: I want to greet all who read the interview! .. Right, ! almost forgot it, I have to say this to Jacy! * happy *
Agnese: Thank you for this interview, though a little strange ... and I hope it didn't annoy anyone-
Alexander: Well, then we can say goodbye for now.
Taiga: What!? It's already over? ... However, I began to enjoy it * smiles *
Sergey: So the interview is over? ... No more strange questions, finally.
Jean: Come on, you do not be too rude. In the end it was a little funny * laughs *
Alexander: Ah! Last thing, our data sheets will soon release.
Taiga: So it looks like a promotion! * laughs *
Serenity: Sergey, look! Amos arrives!
Amos: Woof! Woof! * wags its tail happy and jump on the table of the interviews *




TAGGING TIME!

INTRODUCTION: Usually not insert tag, but if you liked this you're welcome.


If you do not care to create it, no problem. Always friends!


However, we insert the names of those who have OC because we'd like to see your version (but however you are not obligated!) or have your opinions.
Also, if someone who hadn't the tag added by us (maybe because we forget or another .. in case very sorry!) Is free to participate in this tags and then let us know.





TAG:

















so.... finally I read this globe of words.... and.... yes... Now I look for my summer two weeks of vacations... and.... I LL PROMISE TO CREATE A SAME THING. But, may be, I change some questions)) And oh, you can run to my gallery of OCs and take a part, just say - who of these hungry and lusty ...peaches you want to interview?...
shadeovwarlock.deviantart.com/…
And... what a strange recipe for KVAS? why - the sap of birch?.. nonscense...