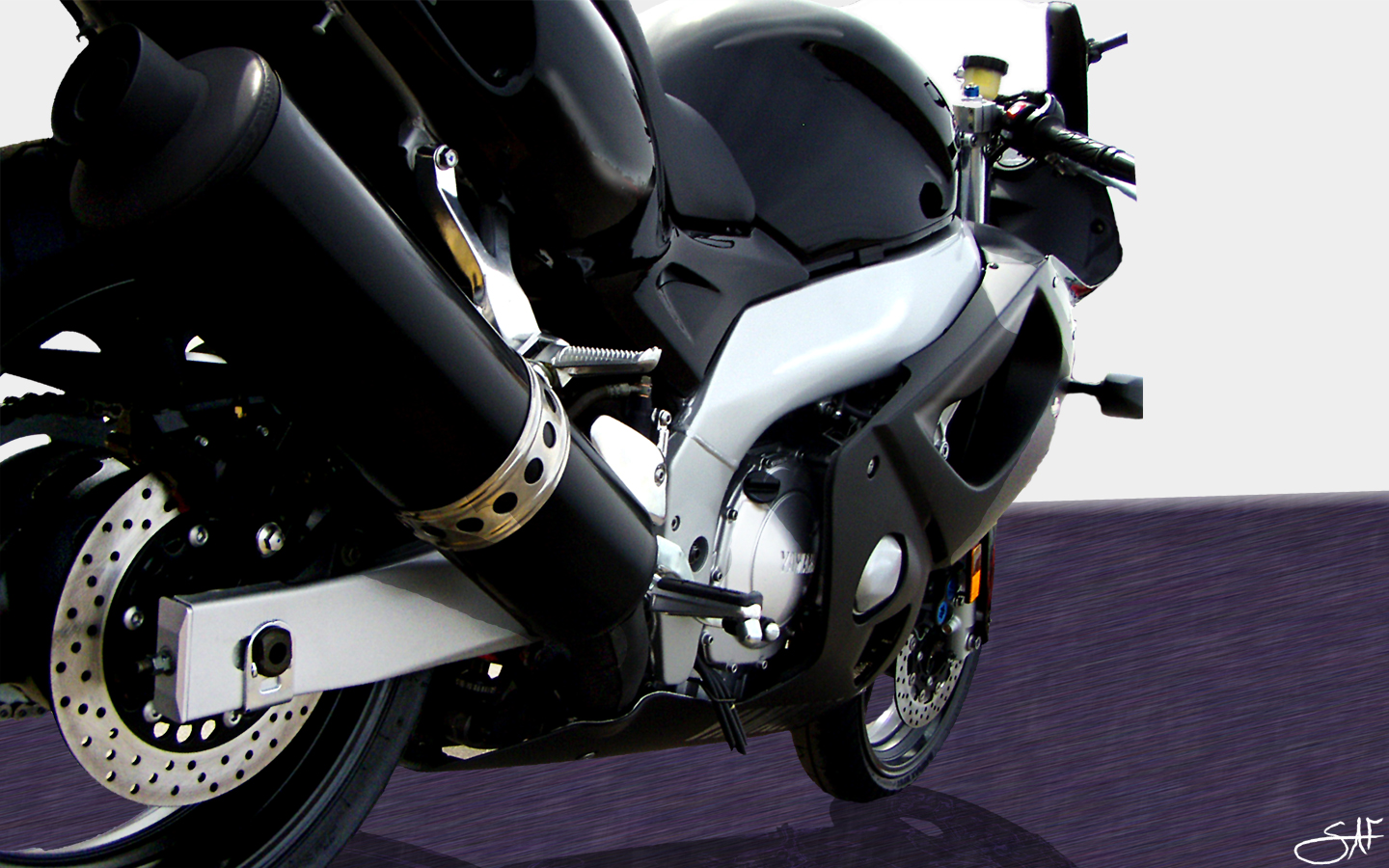 Watch
For Mac, cuz I can.

Oh yeah, I love this bike. Now if i could only actually own it...

You should LOVE IT just like I do.

Beautiful
I have owned one of these for 2 years now and I think you have captured the very best angel of this bike. You have given it a very robust and menacing look.
Reply

Thank you much! That means alot coming from an owner of this wonderful little piece of machinery!
Reply

so I see, we share a same taste in machines

yes, it's a great bike ... easy to ride and fast
... and if you have a chans to get it ... you go girl

Reply

I'd be saving up to buy one next summer...
...if i didn't get laid off.
*hugs the bike anyway*
Reply

It's OK to buy used one (not new from the shop) ... that way they are so much cheaper
Reply

okay.. lets see...

first a question;

Was the motorbike a photograph you took?

if so, it has good focus and a nice clean angle but the handlebar, indicator light and side mirror and abviously the edge of the original picture

Where you have the horizon, is that where the horizon was in the original picture?

the line between white sky and the ground plain seems abit too harsh and a wrong angle, maybe try tilting it the other way and using a soft brush in good old photoshop make the horizon fade nicely into the ground plain?

Other than that its a very smooth piece, the bike has been neatly cut away from the orignnal backdrop. oh and with the shadow of the bike you may want to blur it further out from the bike and make the area exactly beneath where the tyre meets ground darker.

Hope that helps


It is a rather beautiful piece of machinery although I do prefer Harleys to this type of bike
Reply

OOps, Yeah, and THANKS!
cant believe im doing this

Reply

theres nothing wrong with a good friendly glomp every now and then.... and grainy? *has another look* the actual bike looks fineo n my monitor, the ground plan looks a lil grainy though, but not much
Reply

grounds supposed to be grainy. I wonder if its just this monitor.
Reply

possibly, do you have trouble reading small text on it?
Reply

Yes, it is a photo.

Holy crap I completely forgot about the edge of the pic thing. I meant to fix that, never got around to it, then subsequently completely forgot about it.

The angle of the horizon is supposed to help give the feeling that the bike is tipping, while keeping the BG simple. I will try the fading thing, though. OOh, and maybe curve it a little. Check on the sahdow thing, too. I hate shadows. Seriously.

I have to admit, I used to be a fan of harley, until every single one of my family members had one because one of them worked there. They're just so damned expensive, you know? I like sleek and stylized, anyway.

VROOM!!! *giggle*

*Ponders* Its it just me or is that pic grainy? Methinks i need a new camera.
Reply

oo adding a curve the horiszon would work grandly.. you could use the soft white brush to get rid of that bit of the pic thats been cut off, if you blur them out you can pass it off as bloom from the strong lighting

When I ride a bike i like it o be a throne on wheels, the sleeker bikes feel too much like riding a horse with a HUGE ass so yours has to stick up aswell... my dream is to have a harley trike.... just like billy connely's.... man that thing is beautiful
Reply