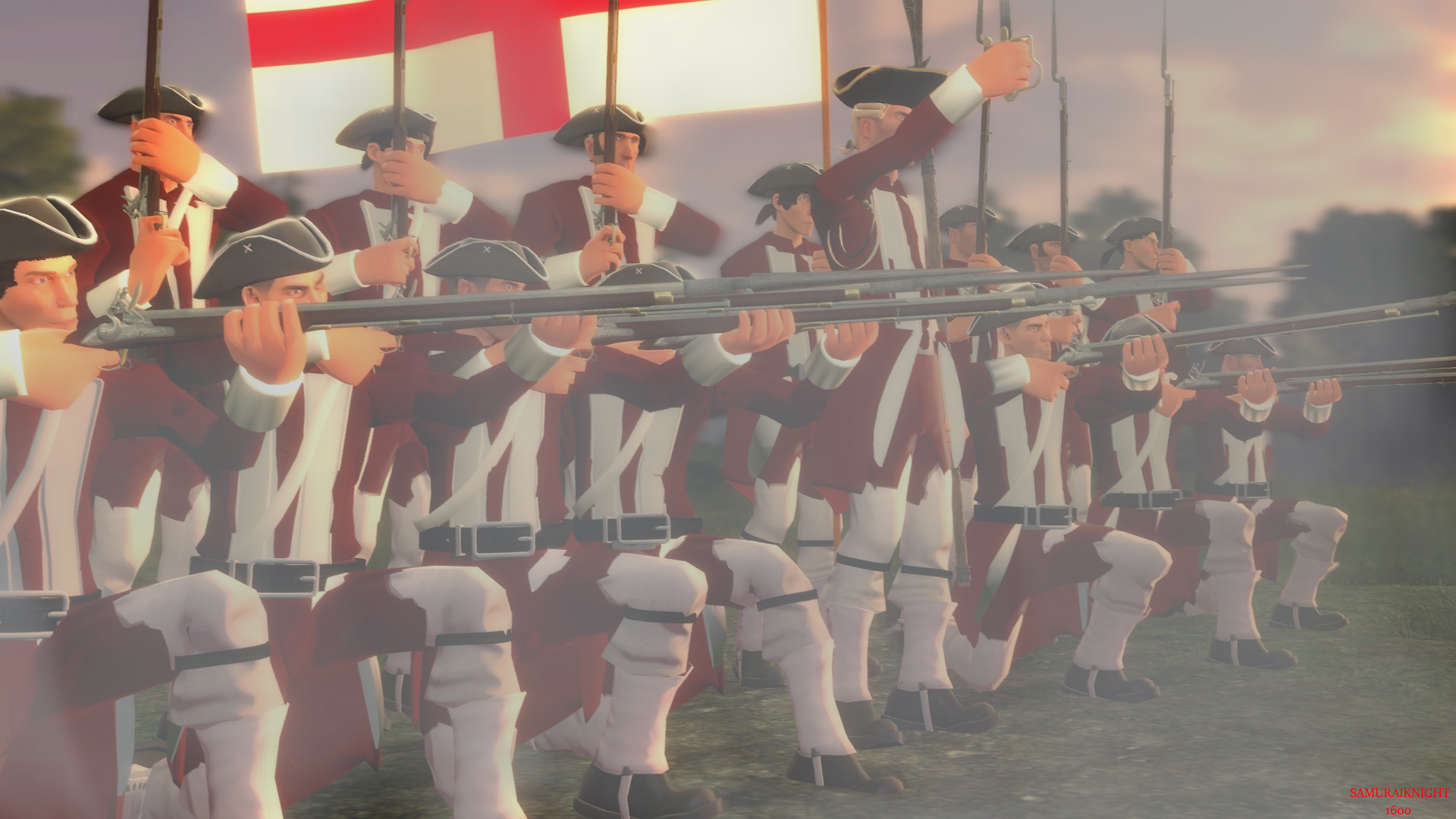 Watch
After finding out that gmod finally have a perfect and historically accurate soldier tricorn i just had to make a pic with them. So here ya go, british redcoats during the late 1750's, preparing to fire a volley.
This took way longer than it should've, I encountered so much problems and technical issues it's amazing i was able to finish this thing, and because of that i was also forced to skip on some of the desired details, like adding buttons and fixing model clipping.
Shoutout to

who endured hours of experimenting with me as we tried to find a way to make those weird sock pants they wore in gmod.

Very well done, the tricorn is great, and many compliments for the sock pants!
Reply

i still wonder why they wore those. pants that are more socks than pants.
Reply

Showing off the legs was a popular fashion statement of European culture dating back all the way to the 14th century or earlier. It would first be outclassed by long pants around the time of the turn of century 1800 and the French revolution, where short and tight pants with socks were a symbol of aristocracy. Together with this fashion change was also introduced the more militaristic influenced fashion of the 19th century which laid the foundation for today's tuxido and suit fashion.
Reply

Strange time indeed, sans-culottes forever, revolution is also a matter of style!
Reply

Hate to act like a Smart ass or be a critic


But didn't the British always stand up and form a two rank line for all the men to fire?
Reply

This is based on the fire by rank system, as in one rank fired at a time, in order to keep a consistent rate of fire.
Reply

ah
I must be thinking more later in the Napoleonic Era

Reply

Not really, different battles called for different musketry, we have the one in the pic with 1 rank firing each, then we have the typical volley fire where 2 or 3 lines of soldiers aimed and fired their muskets at the same time. Then also a form that was often used by the caroleans which was that 2 lines of men fired their muskets and immediately afterwards charged forward, using the powder smoke as cover.

different forms of musketry for different combat situations.

Interestingly, this form of warfare persisted quite long, from the early 1600's when musket lines were perfected by the swedes and dutch, up until the american civil war. Heck, the french marched into ww1 with battle formations and tactics dating back to the Napoleonic wars.
That's a long time these over glorified pipe guns dominated warfare.
Reply

I remember the British 2003 documentary series The First World War, which used archival film extensively. My jaw dropped when I saw how they were manoeuvring in the early stages.
Reply

Reply

huh
that's really interesting.
Reply

Reply

It wasn't that many hours though.
Still good job on this one.
Reply