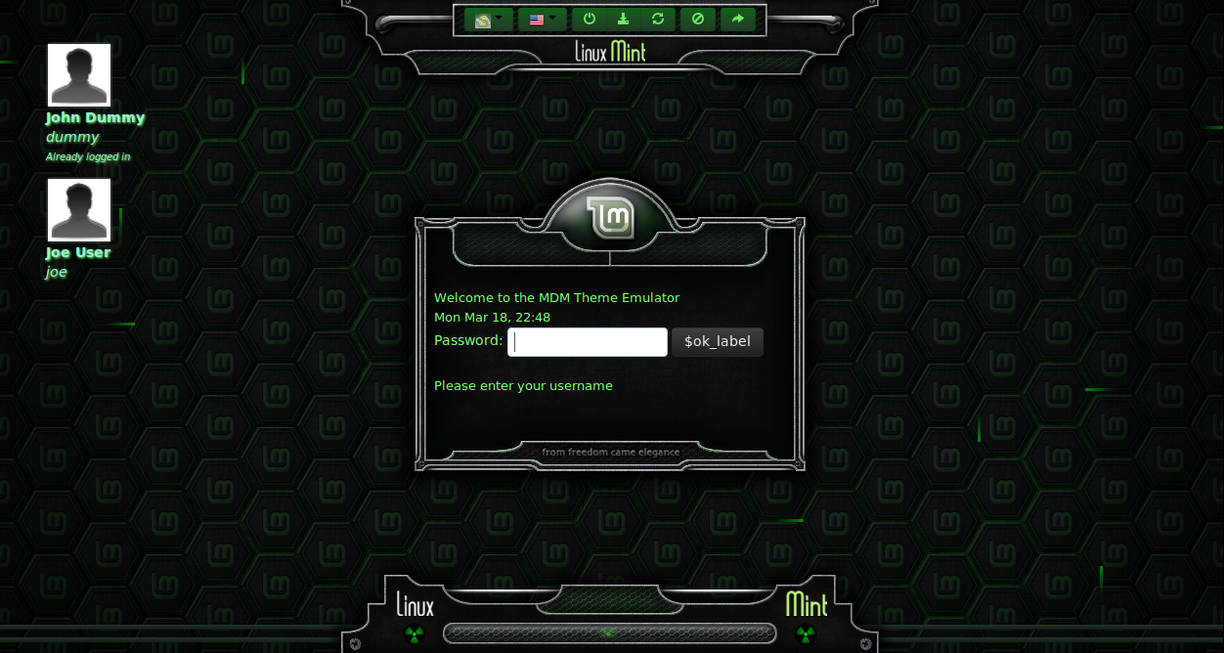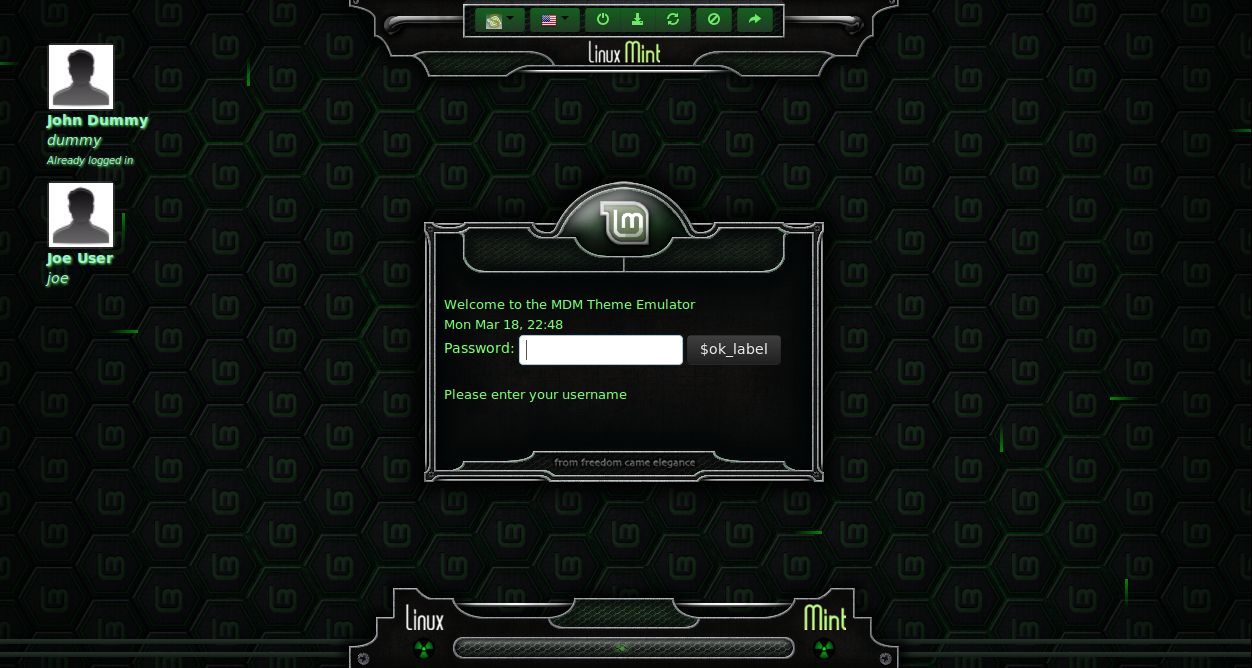 Watch
New mdm html5 css login screen for linux mint.
Please read the blog first
blog.linuxmint.com/?p=2327
you need to install the new mdm for it to work, it's coming out in the future version
Changed drop down menu section to fit more with theme
Changelog: changed top toolbar to line up with the new mdm 1.2 you need the new version to run this and you can get it and instruction how to install it in the link above
Changelog: changed permissions on all folders to get rid of root issue
Changelog:
Updated to use with MDM 1.3.2 or Linux Mint 16
I added mousetrap for keyboard shortcuts for the following actions:
up and down arrows = users (switch between users to log in
esc = the buttons (shutdown, suspend, restart)
ctl + l = languages
ctl + s = sessions

I added new mousetrap keyboard functions as stated above
Reply

Problem solved.
It is rare but this theme folder, to copy it to your location, do not set the appropriate permissions.
Simply, it involves setting the folder permissions and files manually.

Strange, this does not happen with any other theme.
Thanks.
Reply

Hmm thats a weird one but this was the first one I made so who knows, I'll check it out on my end and see whats going on, I had to zip up all these because devianart would allow tar.gz files to be uploaded, if you want just extract the folder then recompress it as a tar.gz file instead then just drop it into the html window adminstration>login window and choose html in the drop down and drag it inno it and it will install it that way (alot easier

)
If Linux Mint puts up a section for these in the cinnamon themes site, I'll upload the tar.gz files there, the linux mint art site is limited in what I can upload and these are too big to be allowed there, so for now this is where they live.
The permissions should all be writable though the only thing I did different in this one was use the boostrap.min.css file instead of the bootstrap.css file that might be the issue because it's the only thing I did different that I know of, but I will check into it and thanks for pointing this out you narrowed my search

I appreciate it.
Reply

Hi Sam,
They are 4 folders with incorrect permissions.
Containing files do have the correct permissions, the problem is in the folders.
The folders are:
CSS
img
img/session
js

The problem is with the permissions of the root group = none

No need to thank me, it's the least I can do.
Regards
Reply

Reply

Your right it was the only one, I doubled checked and access wasn't in the permissions on any folder, including the front one, and all inner was missing another permission, Thanks for letting me know this, I used the main mdm theme for this from the system files, so they must of have their permissions remained when I copied it over. I changed the permissions to match all the other themes now, including the front folder, it's uploaded and replaced the old one, it should be fine now

Thanks again I appreciate it.
Sam
Reply

"devianart would allow tar.gz files to be uploaded" sorry typo it should be "deviantart wouldn't allow tar.gz files to be uploaded"
Reply

Hello!
It is the only one of your themes that not displayed correctly in MDM
Thanks!
Reply

He yet lives.

Good to see you tinkering Sam, looks good.
Reply

Hey cbowman long time no see, ya Clem got me tempted with the new mdm he's implementing in linux mint. I got to finish this one (the alerts and drop down) but other then that its complete.
You should check it out, we can now add animation to the login screen

which is what caught my eye.
For anyone that wants this, remember you must install the new mdm first or it won't work (it doesn't come with linux mint yet, but if you click on the link above it'll show you where to get it and how to install it.
I want to try an animated steampunk one after I get the wifes pink hearts done of course lol.
Reply