Journal Entry:
Mon Aug 8, 2016, 7:41 PM
Hello & Welcome!
NOTE: I have the right to refuse service to anyone. Do not beg/complain for a commission, and do not ask for anything that I am unable or unwilling to draw! Also, if a comm type is closed it will be strike through!



I will draw: Canines, felines, some original species, anthros (possibly), MLP, Pokemon (ask) & other animals.
I will NOT draw: Humans, icons, mechas/androids, dragons, detailed horses, extreme gore, NSFW, or sonic characters!
Complex designs may raise the price a bit!
---
Fill out this form to order!
Username:
Character Ref(s):
Commission Type:
Background?:
Shading?: (not for doodles or JDs)
Extra Info?:
Payment Method:
---
100

= $1.00 USD
I accept both points & paypal!

Doodle Cheeb: $0.50/50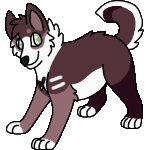 Simple Animation: Free
Complex Animation: +$0.50/50

Headshots & Chibis: $1.50/150
Shading: +$0.50/50

Feral Fullbody: $2.50/250
Shading: +$0.50/50

Extra Charas: +$1.00/100

each
Background: +$1.00/100

(differs w/ complexity)
Gradient Background: Free
Anthro Fullbody: $4.00/400
Extra Charas: +$1.50/150

each
Reference Sheets: Prices will vary! See below.
Simple Ref Sheet: $3.00/300

Includes 1-2 side views, 1-3 accessories, & some details.


Complex Ref Sheet: $5.00/500

Includes 1-2 side views, headshot view, 1-3 accessories,
1-2 clothing views, alt hairstyle option, & some details.
Anthro refs will be +$0.50/50

since I'm not skilled in drawing them yet!

Ref Sheet Form:
Character(s):
Type of Ref Sheet:
Details: (name, personality, etc)
Accessories?:
Extra Info:
Form of Payment:

Watch

Type: Journal w simple animation
Details: (name, personality, etc) wag and blink?
Accessories?: just a blue bow on his neck w his gauges
Extra Info: not that I know of??
Form of Payment: Paypal
Reply

oh, you used the ref sheet form lmao
also a wag is not a simple animation it would be considered complex so it'd cost extra ;w;
Reply

oh! Heck I thought I did the regular form should I do that again?
Also I can do extra! I didnt know if you considered that simple or complex but I can def pay for complex!
Reply

nah its fine lol
but ok for a blink/wag animation it'll be 1.50
you can send payment to kyrahross16@gmail.com and i'll start when i can ;w;
Reply

Username: soft-cub
Commission Type: journal doll w complex animation
Background?: no thanks!
Shading?: i think these are flat!
Extra Info?: i was hoping for some animation w his wings n tail moving!
Payment Method: paypal
Reply

aa i'll accept your comm
altho i'll let you know im not that good with wings ;w;
so i hope you wont mind an extra bit added on??
it would be 2.00 with the wings ;w;
Reply

nah thats ok i figured it would be!
and i feel.. its so fun to experiment tho! im v excited
Reply

aa ok! go ahead and send the $2.00 to kyrahross16@gmail.com then!
i'll start on it as soon as im able to ;w;
Reply

HEY if u havent started could u do this kid for this ?
toyhou.se/3402773.-dakota
still with wings but if his markings are too complex u can replace the wing fee with the marking fee if possible! or i can pay extra
Reply

tbh i'm actually very unmotivated atm due to depression so i've been trying
to get myself around to finally starting, im so sorry about that ahhhh ;;

im not sure when i'll get around to it.. if you wanna wait you can, or i can refund you, up to you.
i just want you to know that. as for this design i can do it, but im not 100% sure about the wings now.
due to my depression atm, idk if i'd want to frustrate myself over wing animations atm hhhhhHHHHHHH
im rlly sorry dude ahhidsoahfo ;;
Reply

ill wait and dw abt the wings! since his design is pretty complex and i would love to have u draw his floppy ears instead of pointy ill just have the extra cash go toward that!
dont worry at all, i know how depression can be, do your best to get better!
ill wait, i love ur art! again just dont worry im vvvv patient, idc if i get it years later haha
your prices are way too cheap as it is
Reply

aahhhh ok tysm for understanding ;;
i'll be sure that when i get around to it, i'll make him super heckin cute looking <33
and again tysm im tryin to get out of my rut and back on my feet hhHHHHH
Reply

Reply

oof are you alright with doing rabbits? c:
Reply

So how many journal dolls am I allowed to order ?? <33

Reply


Eeep could you maybe tell me when your commissions are open? ;A; <333
Reply

//begins to save up hella points//

I'm gonna save up to buy more JD's like the one with bramble n baby sammich cuz i want 'em for my mom corner lol.
Reply

I was gonna commission you
but
then I saw on hold ;-;
lol
Reply

Hey, I know these are on hold, but when they do open up I kinda have a weird Journal doll thing and I wanna know if you'd be able to do it. xD
Reply