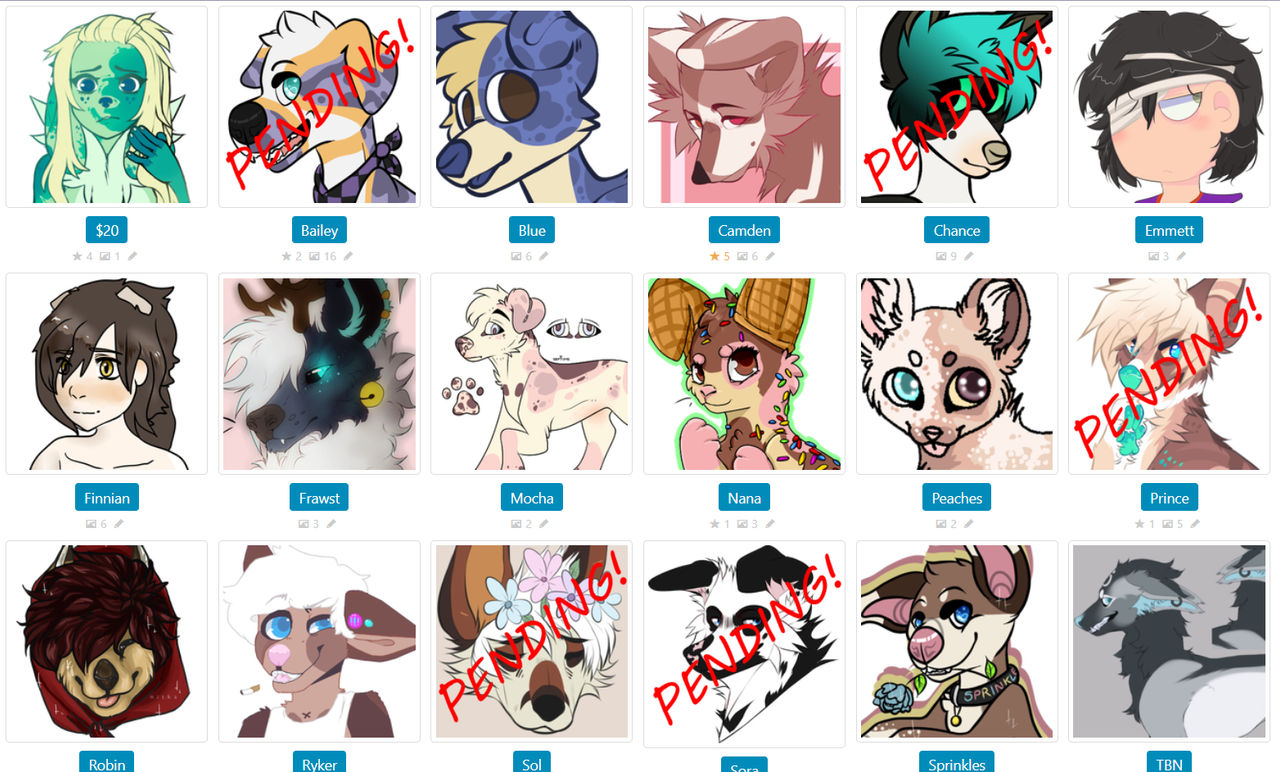 All info on these charas can be found in their toyhouse files!! Also ALL credit is properly given for art/designs on all
of them EXCEPT for Robin!! The person who sold them to me a long while ago never properly credited the designer or artists!!

I am currently most interested in USD offers, but will look at others!!
Also the prices listed on them is just what they are WORTH, but I will accept any offer i deem worthy!!

Offer Tier:
USD > Points > Artwork > Characters

FOLDER LINK:
toyhou.se/Tokala/characters/fo…
toyhou.se/Tokala/characters/fo…
toyhou.se/Tokala/characters/fo…

is chance or TBN taken? both are really cool!
I can't offer money, and only have 140 points. Would artwork suffice?
Reply

both are still open for offers :0
i'm mostly interested in USD offers, but you can offer any or all three if you want
Reply

Well, what would be the lowest (point wise) you would go for one of them?
Reply

i'd prob go 75-100

for chance
for TBN i wouldn't go below 500

tho, since he's technically worth $10.00/1000

Reply

Oh! He is awfully expensive, I had no idea. Would 80 points be good for Chance?
Reply

nah thats ok lol
but yea, i can do 80

for chance~
send them over and if you have a TH i can transfer his files to you
if not then just lemme know when you have the pics saved! (to save them without the watermarks, just click on them individually)
Reply

Reply

if you dunno what it is then im sure you dont have one lol
TH = toyhou.se, its the site i use for my characters.. and the one that you viewed
Chance's files on here:
toyhou.se/653675.chance
Reply
(1 Reply)

I'm interested in Bailey, sol, sora, and prince!
anyone here interest you?

Reply

sorry, i didn't see anyone i'd be interested in ;w;
Reply

okie dokie, I can offer art for them
Reply

i prob wont let go of camden for just art srry
and someone else before you already offered for sol/sora srry
but i can for bailey! wut kinda art would you do for'em? ;o;
Reply

i can do 2 Shaded fullbodys
And what about prince?

Reply

ok i can do that for bailey.
for prince, i think i could let him go for art as well :0
Reply

Ok so 2 shades fullbodys for bailey
I can do 2 shades fullbodys with backgrounds and 1 shades waist up for prince.
[ if theres a nother type of art you want I can swap or add things]
Reply

Reply

Reply

Reply

bradley's on hold and i just got east ): but would you take art for camden? or just sol/sora
Reply

idk if i'd let go of camden for just art srry
but i could consider for sol and sora. how much and what kind?? ;o;
Reply

a couple shaded fullbodies? :0 like,, 2 for either, 4-6 for both
Reply

aa i think i could do 6 for both of them
Reply

okay !! just give me the characters<3
Reply

Reply