------------ UPDATE ------------
I'm extending the deadline to monday (6/18/2018) @ 18h Central Time (CEST) (the raffle will happen at 19h), because of some IRL matters
also cuz not many of you have joined the raffle! please help spread the word
><
----------------------------------
Heyo guys! As you might have noticed, we got to 200 watchers!! Yaay~!
Also if you follow me on twitter you might've seen I got some new firepower to do my drawings now!
So, as a commemoration, I'm gonna be doing a raffle, where 2 of you might get a free art from me (it reads as: I'm gonna draw wtv you want)!

Steps to participate:
1 - Be a watcher. But pwease, don't watch me just for the free art, do keep following me after the raffle, I'm sure you will have a great time.

2 - Favorite and share this post to any other social media (or even here on dA) and chats (like discord) you're on. (If you're not on any, just post to friend(s)).
3 - After that, send me a note or comment down bellow with a proof of your post and I'll give you a number!
The raffle
will happen next saturday @ 18h Central Time, and it
will be done on
this site
(it's in portuguese, but its just a raffle site, I'll translate once the raffle is done) where 2 random numbers will be picked outta all of the numbers given/numbers of participants.
The winners will be announced in a separated journal and I'll also send them a note.
If you don't pick your prize within a week I'll have to raffle another person. (so there's still hope for all even if you don't win at first xd)
Again, thank you all for all the love and support, you guys rock~!!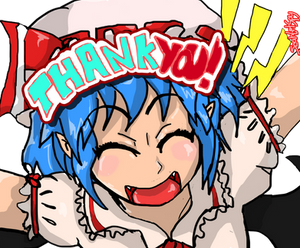 Yphyska, my other OCs and Remilia are sending tons of hugs as well! xd
----------------------------------------------------------------------------
===================================
COMMISSIONS ARE OPEN
===================================
--------------------------------
My Twitter: @ScarletSamidare
My Pixiv: 20438971