~~
I take commissions for mashups
~~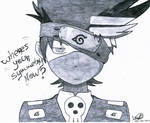 Patricia Mendes Ramos aka Mandy Ramone, Mandykusai or Samhain Dovahqueen xD
Favorite Color:
Black
Best Friend:
NessySDI
onee-chan
Hobbies:
creating music, writing stories, drawing manga, cosplay.
Details I'd like to share:
I'm a Pokémon master and the true
Dovahkiin
, I'm always overexcited and hyper like a child.













:




Birthday: July/22/1993


Birthplace: Madrid, Spain


Height: 1'64m


Weigh: 57kg


Blood Type: O


Natural hair color: Dark brown.


Eye color: Brown
------------------------------------------------------------------------------------------------------
Cosplay List

In progress right now:
Yuno Gasai (Black dress)

On hold:
Shrouded Armor (Skyrim) ll Acacia ll Sharrkan (Magi)

Next: Asahina Aoi (Danganronpa) || Acacia -commission- ||

Done:
-Prince Soma Asman Kadar (Kuroshitsuji/Black Butler)
-Shinigami Sama (Soul Eater)
-Iruka (Naruto/Naruto Shippuden)
-Yoruichi (Bleach) [wounded]
-Soul Eater Evans (Soul Eater) [black jacket version]
-Karkat Vantas (Homestuck)
-Izaya Orihara (Durarara!!)
-Kakashi Hatake (Naruto/Naruto Shippuden)
-4CHORDS Karkat
-L (Death Note)
-Hipster Ariel
-Akira Agarkar Yamada (Tsuritama)
-Aomine Daiki (Kuroko no Basuke) [blue shirt+jumper version]
-Natsuki (Tsuritama)
-Zetsu (Naruto hippuden)
-Shikamaru (Naruto Shippuden)
-Kiba (Naruto)
-Itachi (Naruto Shippuden)
-Nana Oosaki (NANA)
-Konan (Naruto Shippuden)
-Marshall Lee (Adventure Time)
-Cherry Burlesque (OC)
-Cherry B. maid version (OC)
-Cherry B. vampire (OC)











Facebook
:
www.facebook.com/SamhainDovahq…
Twitter
:
twitter.com/#!/SamhainKWC
Tumblr
:
hybrid-zombie.tumblr.com/
YouTube
: YandereMandyDesu
Some icons I like :3




























Favourite Movies
Star Wars, a clockwork orange, Lord of the Rings, Harry Potter, Saw, Birds, Nightmare Before Christmas...
Favourite TV Shows
The Big Bang Theory, Skins, Hana Kimi, Hana Yori Dango, Perception, The Walking Dead
Favourite Bands / Musical Artists
the GazettE, Dissection, Pantera, the Misfits, Danzig, Samhain, Blitzkid, Iron Maiden, Versailles, Girugamesh, Queensryche, Megadeth, Etc..
Favourite Books
Marina, Harry Potter, The Lord of the Rings, The Hobbit
Favourite Writers
JK Rowling, RL Stine, Carlos Ruiz Zafón...
Favourite Games
Skyrim, Mario, Sonic, Prince of Persia, Yakuza 4, Skyrim, Sleeping Dogs, Mafia...
Other Interests
SCIENCE, FOOD AND COSPLAY