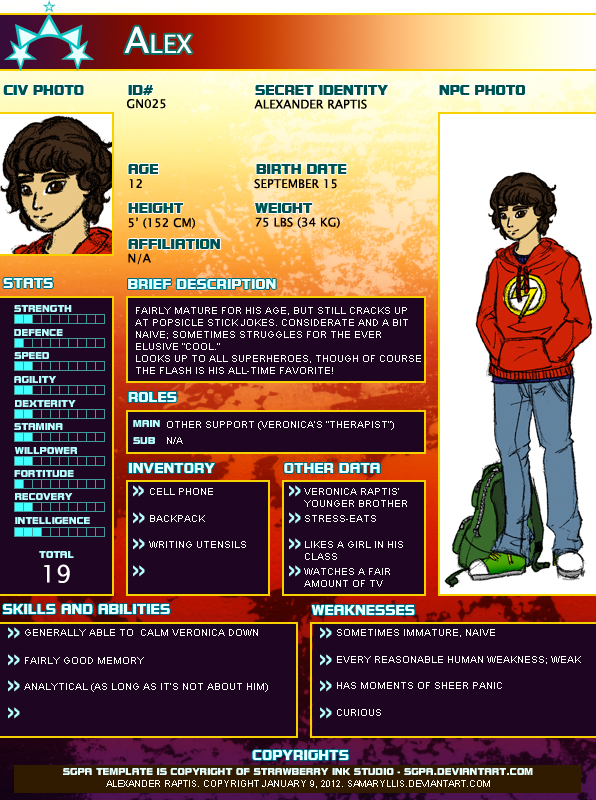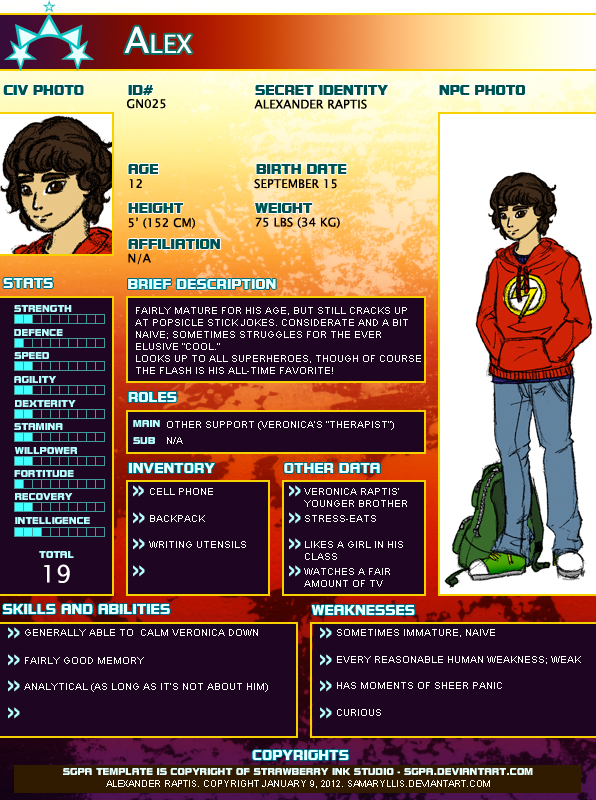 Watch
Young Justice universe; for the

group! : )
Aletheia's (Veronica Raptis) profile:
[link]
Alex's full civvie pic is at
[link]
!
---
BASIC STATS
Secret ID: Alexander Raptis
Group / Alliance Affiliation(s): None! 8D
Nickname(s): Alex
Age: 12
Gender: Male
Nationality: Earth; American (Greek ethnicity)
Current Residence: Central City, Missouri; living with his family
Height: 5' (152 cm)
Weight: 75 lbs (34 kg)
Eye Color: Brown
Hair Color: Dark brown
Hair Type: Poofy, curly, and soft; a total monster right after sleeping
Skin Color: Fairly light; olive tones
Physical Description: Alex is a little scrawny and has a round face with thick eyebrows. He hasn't really hit his growth spurt yet. He sometimes wears superhero-themed t-shirts; very casual and comfortable.
Personality
General Personality: Fairly mature for his age, but appreciates jokes and lame popsicle stick puns all the same. Has moments of sheer panic ("NO I DON'T WANT TO TALK ABOUT PUBERTY NOOOO GROSSSS"). Often plays therapist for his sister, Veronica. He's good at heart but tends to believe whatever is told to him; sometimes struggles to reach the ever elusive level of "cool."
Good Traits: He can be trusted to house-sit without setting anything on fire. Considerate of others and has a good memory.
Bad Traits: He can be taken down with a few well-timed poop jokes but is flustered when "inappropriate" topics come up—he's still 12, after all. A bit naive. He also likes to experiment with things a little too much; thus, why their microwave currently has a "use at your own risk! D:" post-it stuck to it (marshmallow sluuuudge!).
Quirks: He watches a fair amount of TV and eats when he's stressed but is in denial about it ("I'M A GROWING BOY SHUT UP" as he stuffs his face).
Hopes: The girl in his class likes him back.
Fears:
The girl in his class likes him back.
Memorable Quote(s):
"Stop talking about that. Why are you talking about that? Aghhhhhh gross stop stop stop!"
"Uh, Veronica, do you want to talk about why you're so stressed?"
"Dude that's so awesome!!"
Relationships
Family: Father, mother, older sister (Veronica, 16). He's on good terms with them all. : )
Closest Friends: Classmates.
Enemies: Villains!
Girlfriend(s)/Boyfriend(s): No experience. Unless you count him freaking out about that girl in his class lololoolol.
Battle
Power(s): None
Weapon(s):
None.
He's just a young, ordinary citizen of Central City. : )
Background:
Central City, Missouri, home of the Flash, is both bustling and safe enough to provide a stable employment opportunity for his parents. Criminals don't seem to target this city like they target other well known "superhero towns" so it is a relatively easy life.
For as long as he can remember, his sister Veronica has been "for serious sensitive to sunlight" and has gotten past the stage of trying to steal/hide her sunglasses. He isn't aware of Veronica's (limited!) superhero life or her powers. Still, he suspects...something....is up. He can put two and two together, just maybe not the right way. Alex often serves as Veronica's reluctant "garbage disposal" when she's stressed and cooks a ton of food.

Lilly: *a blonde girl, about 11, with long hair, she grins* G'day, mate! *she has an Australian accent* I'm Lilly, but my teammates call me Riot Shield...*she looks a little worried* Most people are scared of me, but I was wondering if we could be friends....
Reply

Alex: Oh, uh, hi Lilly! I'm Alex, and you can call me......uh, Alex. What do people call you Riot Shield? o__o That's kind of weird. I mean weird in a kind of cool way! Not weird weird. You know?! ....Wait, and people are scared of you, too? ...... >__> *wonders about this weird Australian girl who not only has a weird nickname but also is apparently scary.....*

Hahaha hiii! Do you have a profile for Lilly? I'm....kind of really curious about her! OwO
Reply

(I'm working on it)
Lilly: I'm an X-man, that's why they call me that....my powers are pretty scary considering how I could probably kill you by poking you....*chuckles nervously* (she turns into metal, has superstrength and stretches later she loses stretching and learns about bombs in S2 (so she's called Bombshell instead by that time)) But never mind that!

Reply

(I CAN'T WAIT TO SEE HER PROFILE!! XDDD So is Lilly an S2 as well as an S1 character? : D Interesting that she has both stretching and metal body powers haha!)

Alex: ............ >__>;;;; *really starting to reconsider the intelligence of introducing himself to someone who can apparently kill him with a poke* Um...I. That's. Just....as a tip, it might not be a good idea to tell people you want to be friends with that you can kill them with a poke? *edges slightly away* But you said you were an, uh, X-Man? But you're a giirrrrrrll. D: *knows more about the Justice League and HIS HERO THE FLAAAASH than the X-Men XD*
Reply

Lilly: *sighs* It means I'm a member of the X-men team.....and I'm sorry....my brother tells me to say that as a disclaimer....*saddened* But if you're scared I understand......
Reply

Reply

AHHHHHH, HE'S SOOO ADORABLE!
AHHH, I WANT TO BE BEST FRIENDS WITH HIM.
AHHHHHHH.
Reply

AHHHHHHHHHH.
Your comment makes me so happy lsdkfjsljafl;
I feel like there are not that many characters his age? Wait. Dysta? Maybe? Now I have to trawl through all the profiles aghhh--
Reply

XDDDD Oh no! How did I remember this wrong. I: Well, Alex and Kayne need to have a super awesome playdate or something and I bet they're going to get along great because Alex is awkward and all used to physical contact thanks to his sister being all touchy-feely. XD
Reply

Hahaha.. Well, Kayne's really shy when it comes to boys! But since Alex is younger, maybe it'll be okay!
Reply

I admire your effort! XD I think there might be a couple of 13 year olds, if not that, 14~
Dysta's a youngin', sure! xD
Reply

Hes so cute ( on a little boy kinda way)
Reply