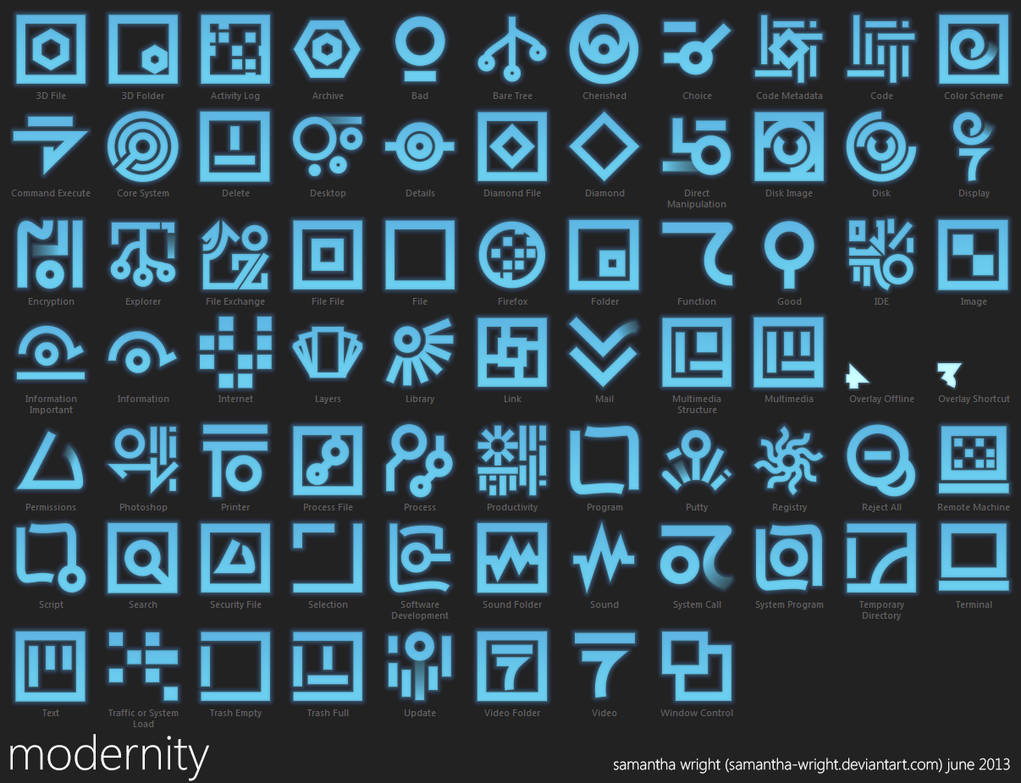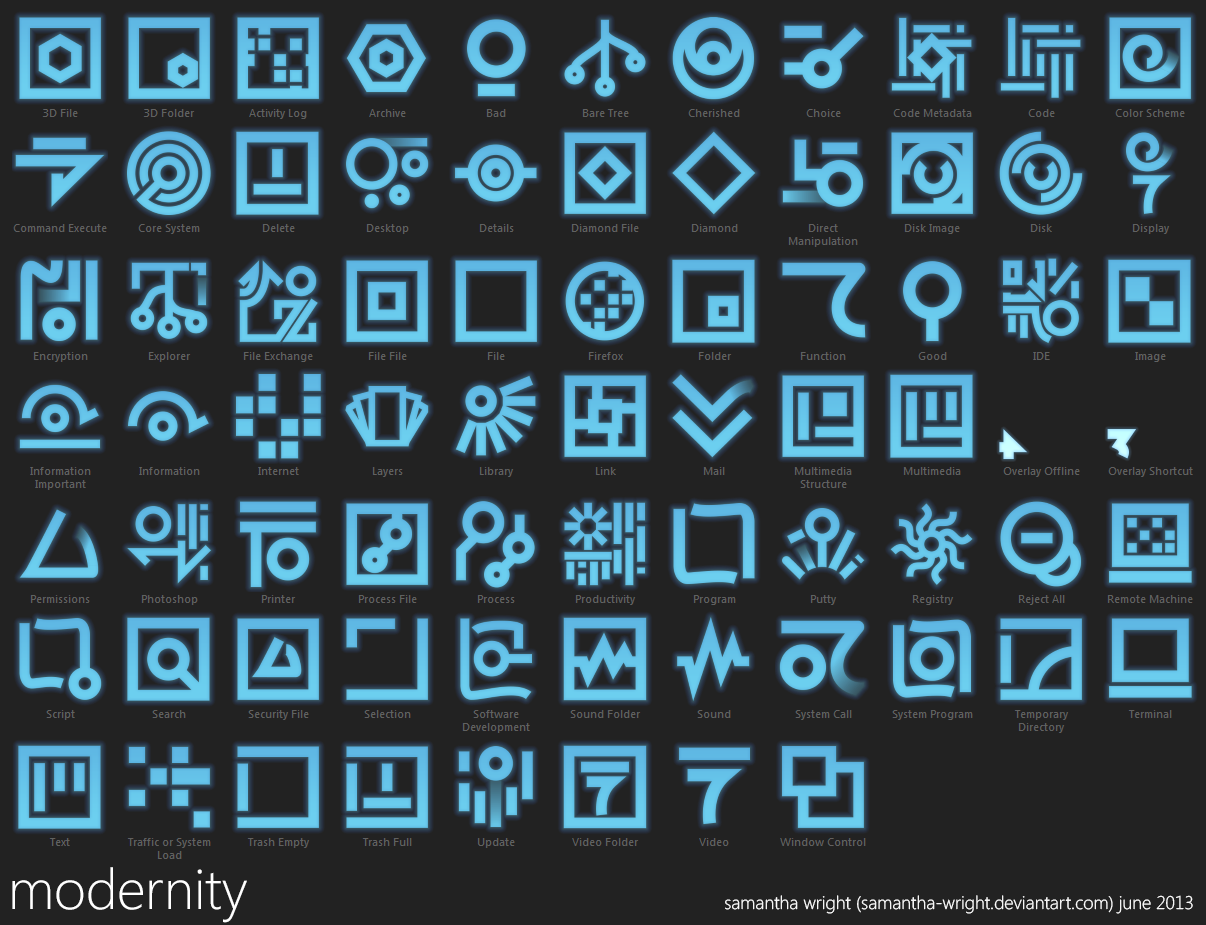 74 icons, some descended from
The Ends of Invention
. Designed for a dark background, but occasionally okay on a light one. ZIP file includes PNGs, ICOs, and—shock and awe—an Adobe Illustrator document, which also contains a couple of other elements in the same style. (And yes, that Registry icon is the same symbol from British Library—an omnidirectional, horrible squid that refuses to die.)

Faved and downloaded! As with The Ends of Invention, these are just what I was looking for

Thank you very much for making and sharing them!
Reply

Teh MCP taking over there?
Reply

no chrome icons and such?

Reply

The Firefox one is really just a generic browser one; sorry for the obtuse naming. Not sure what to do if you have multiple browsers—"Link", maybe? It's pretty Chrome-y.
Reply

I like these almost as much as the others. Oh screw it I like them just as much as the others.

Reply

Like and download

Reply

Not everybody has the guts to break free of the paradigms and steping out of our box to make something really new. Bravo!
Reply

Fear not; there'll still be more British Library, too. At the behest of a fan I put together a few new icons last night. I think it's safe to say there'll be a fourth edition at least; probably some time this year.
Reply

That's nice to hear, My gnome theme is moving forward too (Two steps forward and one backwards) so sometime this year (Hopefully) there'll be another Steampunk Icon theme.Although I'm planing on a simultaneous release in a package similiar to yours so anybody can use them however they like.

At this moment what's giving me pause (Other than a tooth ache) are the image files, can't seem to come with a single good idea that's not a remake of yours. And I would rather use yours than to make a bad copy of them. (Who knows? maybe I'll do just that)
Reply

I'd say make your own. Stock images of picture frames are pretty easy to come by. It doesn't take long to produce a series of document icons with just the extension label changed, and in the end it'll mean more choice for people who might want to combine material from multiple sources. (Also, I think there's enough difference in our styles that it might clash a bit.)
Reply

That's why I keep looking for a design that doesn't look like a cheap knockoff from yours.
Reply

Yeah, your style's generally been pretty light on ornamentation by comparison, and my picture frames are pretty basic. Still, there are other colours, and you could always break the mould by going for something Rococo. Or perhaps a golden frame, to match the corners on your folders.
Reply

Frames I have a lot, wooden and golden, simple and heavilly ornamented, it's the picture inside that evades me, that and a way to place the extension different from yours. The notification symbols I have a very good design in mind, also for the acctions, you know the add and such done in a way that I haven't seen anywhere, also the tablet and cellphone are mostly done.

Well I better stop complaining I'm sure it'll come to me when I least expect it.
Reply

Don't worry about the placement of the text too much; that's kind of a done deal. I guess you could go for a caption underneath the frame like at a museum if you really had to go off-centre, but my decision to place the text in the middle was scooped straight from OS X. I think of it as more of a convention of the medium than a choice I really had control over. Of course, you could try going with no text at all, and try something more thematic; most image viewers (XnView, ACDSee, IrfanView...) expect the user to at least partly rely primarily on colours to distinguish what's what (GIF usually ends up green for some reason) and as for content, a lot of them also go with what the file's best at—JPEG is for photos, GIF is for simple graphic art, and so forth. It'll take a bit of cleverness to come up with a scheme but I'm sure it's possible.

However, you do also have something of a theme going with your current trend of putting document types in the top-left corner. The most consistent thing to do would be to put a scrap of paper hovering over the frame.
Reply
(1 Reply)