My actual status about commissions/trades/etc. is on my profile page (right side, in the middle). If you are interested in craft trade simply Note me please and we can talk about it (even when art trades are closed).
If you would get lost at all the informations or want to know something I didn't write here, feel free to Note me with your questions

What can I offer
I primary offer making of button from given data. That means you already have some picture you want to use on button, send it to me, get the preview PDF and pay. I make the button and send it to you. Sometimes I'll open special type of commissions when you can order picture drawn by me especially for your button + making (one or more) button with that picture at the same time.
Why me?
I hate making advertisement on myself but without it bussiness simply doesn't work. So here we go. I can offer you personal approach, help with choosing right picture and some simple editions of that picture. If you are really interested in ordering button from me, I can make you PDF with preview of cut out visible on the badge for free, tell you if given picture is useable - such as image size, resolution, if there is enough space for some overlap of picture around the sides of button…
I'm detailist so I always do my best to get the highest quality - in button making it's colors on button the most similar to colors on monitor and cut out similar as much as possible to the one I gave you as preview. I can promise you I won't give your data to anybody else and that I won't sell any other button from data you gave me. So you can have the one unique button that nobody else can have! Isn't it great?
It's okay for me to keep your order private, same as photos of the results. I'm trying to be open, friendly and it makes me happy to make commissions for others, so there is no need to feel bad or stressed. Don't be shy to ask, I'm happy to answer all your questions :]
Examples
To make this a little more interesting, there are few examples of already finished buttons: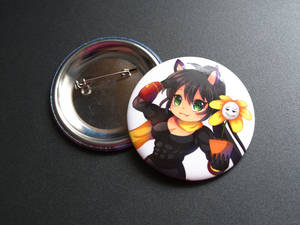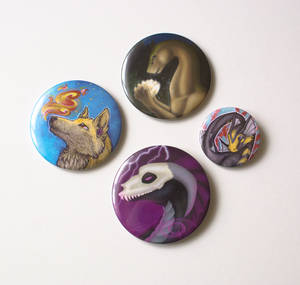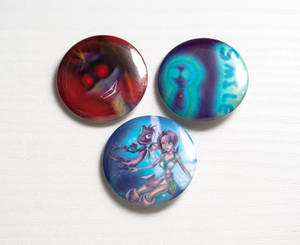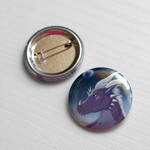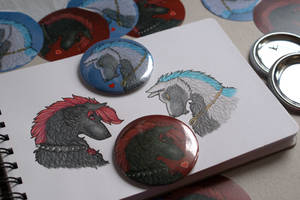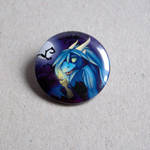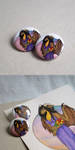 All submited photos can be found here in gallery subfolder:
samantha-dragon.deviantart.com…
Prices and sizes
I primary offer buttons with pin on the back, but we can talk about mirrors, magnets, earrings - just Note me. Right now I have two diameters (37 and 58 mm) in stock so I primary offer those, but I can offer more when you are interested - just Note me, I can offer both smaller and bigger diameters.
pin at back - diameter 37 mm (~ 1.46"): $ 1.5 USD / 1,3 € / 35 CZK
pin at back - diameter 58 mm (~ 2.29"): $ 1.5 USD / 1,3 € / 35 CZK
glass mirror at back - diameter 56 mm (~ 2.21"): $ 2.2 USD / 2 € / 55 CZK
Size of pictures for buttons:
70 mm (~ 827 px) picture => 58 mm (~ 685 px) button
50 mm (~ 591 px) picture => 37 mm (~ 437 px) button

This prices cover making one button from
already existing
data. If you want more than one button, simply multiply the price by number of pieces you want. Shipping price is counted separately, for details please sroll down and you'll find it.
I can make any count of buttons, from one to almost unlimited.
I accept Paypal (rather in USD) and real money (cash or bank account) in CZK. Primary, I do not accept dA points - if you happen to be interested only in points payment, Note me and we can talk about it.
It's my right to do not accept commission without any specified reason.
If you want/need to get button faster then please Note and we can talk about what is possible (shipping is the longest part of process) - maybe there will be some "rush fee".
Refunds
I can refund you if you want, but only before I start to work on button - if you wish to stop and be refund while buttons are made, you will probably get back only shipping part of payment. If this happens and I will see that I have some problems, I will contact you through Notes and offer you solutions.
How does it run
talking about your commission, answering questions
sending me pictures you want to use
making PDF preview of buttons for you + checking if they are okay for making the buttons (mainly their size)
doing editions along your wish if it's needed
if you accept, I'll wait until I recieve full payment

making the button, usually takes me about a week




sending you photo of finished buttons




if you accept and everything is okay, give me your shipping address




I'll pack and ship everything to you during two work days



I'll submit the photo of finished buttons to my button gallery subfolder (if you don't want to allow me that, simply ask me at the start)
depending on your country you will recieve your order safely
...everybody is happy! :3
Packaging
Each button will be packed like this example: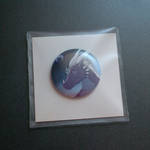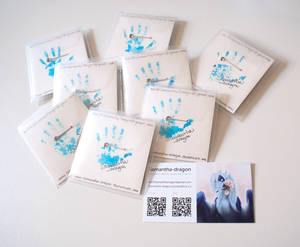 Safely pinned on thick paper and put into transparent bag, all safely wrapped to cover all those accidents during posting. It never happened to me that the package would arrived damaged. Plus is that buttons are quite waterproof - rain and these things are okay, but diving and taking showers with it are not recomended. With every ordered shippment you will get my visiting card with direct contacts to me.
Shipping
I ship to all the countries my national post office allows (that means
almost anywhere
). All the shipping prices are counted for international registered mail. When sent, I'll give you international tracking number so you can keep any eye of package (at most of the countries it really works).
If it happens and letter would arrive damaged or would get completely lost, the post office would pay me insurance high enough for making you new (set of) button(s) and ship it this way to you again. If you would like me to ship it via regular mail (it's a bit cheaper), I have no problem with that, but I
can't
take any warranty about it's delivery.
From May 1st 2016 there are updated prices of shipping because of price change of post office.
Czech Republic

46 CZK - fits to shipping of max: 3 small pin buttons / 2 bigger pin buttons / 2 mirror buttons
48 CZK - for more buttons

Europe


$ 5 USD / 4 € / 94 CZK - fits to shipping of max: 3 small pin buttons / 2 bigger pin buttons / 2 mirror buttons
$ 6 USD / 5 € / 129 CZK - for more buttons

Other

$ 5 USD / 4 € / 100 CZK - fits to shipping of max: 3 small pin buttons / 2 bigger pin buttons / 2 mirror buttons
$ 7 USD / 6 € / 145 CZK - for more buttons
Shipping prices in $ and € covers Paypal fees too.
If you plan order a lot more buttons I'll calculate final shipping price along number of ordered buttons - shipping price depends on weight of final package.


Copyright note
I can't take accountability of copyrights and author rights of any given picture. This accountability is only on my customer, because button is made for his private needs and not for any other sell. I won't accept making a ton of buttons from one picture without question to customer if hehas permission of author/owner.