oh well, I got tagged few times with this... thing. I like the idea and... okay, here is mine one :] Sadly, there's not many things others can help me with.
I love to get pictures in any stadium (sketches, doodles, quickies, speedpaints too!) but sadly
I can't promise you one picture back

Let's look at it like it's presents, no not-that-secret-Santa-trade, okay?

Of course I'm going to fill you up with thanks and put you on my "list" of buddies I should do something for in future :]
1. my characters: dragoness
Samantha
, anthro cat
Omega
, werewolf girl
Muriell
2. character of my beloved dragon
Dreit
3.
anything loving, carring, cuddling, sweet... with us, me and Dreit

4. pictures for my friends:
Kaarhai
(
her wishlist
)
tomcio199214
(
his wishlist
)
Nachiii
Augala
(
her wishlist
) ... and more

and those you probably can't help me with:
5. to finish all the promised things
6. to fulfill some wishes of my friends

7. more tiiiime to spend with Dreit

8. to finish sending of all trades
9. to complete all trades which are waiting for others...
samantha-dragon.porepublice.cz…
my presents for others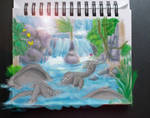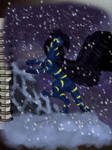 here you can go through more wishlists and if you feel like you can make some wishes come true!

Kayrea:
Chrismas wishlist
Draggy-Night-Dragon:
Christmas Wishlist
Christmas Wishlist