Update2:
As I finally own this beauty, I can use this as official reference, so let's be added here the rest of information.
All info and details about this girl can be found here in her registration card: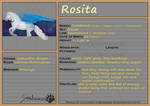 Also, here is original import picture but for referencing use please MY reference you are viewing now.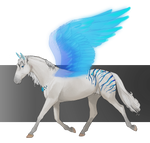 5 (reference image) + 5 (fullbody mount) + 3 (simple shading) + 2 (background) + 5 (competition) = 20
---
Update1
: I won this beauty, thank you!

MYO contest - RESULTSHi everyone!

Finally we have results of this loooooong time during contest xD
First of all, there was 60 different horses and 39 people that participated. That's like, wow, a lot.

Most used breed were lisqars, over half of horses had lisqar blood in themself.
For choosing winners we made a system, when each of breed creators (besides myself) picked 4 horses they like the most. They didn't know, which picks were made by others. In case some horse was picked more times, I was picking the rest of missing horses, to fill number of 20 winning horses. Of course, if judges had their own horse in MYO there could not choose it.
Judges were:


Efirende

- Antharia/Farrosia breed creator


Lunameyza

- Lisqar breed creator


EsaArts

- Unitavrus breed creator


BUGHS-22

Quiang/Ziquan/Florequinner breed creator


Jasper-19

- Markhorse breed creator


Brissinge

- Colderrian equines creator
and they were picking out of this journal.
---
I'm not dead yet, exams are done and passed so let art return again! You wouldn't believe me how I'm excited to do anything else than studying right now

Last day of contest which I wanted to join but hadn't time to actualy draw something for it even I had few ideas. It turned out a little different that what was original idea but still like her :3 I guess her name is going to be "Rosita". It's obvious that compared to other entries I'm way more into more simply desings...

My entry for "Make your own" contest of ARPG horse group I'm in:

MYO contest! JUDGING!Changing deadline to final 10th January!
Epic quadra MYO contest!!!

kick up you fantasy and combining abilities
:iconfarrosianhorse-stud: :iconchroniclesofantharia: :iconworld-of-colderra: :iconlisqar-equine:
:iconquiang:
***Rules***
Read all Info about Antharian breeds, Colderrian breeds,

Quiang

and about Lisqar-Equine, also group rules
AVALIABLE BREEDS FOR USE:




:iconlisqar-equine:

This lady is crossbreed of these types of horses:
Warmblood lisqar
[about 50%]: wings (and ability to hide them), glowy ears and partialy eyes, splash of tiny crystals on body (everything in shades of blue)
Nagian (Malacos line)
[about 40%]: body type and colors, markings, special abilities
Florequinner
[about 10%]: flower feature, extra long tail and mane
I hope I haven't "overmix" it (mainly that striped part) and she will be accepted to entry.
used: photoshop, wacom intuos3
brushes: standard round, cloudy
filters: nope
references: for horse
(c) character design by me
(c) art belongs to me,
Samantha-dragon
, 2017
Image details
Image size
1000x658px 701.83 KB