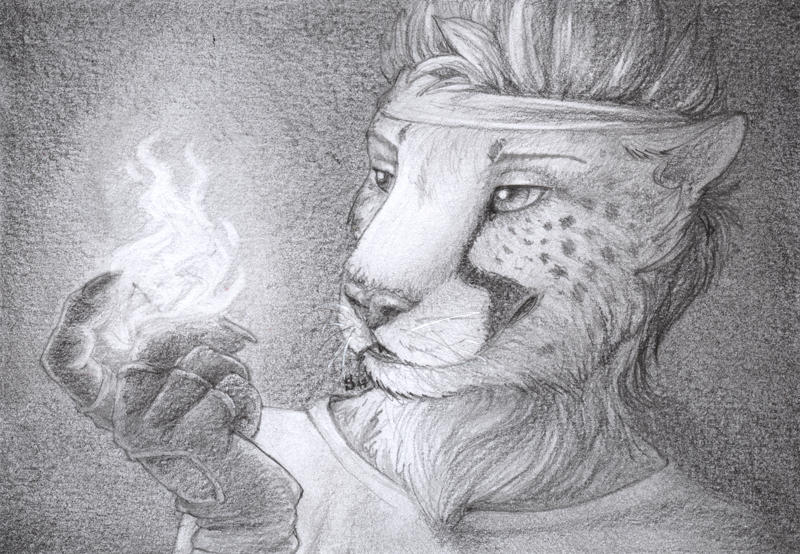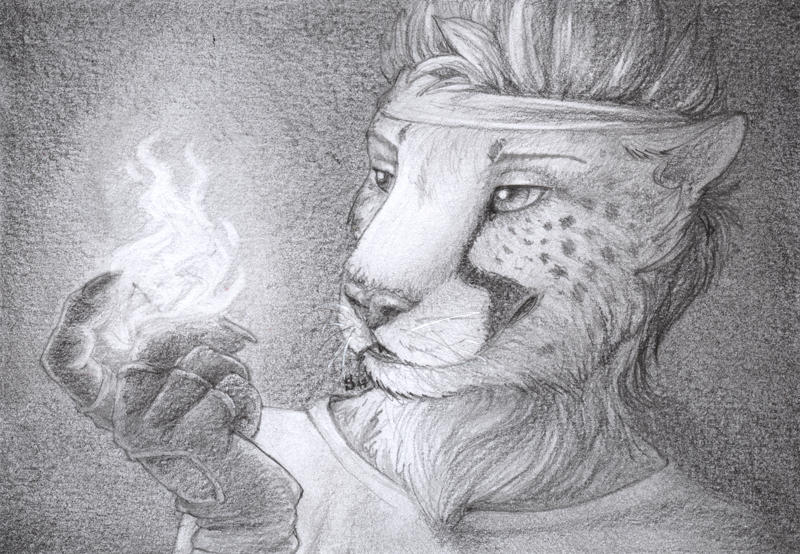 I felt like doing nothing today but I kicked my ass to sketch something at least. Well, yeah, it began like it, at first I though I'll give it some colors with watercolors but suddenly the sketch was just too filled with details and stronger lines... yup, finished it like full illustration in graphite xD
This another raffle prize I owe,

Phoeline
asked me to draw her cheetah Sincen who can control the fire. Hope you will like the result! :3
used: graphite pencils
paper: regular white drawing 120 g/m2
size: A6
time: ~ 2 hours? I was chatting with Dreit, maybe more

references: google for cheetahs but not any particular copied
(c) character belongs to Phoeline
(c) art belongs to me,
Samantha-dragon
, 2017

That fire is what impressed me most...it's so hard to emulate that kind of light source in traditional media but I think you nailed it!
Reply

Thank you, you made me feel really proud I must say!

Fire is incredible difficult element to catch, that's true, it's even worse than splashing water

Reply

Uiiiii

Reply

Mela bys takovehle BW obrazky delat casteji

Reply

Jistou dobu jsem nekreslila jinak než tužkou, takže možná proto jich teď moc nedělám, asi nějaká přetrvávající skepse... nebo mi tam prostě chybí ty barvy

Každopádně děkuji, taková pobídka zrovna od Tebe, takového tužko-mástra, to moc potěší :3
Reply

Ja samozrejme ocenuji i digitalni tvorbu, ale tohle se mi od tebe opravdu moc libi... Tak treba sem tam nejaky takovyhle maly obrazek tady pro me vlastni sobecke poteseni zverejnit

Jinak, ze ti tam chybi barvy chapu

Ja jsem zase spis na to vyhrat si s kazdym odstinem pouze jedne barvy

Si rikam, ze bych se mohla profackovat a po dlouhy dobe taky neco vyplodit

Reply

The details in this are just unbelievable!! I am really amazed at everything about this sketch! The fur details, the paw, the fire, the hair, his face. Everything looks amazing!! ^^
Reply

Reply