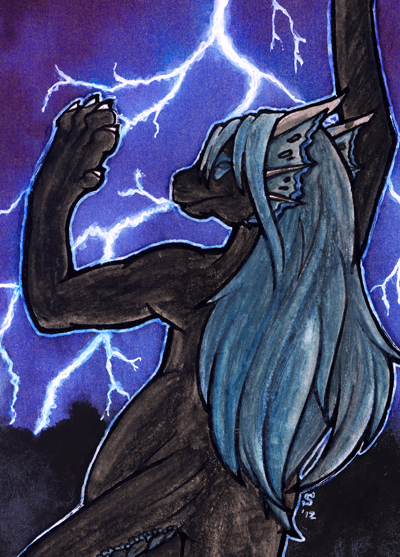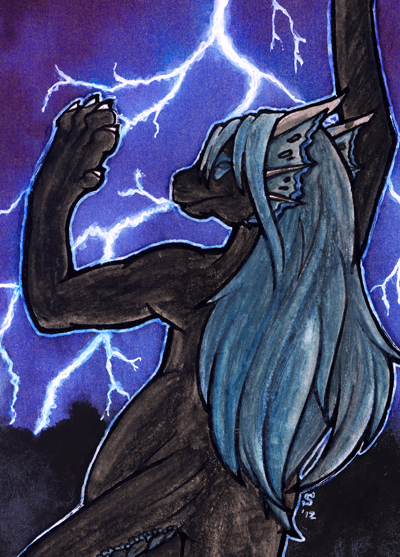 ACEO for ~
Ergien

- she wanted something stormy cause in our country are lots of storms these days... so here u are and i hope u will like it

although it doesnt seems so i most enjoyed painting background (watercolors) and sketching dancing character XD
used: watercolors for background, aquarell color pencils for dragoness, white acrilyc and white gel pen to draw lightning and details
and i almost forget - inspiration for the pose (i still cant draw anthros from my mind):
[link]
- and for lightning:
[link]
---
ACEO (ATC) are traditionally made card 2.5" X 3.5" (6,4 X 8,9 cm)

Oh my, I do love storms and they love me, too (unfortunately). The cobalt blue is simply gorgeous color.
Reply

unfortunately? ok, getting wet and cold is not nice but they are great

thank u, im glad u like it

Reply

High Voltage. Trefné.Sice neznám ergien,a le to pozadíse k ní vážně hodí.
Reply

jo, taky mi přijde trošku jako taková dračí Storm od Marvela

děkuji

Reply

YES YES YES YES Líbí!

Miluju bouřky a ta hříva je yummy ^^ Děkuju moc

Vráitla jsem se po pár dnech v cizině a čeká na mě tohle, yaaay

A nezapomnělas ani na drobný šupinky podél hrudních plátů, to se cení ^^ takže ještě jednou dík

Reply

heh, tak to jsem ráda

jj, na monitoru otevřený všechny obrázky tvýho charu, postavy na pózu a blesku a kreslila sem

těším se na to pro mě

ale spěchat nemusíš
Reply

jo, tak to taky dělávám

taky doufám, že se bude líbit (až bude

) ale teď se do toho 29. musím fakt šrotit, pokud tu zkoušku dam, budu v druháku, yaay

Reply

držim ti drápy, dej vědět jak jsi dopadla

a ne že budeš přemejšlet co kreslit, znám se


Reply

Děkuji

no, bohuzel se taky znam a ted mam zrovna tu hlavu extremne zaplacanou blbostma, misto abych se soustredila na uceni

Reply

takže je to všude stejný

Reply

YES, tak zkouška úspěšně za mnou

Takže se konečně vrhnu na tu kartičku pro tebe ;D Zatím mám jen částečný nápad, takže pokud máš nějaké přání na kartičku, sem s ním

Reply

gratulace

tj, nepamatuju se přesně co jsem ti psala, že bych chtěla (a jsem líná to hledat)... ale pokud by se ti tam povedlo nacpat Sam nebo/a Mur a Dreita, tak by to nebylo vůbec špatný


jinak... jestli se cítíš na bouřku tak taky

nebo třeba naopak duhu? podle toho, jak se ti bude chtít

Reply

cool lighting effect , very well done
good looking dragon
Reply

Ui :3
Looks very nice

Reply

Reply

Reply