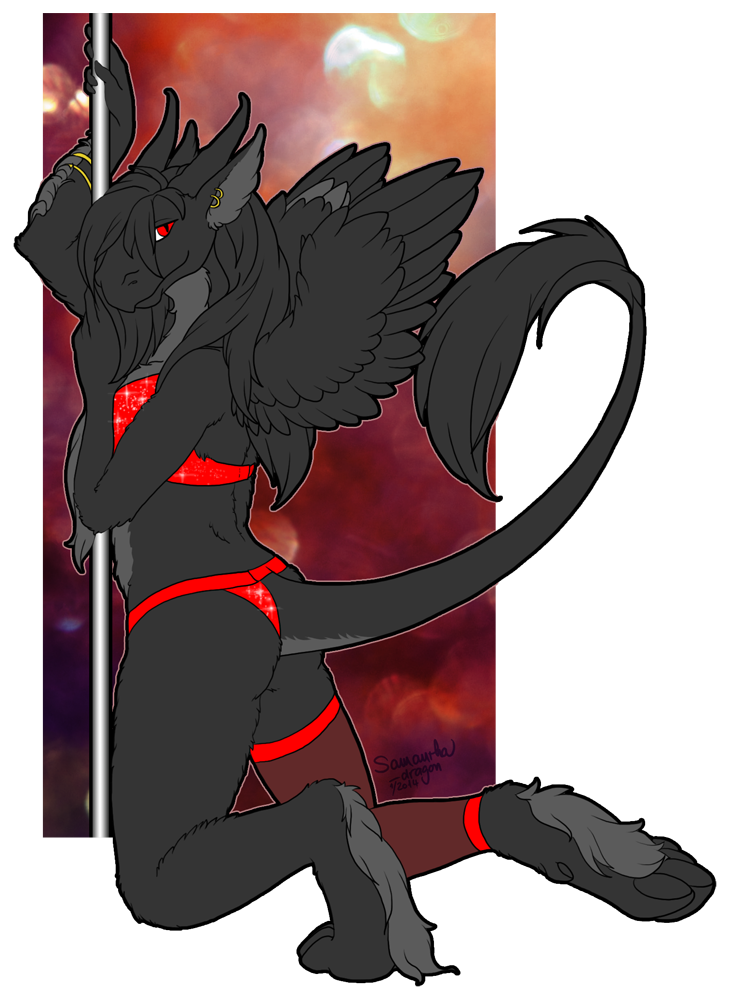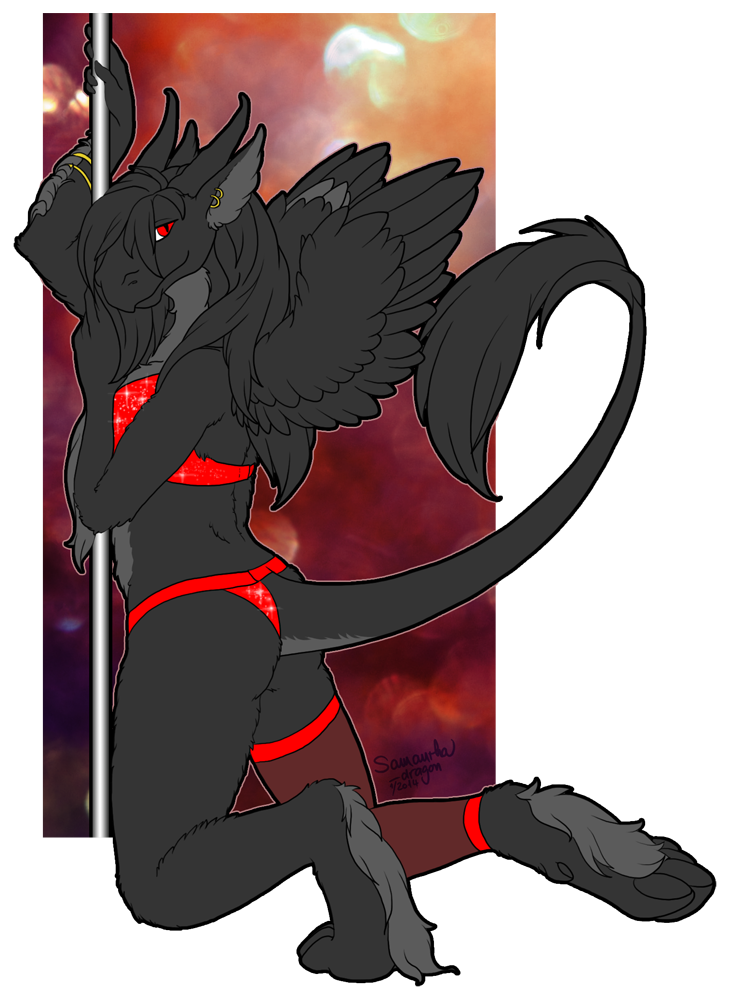 i probably went completely crazy because i spend all day painting this 100% free picture for
tomcio199214
*facepaw* instead of finishing my semestral work for tommorrow and learning for final exam tommorrow too - or at least i should do something with my incomes (i have to pay school fees now)... but, okay, i can see as very good practise in anathomy, in making anthro from feral character (reference of character is here
[link]
), finally make some more example pictures for my commissions and another trying to catch black as black and not grey. hopefully something of it came true (at least example of lineart + flat color + simple abstract background) and you will like it

used: reference
[link]
, photoshop, wacom intuos tablet
base of texture in background comes from here:
fav.me/d2cy5k6
(tuned it a bit to fit it more here)
Samantha-dragon
"she is beautiful and wants her mate to stare at her and drool "
Well I must say, the drooling is achieved.
Vision:
As a person in the comments already stated, dragon stripper maybe? I think it got the romantic, maybe even intimate theme off pretty well.
Originality:
Looking at your art folder, I'd say it is new for you. To me personally it isn't all that new, I admit I like the theme so I look for it every now and then... I'll chip in that it's always great for artists to try new things, it kind of makes up for those of us that have vast imaginations, but just cant put them out on paper.
Technique:
The character I would say is quite well done, everything seems well in proportion, which I always appreciate.. Now the color I'll have to get down upon as a bit bland due to a lack of shading. Don't get me wrong here, the colors are good where they are, but to me the lack of shading kinda retracts things.
As for the background, from what I understand you took something that was already available as and used it as a reference? Never any harm in that I guess. The background, to me it doesn't exactly fit, but I would say that it makes the image as a whole easy viewing. With this character, I'd go for a background that (if were talking about a similar background or solid color) was darker than she is.
Impact:
Does it evoke strong emotions, does it blow my mind? If real, then yes, most certainly.

I would say that this is a very tame picture, even if it is on the verge of being suggestive.
Other notes:
I'd cuddle with her in an instant... -.-
I'm also unsure about the fur on the bottoms of her feet. Assuming she's a furred dragon I would assume this normal, though I should mention that I don't recall seeing this particular feature before. Also the feathered wings, again I'm assuming it's normal for this sub of dragons, I'll just never get used to it lol..
The choice of garments matches her eye(s) quite well, and the hair / fur covering the other looks quite nice.
Overall very well done, and black! Eee, my favorite color (and red too)!
The Artist thought this was FAIR
5 out of 5 deviants thought this was fair.